InvenSense (NYSE:INVN) is set to report FQ1 2015 earnings after the market closes on Tuesday, July 29th. InvenSense is a chip producer that is known for making products with motion detecting technologies. InvenSense products can be found in in tablet computers, smartphones, and gaming hardware.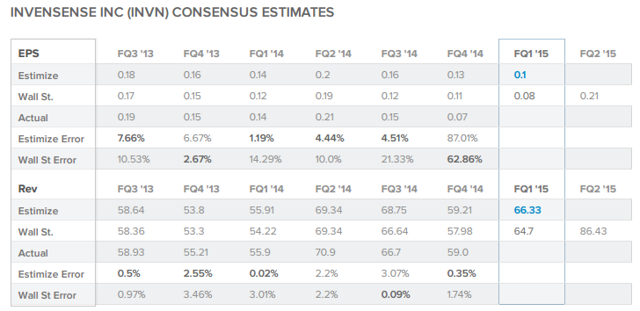 Click to enlarge
This quarter contributing analysts on Estimize.com have come to a consensus earnings expectation of 10c EPS and $66.33M in revenue compared to a consensus of 8c EPS and $64.7M from Wall Street. Over the previous 6 quarters the consensus from Estimize.com has been more accurate in forecasting InvenSense's EPS and revenue 4 times each and equally accurate in predicting revenue once.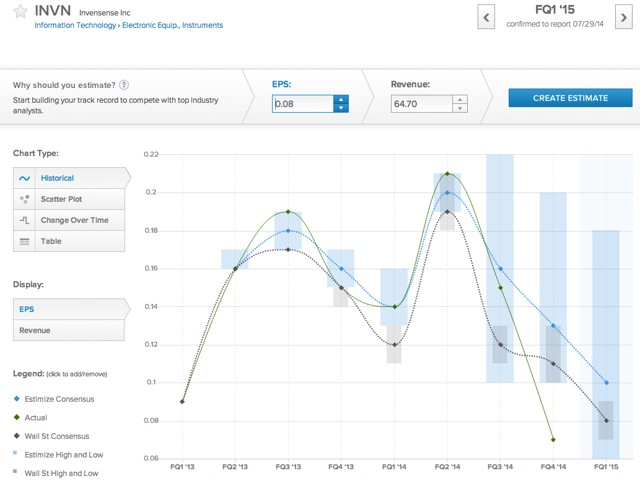 Click to enlarge
Last quarter InvenSense disappointed investors with a weak number on the bottom line. In May InvenSense posted its FQ4 2014 earnings and missed the Estimize consensus by 6c per share. The poor results were a bit out of left field as the company had not missed the Wall Street consensus in any of the 7 previous quarters.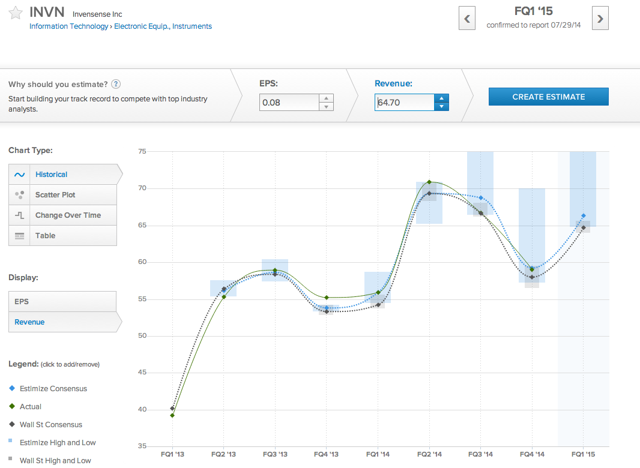 Click to enlarge
Despite the trouble on the bottom line last quarter, InvenSense still managed to report revenue in-line with the Estimize community's consensus. This period contributing analysts on Estimize still believe that InvenSense can top Wall Street's sales expectations. The entire range of estimates on Estimize this quarter are all above the Wall Street consensus. Analysts optimistic on InvenSense's future are hoping that wearable technology and future smartphones models will provide opportunities for increasing sales going forward.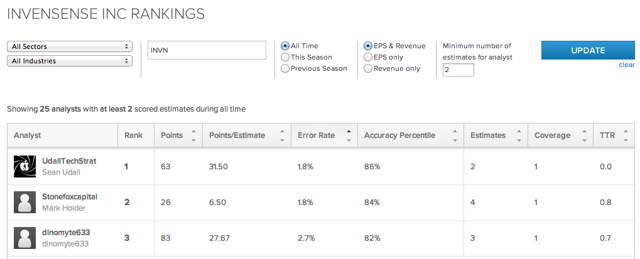 Click to enlarge
Estimize.com ranks and allows the sorting of analysts by accuracy, the analyst with the lowest error rate on InvenSense is UdallTechStrat. UdallTechStrat is an independent financial research professional and the CIO at Quantum Trading Strategies. Sean Udall was also featured on our FQ2 Enterprise Tech Analyst Highlight Podcast. Over 2 previously scored estimates on InvenSense UdallTechStrat has averaged an error rate of 1.8%.
Estimize is completely open and free for anyone to contribute, and the base of contributing analysts on the platform includes hedge fund analysts, asset managers, independent research shops, non professional investors, and students.
The Estimize consensus was more accurate than the Wall Street consensus 65% of the time last quarter on the coverage of nearly 1000 stocks. A combination of algorithms ensures that the data is not only clean and free from people attempting to game the system, but also weighs past performance and many other factors to gauge future accuracy.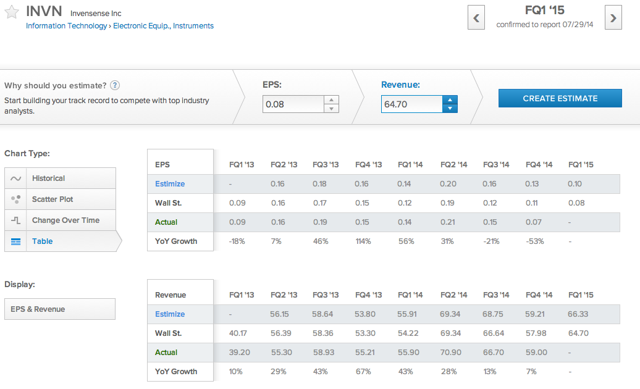 Click to enlarge
Contributing analysts on the Estimize.com platform are forecasting that on Tuesday InvenSense will report earnings 2c (1%) per share ahead of Wall Street's earnings forecast and beat the Street's revenue consensus by $1.5 million (<1%). This quarter the Estimize community also believes that InvenSense will increase its year over sales by 19% while earnings fall by 4c compared to the same quarter of last year.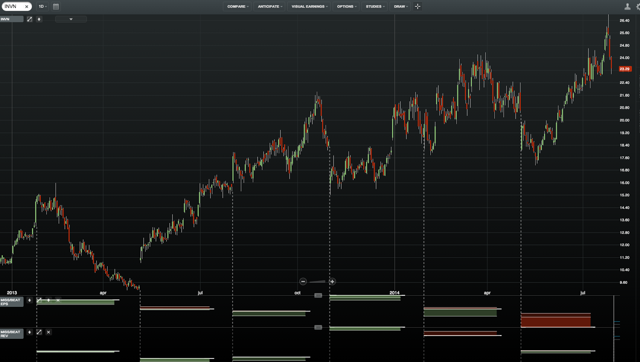 Click to enlarge
Shares of InvenSense have performed very well over the past 18 months. But after missing on the bottom line last quarter, earnings expectations have become fairly subdued this time around. Look for InvenSense to finish the year stronger as new consumer discretionary technology products are released before the holiday season.
Disclosure: None