Exco Resources (NYSE:XCO) is a small cap downstream energy producer with a market cap of 1.33 billion. It owns and operates wells in South Texas, East Texas / Louisiana and Appalachia. In the past XCO has primarily produced natural gas which has hurt their profits as the price of natural gas remained low. Recently after the acquisition of acreage in the Eagle Ford shale from Chesapeake Energy (NYSE:CHK), XCO has began to increase its oil production. This acquisition was announced July 3rd, 2013 and included acreage and operating wells in both the Eagle Ford and Haynesville shale formations. Appalachia consists mainly of wells in the Marcellus shale, East Texas / Lousiana consists of the Haynesville shale and South Texas the Eagle Ford shale.
In 2011, XCO generated $67 million in revenues from oil, in 2012 $62 million and in 2013 $111 million. This is a steady increase but the magnitude of the increase in oil production is best seen quarter over quarter because the new oil rich acreage was owned by CHK for the first 6 months of 2013. For Q1 2014 XCO generated $52 million in revenues from oil compared to 8 million in Q1 2013. This increase is attributed mostly to wells in the Eagle Ford shale where the wells yield more oil than natural gas. The price per extracting a barrel of oil is higher for XCO than extracting a comparative amount of natural gas but the profitability of producing oil is still much greater than natural gas. If XCO can continue to increase its oil production it will be able to increase revenues as well as margin because oil production is more profitable given the current pricing environment.
In addition to switching to oil to boost revenues, XCO has been able to improve the efficiency of its drilling operations. During 2013 it took XCO 17 days to drill a well in the Eagle Ford shale but as of Q1 2014 it only takes 13 days. XCO has been installing oil pumping stations 24 as of Q1 with a goal of reaching 90 by the end of the year. This has also helped to boost oil production which has shown a net 800 barrels per day increase due to these pumping stations. To better manage its oil collection, XCO contracted with a third party contractor to build a central collection center in the hopes of reducing costs.
As for the share price of XCO the performance has been weak especially over the past 5 years. The price of XCO peaked in the low 20s during the spring of 2011 and has since declined from the upper single digits to the mid single digits over the past 12 months. Over the past 6 months natural gas prices peaked during the late spring during which time natural gas prices were rallying due to cold winter weather. The have since declined to under 5 dollars and look poised for potential further declines if the price of natural gas continues to decline. In order for XCO to post a serious rally it has to either decouple from natural gas prices or the price of natural gas needs to enter into a bull market.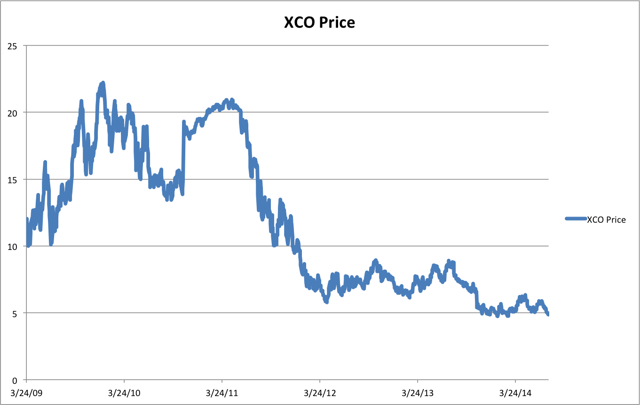 (Source: Yahoo Finance)
Conclusion:
XCO looks well positioned to exploit its recently acquired acreage in the Eagle Ford and Haynesville shale plays. The Eagle Ford acreage of XCO has turned out to be rich in oil which can drive significant increases in profit for XCO. Billionaire Wilbur Ross who has a sizable position in XCO recently purchased shares at a price of 5 dollars, less than the shares are currently trading for. Although XCO has diversified away from natural gas its stock price has recently traded with natural gas to the downside and now presents and an interesting investment.
Disclosure: The author has no positions in any stocks mentioned, and no plans to initiate any positions within the next 72 hours. The author wrote this article themselves, and it expresses their own opinions. The author is not receiving compensation for it (other than from Seeking Alpha). The author has no business relationship with any company whose stock is mentioned in this article.