Honeywell International (NYSE:HON) is a diversified manufacturer of everything from jet engines to refrigerator parts. It is a great stock for new investors because of its eye-catching 1.85 percent dividend yield. HON's current stock price of $97.34 is speculated to rise further so investors should use this article to determine why this stock is worth their attention.
Five Year Target (2014-2018)
The company held its annual investor conference to outline its new five-year targets (2014-2018) and discuss its continued outperformance and growth strategy. The company expects 2018's sales to increase organically by $7-$12 billion to $46-$51 billion and segment margins to increase 220-370 bps to 18.5-20.0%. The company also expects to deliver on its previous five-year targets by the end of this year. From an analytical point of view, I believe that company will be able to achieve its desired goals as management is planning to expand in Asia, specifically China.
The company will also introduce the Honeywell User Experience (HUE), a new approach to the design and development of new products and services. HUE starts with the customer experience and deploys rapid prototyping and other design principles which enable faster cycle time and lead to increased customer value and loyalty.
Over the next five years, Honeywell expects to continue to expand its margins, grow earnings at a double-digit pace, and nearly double its free cash flow. This will provide additional firepower to fund global growth opportunities and support strong shareholder returns. The company seeks to provide more than $10 billion for strategic acquisitions and expects to add approximately $5-$8 billion of sales over the next 5 years. The company aims to achieve total company sales of over $50 billion by 2018.
Financials
With 795 million shares outstanding, the company's current annual EPS is $5.16. Analyzing the company's current EPS it is easy to understand that the company is generating healthy net income every year. Its existing P/E is 18.86 which makes the stock worthy of investment as this ratio is below the industry's ratio of 19.1. It is projected that the company's forward P/E will be 15.80; thus based on its current price, the expected EPS is $6.160. This discussion of EPS and P/E shows that company is moving towards growth-oriented results by fulfilling the short-term interests of investors.
Moreover, the company is expected to continue considering investors' perspectives upfront. The company pays 32.5% of its net income as dividends. In 2013, $1.6800 was paid to investors as an annual dividend reflecting growth of 10% compared to last year. Projections based on the company's current scenario suggest that this year's annual growth in dividends will be more than 11.5%. The current dividend payout ratio and ROE of 25.04% provides 8.01% of sustainable growth to the overall organization. The following table shows the price multiple ratios in comparison with the industry.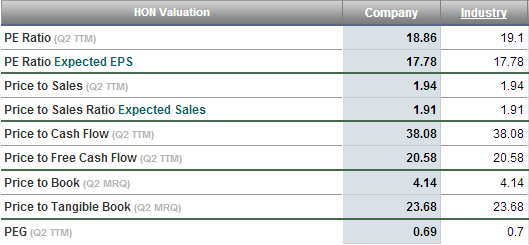 Source: CSI Market
Valuation
The valuation of Honeywell's stock was done using the multiple-based valuation method using figures from finance Yahoo and CSI Market. Weights are given based on my opinion of each multiple's importance. The following table shows that the current market price of HON's stock is underpriced thus it invites investors to put this stock in their growth portfolios.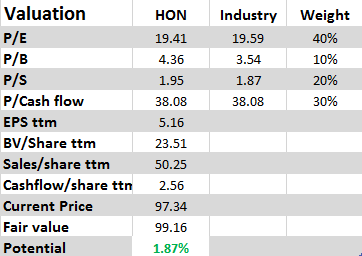 Segmental Analysis
Honeywell has five business segments that generate a major portion of the company's overall revenue. The contributions of each segment are listed below.

Source: CSI Market
The table above shows that a majority of the company's revenue is generated from its Automation & Control Solutions segment. It is expected that this segment will generate 43% percent of total revenue. The performance of this segment in the last quarter (Q2-2014) was far below expectations but in my opinion the company is going to recover in the coming quarter and report outperforming results.
Projections
The next quarter will show 2% growth in revenue and 4.5% growth in sales. This increase in sales is in-line with the company's expectations. The company announced that its revenues would grow at a rate of 4-5% in the next 5 years. Dividend for the quarter is expected to be $0.50 because the company has a history of increasing its dividend every quarter.

Conclusion
Finally, I believe investors, who want a gradual increase in EPS, dividend and revenues, should consider buying this stock. The company is in a better position than its peers in the industry. HON's stock is underpriced which suggests that investors should reap the benefits of this market price. In my opinion, the company will be able to achieve the long-term goals of its five year plan. So, investors with long-term gain objectives will also benefit if they buy this stock now.
Disclosure: The author has no positions in any stocks mentioned, and no plans to initiate any positions within the next 72 hours.
Business relationship disclosure: The article has been written by a Gemstone Equity Research research analyst. Gemstone Equity Research is not receiving compensation for it (other than from Seeking Alpha). Gemstone Equity Research has no business relationship with any company whose stock is mentioned in this article.