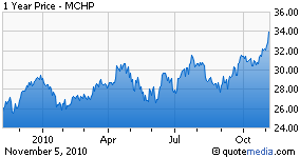 Microchip Technology Incorporated (NASDAQ:MCHP) reported net revenues of $382.2 million in the second quarter of fiscal 2011, up 7.0% sequentially and 68.7% year-over-year, beating the Zacks Consensus Estimate of $341 million.
Quarter in Detail
Microchip acquired Silicon Storage Technology this year and decided to sell SST's super flash memory solid state drive, smart card and RF businesses.
Microchip sold solid state drive, smart card and certain older flash memory product lines to Greenline Systems Inc in May of this year. Microchip also licensed certain flash memory products in certain geographic markets of Asia, mainly Taiwan and China to Professional Computer Technology in July 2010.
After operating the super flash memory business and RF business (held for sale) for two quarters, Microchip found synergy between SST's RF business and Microchip's wireless controller and analog business. On the memory side, after selling the low margin end of the business to PCT of Taiwan, the company substantially improved margins in that business.
Hence, Microchip decided to keep the super flash memory and RF businesses of SST as ongoing businesses of Microchip. Microchip substantially eliminated the excess overhead and reduced the operating expenses of the SST business. The super flash memory and RF divisions of SST added approximately $40 million of revenue in the September 2010 quarter. The restructuring and integration of SST is now complete.
Growth was seen across the board in the quarter, in the four product lines – Microcontrollers, Analog, Serial EEPROM and flash IP licensing (starting from this quarter).
Strength in the Microcontroller business continued to drive revenue growth. Revenues from this business were up 4.7% sequentially and 39.4% year-over-year. All segment of 8-bit micro controller product line recorded strong results. 16-bit micro controller business also achieved another record for quarterly revenue, with strong sequential growth of 22% and up 102% from the year ago quarter.
Microchip stated that new customers and new designs going into production continued to drive significant growth as the number of volume 16-bit customers grew over 3,200. However, 32-bit micro controller product line declined 10.9%.
The Analog business was up 99.8% year-over-year and 11.6% sequentially. Serial EEPROMs business was up 12.5% sequentially. Microchip continues to prioritize capacity to support its proprietary microcontroller and analog product lines. Flash IP licensing generated revenues of $17.3 million, and was up 12.5%. Microchip shipped 48,970 development tools in the quarter.
Excluding stock-based compensation expense and one-time items, gross margins came in at 60.2%, marginally down from 60.3% in the previous quarter. Including the above mentioned items, Microchip generated a gross margin of 58.9%. Operating expenses came in at 24.0% of total sales, down from 24.5% in the previous quarter. Operating margin came in at 36.2%.
Net income from continuing operations came in at $104.8 million or 55 cents compared to a net income of $91.9 million or 47 cents in the previous quarter. Excluding one-time items and stock-based compensation expense, net income came in at 57 cents per share beating the Zacks Consensus Estimate of 54 cents.
Cash Analysis
Microchip generated $156.9 million of cash from operations prior to the payment of dividends of $63.9 million. Capital expenditures were approximately $31.8 million for the September quarter. Microchip ended the quarter with cash and cash equivalents of $1.4 billion, up from $1.3 billion at the end of the previous quarter.
Inventory at the end of the quarter was $166.6 million, up from $128.1 million at the end of the previous quarter due to the inclusion of super flash memory and RF business of SST.
Inventory days (the number of days inventory is held) were approximately 131 days, flat with the prior quarter. Given the industry - wide supply constraints, Microchip continued to aggressively increase its manufacturing output to meet customer demand. Inventory days are forecasted to increase in the December quarter.
Microchip commented that inventory on the company's balance sheet was too low for the past several quarters. The company built some inventory in the quarter to bring the lead times closer to the levels that customers expect.
Concurrent with the press release, Microchip announced that it will pay two dividends in the December quarter. The first dividend of $0.344 per share will be paid on December 2, 2010 to shareholders of record on November 18, 2010. The cash payment associated with this dividend will be approximately $64.1 million.
The second dividend of $0.345 per share will be paid on December 27, 2010 to shareholders of record on December 13, 2010. The cash payment associated with this dividend is expected to be $64.3 million. Microchip decided to pay the March quarter dividend in the December quarter to allow shareholders to take advantage of the lower tax rate that will apply in 2010 compared to what is expected for 2011.
Quarter Ahead
Going forward, management expects net sales for the December quarter to be down between 2% to 8% sequentially due to an industry inventory correction. This implies a revenue guidance of $352 million – $375 million, much better than the Zacks Consensus Estimate of $347 million. Gross margin is projected around 59.1% – 59.3%.
Earnings per share are projected between 55 and 59 cents. SST operations are expected to add approximately 32 cents to Microchip's bottom-line in 2011 and 40 cents in 2012.
The better-than-expected results and guidance should lead to noteworthy revisions in earnings estimates by analysts covering the stock.
Disclosure: No position