The Kentucky Derby is the world's most famous horse race. Most people probably know that it's run the first Saturday in May at Churchill Downs (NASDAQ:CHDN) in Louisville, KY. But there is another popular race that still has a relatively strong following, and it's coming this weekend. Starting tomorrow, Churchill Downs hosts the Breeders' Cup World Championships - the Super Bowl of thoroughbred racing.
The best horses from North America, Europe and even Japan will compete for $25.5 million in purses in 14 races spread across two days. Most of the attention is focused on the $5 million Breeders' Cup Classic early Saturday evening, in which the remarkable 6-year-old mare Zenyatta is trying to finish out her perfect career - Zenyatta is unbeaten in 20 starts. Horse racing hasn't had a superstar like Zenyatta take the stage in a long time — some might say the sport's glory days ended about the time Secretariat, whose story was just released in a Walt Disney Co. (NYSE:DIS) movie, was still heading to the track. Unfortunately for the sport people have too many activities soaking up their spare time, and discretionary income isn't what it used to be. Many tracks have closed in the past decade, and often bettors have to get their kicks by wagering on simulcast racing signals sent out by the few survivors.
But aside from the excitement surrounding Zenyatta's last race, and the betting opportunities this weekend, there is another profit opportunity to be found in horse racing. Take the $624 million market cap company Churchill Downs for instance. When it comes to a track record, no one can argue with the company's longevity - the first Kentucky Derby was run at Churchill's tracks in 1875.
The thinly traded stock went public in 1993. Now it pays a dividend of 1.5 percent, and carries a P/E ratio of around 53. The company owns tracks in Miami, Chicago and New Orleans, online wagering services and other gambling-related businesses.
In the just-completed quarter, Churchill posted a $689,000 loss - largely because of losses from discontinued operations. It recently abandoned a foray into staging summer music festivals. However, net revenue from continuing operations in the quarter grew 35 percent to $135.7 million, with net earnings improving to $3.7 million. (See conference call transcript here.) The company has been making a number of strategic changes, and things look to be improving. On Thursday, the day after reporting results, the stock rose 3.6 percent.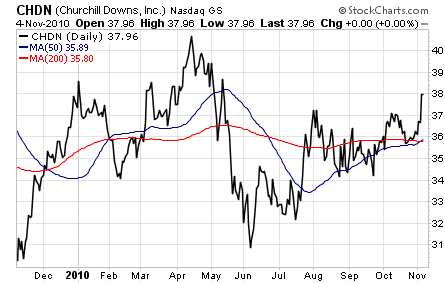 The company has had a checkered past. The Churchill Downs track in Louisville is a palace for horse racing and can handle upwards of 150,000 fans - around 100,000 are expected Saturday for the Breeders' Cup. With that type of capacity, one would think there are ample opportunities to use the space for events outside of horse racing.
But the reality is that the facility mostly goes unused. When a major renovation and expansion of the track was completed several years ago, the company laid the groundwork for a possible casino on its property - but that hasn't materialized. Churchill does have casinos at its tracks in New Orleans and Miami, but ironically in its home state the legislature has repeatedly shied away from allowing struggling racetracks to open slots parlors or full-fledged casinos.
Change comes slowly to the tradition-bound racing industry, and Churchill's discontinued operations are evidence that if you build it, they won't always come. Instead, Kentucky has watched six of the eight surrounding states that have or will have casinos take away potential tax revenue. Ironically, the state has watched its racing industry wither. In Ohio, where casinos are just being built, 5 of the 7 racetracks are now owned by major gaming companies in the hopes that someday they'll expand slots or other gambling to those properties.
But Churchill has been making some interesting moves since Robert Evans became CEO in 2006. The company is diversifying away from its core racing business and expanding its gaming and online business segments. It has acquired gambling-related businesses, such as the YouBet wagering service, United Tote, and Calder Casino. It also owns the BRIS racing and breeding data business, and is co-owner of the HRTV cable channel.
The cumulative effects of these efforts led to a 35 percent increase in net revenues from continuing operations in the last quarter (year-over-year). Net earnings from continuing operations improved to $3.7 million, or $0.22 per share, from a loss of $1.2 million, or $0.09 a share, a year ago. Including discontinued operations, Churchill lost $4.4 million in the quarter, or $0.04 cents a share. Still, that's far better than a loss of $0.17 cents a share the year before and beat analyst expectations that projected a loss of $0.09 cents per share.
Churchill Downs has positioned itself for growth in the 21st century that might have eluded it in the 20th. The company is growing beyond horse racing, and still has the marketing draw of the Derby.
Several analysts who follow Churchill have 12-month price targets of around $50 on the stock, implying around 38 percent upside.
Disclosure: No position