All too often shareholders blindly follow the recommendations of the Boards with respect to the annual proxy statements. That's why it was surprising last year when the executive compensation for Capstone Turbine (NASDAQ:CPST) was approved by a very slim margin:
| | | | | |
| --- | --- | --- | --- | --- |
| | For | Against | Abstain | Broker Non-Votes |
| Executive Compensation Plan Criteria | 69,921,763 | 9,421,803 | 3,238,190 | 151,295,958 |
| Compensation for Named Executives | 39,935,833 | 37,435,851 | 5,210,072 | 151,295,958 |
I was puzzled by the disconnect between the approval for the structure of the pay package and the dissatisfaction with the compensation dollars that resulted. Note that while the compensation plan criteria was overwhelmingly approved, the pay packages that resulted were nearly defeated. Only 48.4% of the investors that used their proxies voted in favor, while 45.3% voted against and 6.3% abstained. And, of course, the big winner here was voter apathy.
Part of the apathy may be that these votes are "advisory" and boards can choose to ignore them. In an article last year, I noted that the company uses outside consultants to gather data on comparable executives, but makes no commitment to use the data to set pay packages for those at Capstone. I thought the pay packages last year were excessive, and the targets set for the recently completed fiscal year had showed more of the same. Shareholders may have received some satisfaction that most of the cash portion of the incentive wasn't earned, but the base salary and equity portions still seemed excessive.
For the recently completed year the named key officers did not come close to meeting their incentive based targets. Using CEO Darren Jamison as an example, the proxy statement shows he received only $19,843, or 4.3%, of his targeted $464,000 annual base incentive bonus. Note that failing to achieve targets could still have generated a substantial bonus by reaching a threshold level where the payout would have been $185,600.
The actual performance objectives for the 2014 Fiscal Year were (amounts in millions):
Objective

Threshold

Intermediate

Target

Maximum

Revenue Achievement

$125.0

$132.4

$147.1

$169.1

Adjusted Operating Cash Flow(1)

$ (6.8)

$ (3.2)

$ (2.7)

$0
(1)Adjusted Operating Cash Flow is a non-GAAP measurement calculated in accordance with the Executive Plan.
The company doesn't issue firm revenue guidance, but it has stated that the backlog entering the year is a good indication of the revenue for the next year. I wrote about backlog in an article last year:
At the August 29th [2013] shareholder meeting three weeks later, with the quarter two thirds complete and five months through the fiscal year, Jamison again discussed backlog.

[Year end] Backlog of $148.9 million. Again, another record backlog. As we say, what we end the year in backlog year is a good telltale sign of what revenue for the next year in general should be. It's a good indicator, obviously, not [ph] dollar for dollar.
Also, from the proxy,
| | |
| --- | --- |
| Revenue (millions) | Cash Incentive Payment |
| Less than $127.6 | No cash incentive payment |
| $127.6 to $147.0 | Cash incentive payment equal to 0.75% of revenue over $127.6 million but not more than $147.0 million |
| $147.1 to $169.0 | Cash incentive payment equal to 2.00% of revenue between $147.1 million and $169.0 million |
| $169.1 or more | Cash incentive payment equal to 3.50% of revenue over $169.1 million |
I don't know about other investors, but I certainly see a problem with the way executive compensation incentives are set. The "bonus" starts with revenue coming in at 84% of the soft guidance and a 100% payout is achieved at 98.8% of that guidance. Regardless, revenue came in at $133.1 million for Fiscal 2014, and the share prices have reflected that miss. Jamison also received stock options and Restricted Stock Units ("RSUs") valued at more than $500,000.
For next year, our Board decided to reduce the number of options sharply, and replaced them with Performance RSUs ("PRSUs"). Although it is not possible to determine the actual performance criteria targets from the information provided (and I can grudgingly accept that it might include proprietary information), what is easily apparent is that Jamison was given a raise based on the following chart: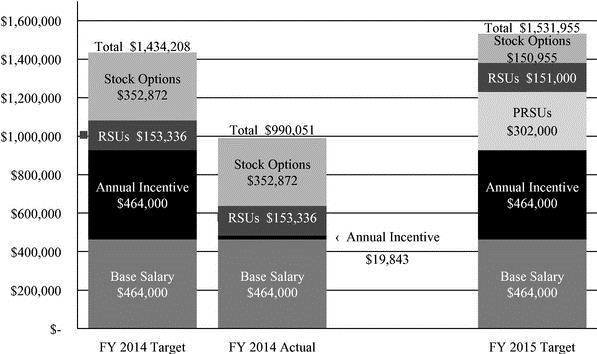 Jamison's total compensation for meeting his targets has been increased from $1,434,208 to $1,531,955, a total of $97,747 (6.8%). This is hardly the reward I would have expected for his poor performance.
Prospects
Despite this, I still believe that the company remains an attractive long-term holding, although heading into earnings there is added risk with respect to geopolitical concerns. The wild card remains the conflict in the Ukraine. A large portion of the company's revenue and backlog is dependent on its Russian distributor. More than two months ago I wrote about this risk, quoting an 8K filing:
We derived approximately 15% and 11% of our revenue from Russia in the nine months ended December 31, 2013 and the 12 months ended March 31, 2013, respectively. The continuation or escalation of the current geopolitical instability in Russia and Ukraine could negatively impact our operations, sales, and future growth prospects in that region.
In a separate article that also discussed the potential sanctions, I quoted another 8K where the backlog was discussed:
[Capstone] derived approximately 15% and 11% of our revenue from Russia in the nine months ended December 31, 2013 and the 12 months ended March 31, 2013, respectively. The continuation or escalation of the current geopolitical instability in Russia and Ukraine could negatively impact our operations, sales, and future growth prospects in that region.
Much of the negative news appears to already have been priced into the stock, especially when it dipped below $1.30 last week. If the company reports a decent quarter and expresses minimal concerns with respect to sanctions, the shares could move sharply higher.
Summary
Although the Board claims that this new compensation plan will align executive compensation more closely to shareholders' interests, I disagree. It shows that $0.2 million of one type of incentive (options) has been replaced with $0.3 million (PRSUs) of a different incentive. As a result, I will be voting against a Board that is recommending the plan, the revised Executive Performance Incentive Plan, and the non-binding advisory vote on executive compensation proposals in the proxy statement. I will also be voting against the extension of the poison pill (covered here) that protects the Board and the executives.
Perhaps shareholders will be more involved in the votes this year. Perhaps not. Either way, the company seems poised to turn the corner despite the compensation packages, and the rewards appear to outweigh the risks at the current prices.
Disclosure: The author is long CPST. The author wrote this article themselves, and it expresses their own opinions. The author is not receiving compensation for it (other than from Seeking Alpha). The author has no business relationship with any company whose stock is mentioned in this article.
Additional disclosure: I have held shares in Capstone for more than seven years, but will actively trade shares at any time to take advantage of volatility.