By Sumit Roy
Strong economic data pushed gold lower and stock markets higher.
Most commodities fell this week, underperforming stocks, which hit fresh record highs. Copper was a notable outperformer, with a 2.2 percent gain, besting the S&P 500's fractional gain. Year-to-date the S&P is up 7.3 percent.
Macroeconomic Highlights
This week's economic data was broadly positive. In the U.S., the latest figures indicated that the labor market was robust and that inflation was relatively benign. According to the Department of Labor, the number of people filing for unemployment benefits fell from 303K to 284K last week, the lowest level since 2006.
At the same time, the Bureau of Labor Statistics reported that the Consumer Price Index in the U.S. grew by 0.3 percent in June, as expected. The core CPI, which excludes food and energy, grew by 0.1 percent, below the 0.2 percent gain that was anticipated. On a year-over-year basis, the headline and core CPIs were up by 2.1 percent and 1.9 percent, respectively.
On the housing front, the National Association of Realtors reported that existing home sales in the U.S. rose by 2.6 percent to 5.04 million units annualized in June, better than the 1.9 percent increase that was expected. On the flip side, new home sales fell by 8.1 percent in the month to 406K units annualized, below expectations.
Elsewhere around the world, HSBC said that its flash manufacturing PMI for China rose from 50.7 to 52 in July, an 18-month high, and better than the 51 reading that was expected.
Finally, the Office of National Statistics reported that the U.K. economy expanded by 3.1 percent year-over-year in the second quarter, up from 3 percent in the first quarter and the fastest rate of growth since 2007.
Commodity Wrap
| | | |
| --- | --- | --- |
| Commodity | Weekly Return | YTD Return |
| Copper | 2.21% | -4.71% |
| Soybeans | 2.21% | -8.38% |
| Wheat | 0.19% | -11.90% |
| Brent | -0.34% | -3.54% |
| Palladium | -0.72% | 22.13% |
| Platinum | -1.23% | 7.40% |
| Gold | -1.28% | 7.36% |
| WTI | -1.96% | 2.73% |
| Silver | -2.11% | 4.93% |
| Corn | -3.23% | -14.93% |
| Natural Gas | -4.30% | -10.64% |
An easing of concerns about the Ukraine-Russia conflict and this week's strong economic data pushed gold below $1,300. Volatility may pick up next week amid heavy news flow.
On Wednesday, the Federal Reserve will announce its monetary policy decision for July. The central bank is expected to taper its bond-buying program by another $10 billion, bringing monthly purchases down to $25 billion. Another $10 billion taper is likely in September before the Fed finally ends the QE program with a $15 billion reduction in October.
The other big event next week will be the release of the U.S. jobs data on Friday. Based on current economist estimates, the Bureau of Labor Statistics is expected to report that employers added 230K jobs in July, while the unemployment rate is anticipated to remain steady at 6.1 percent. Employers added an impressive 288K jobs in June, the most since 2012.
GOLD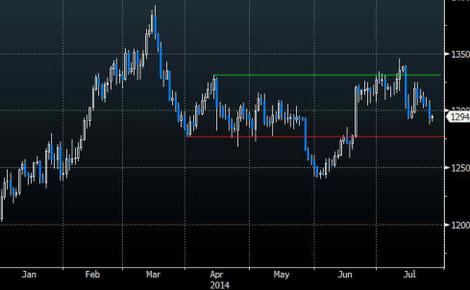 SILVER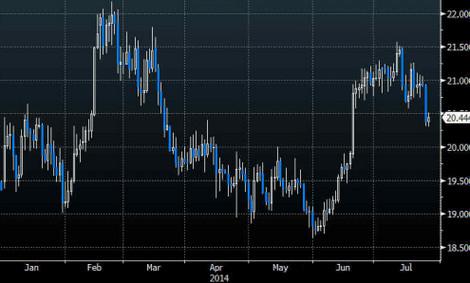 PLATINUM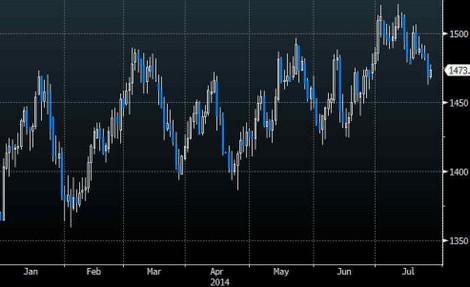 PALLADIUM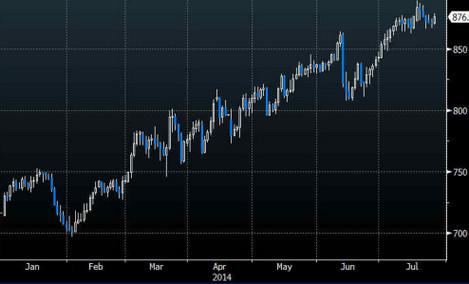 Crude oil retreated this week. Worries about sanction-related disruptions to Russian oil production lessened and attention shifted back to the ample supply situation globally. Libya remains the country to watch as it attempts to maintain an accord between rebels and the government, potentially leading to an increase output by as much as 1 million barrels per day.

The support level near $105 to $106 for Brent is crucial and must be closely monitored in the coming weeks.
BRENT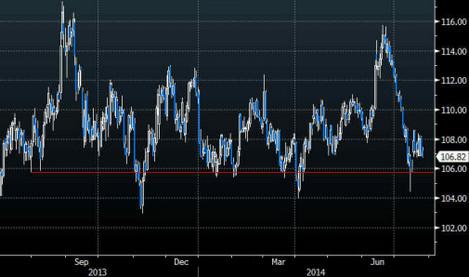 WTI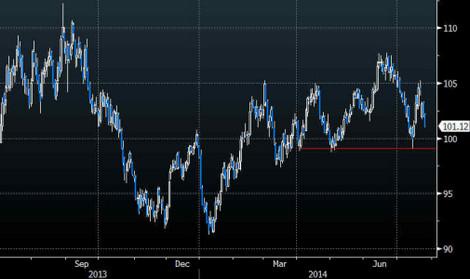 The outlook for the grain complex is still dismal, even though soybeans managed to climb more than 2 percent this week. Any rallies are merely short-covering bounces, and it will be some time before prices reach a sustainable bottom.

We are eyeing the $3/bushel level as potential support for corn, a level last seen during the 2008/2009 financial crisis and recession.
CORN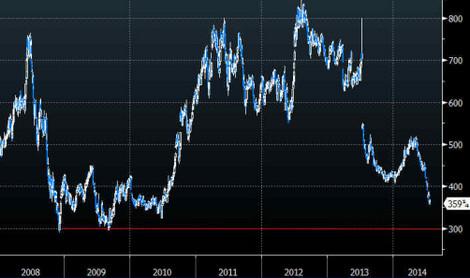 SOYBEANS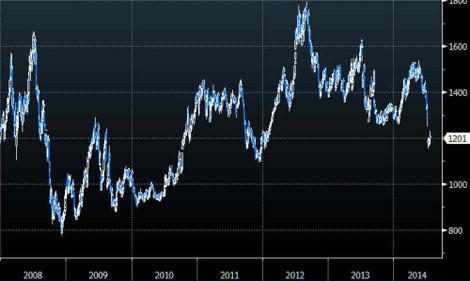 WHEAT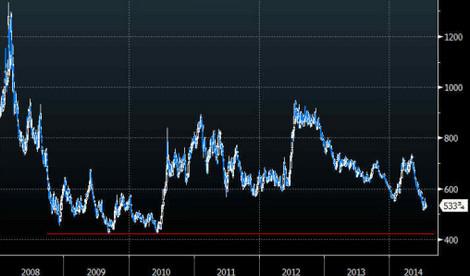 Copper was the top-performing commodity this week. The red metal benefited from the number of strong economic data points released in the period, particularly the better-than-expected reading on China's manufacturing sector. Whether prices can break though the $3.27/lb resistance level will depend on how next week's economic data comes out.
COPPER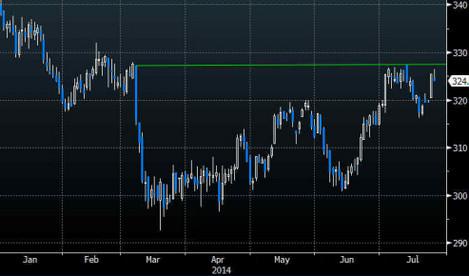 Natural gas continued to sink, hitting a fresh eight-month low this week. We do not see an end to the downtrend in natural gas in the near term, thought we will look for buying opportunities come September. Until then, we are sellers on any rally to $4/mmbtu, with the expectations that prices will hit $3.50 in the coming weeks.
NATURAL GAS