The following is a list of oversold stocks, as determined by the Relative Strength, or RSI(14), indicator. All of the stocks in this list have RSI(14) values below 40, which usually signal oversold conditions.

In addition, all of these stocks have been profitable over the last five years, and analyst expect solid earnings growth over the next five years.

Do current oversold conditions present a buying opportunity? What do you think? Full details below.

All data sourced from Finviz.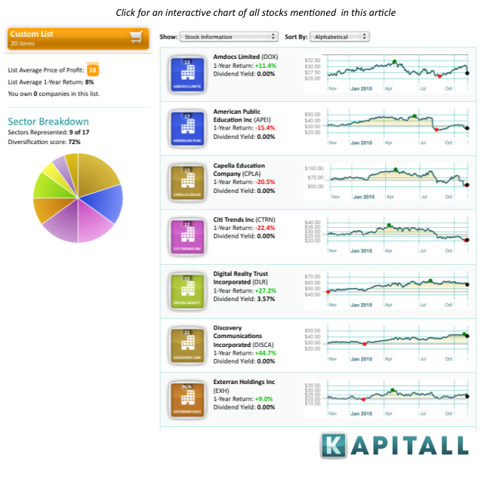 The list has been sorted by the average rank of EPS and sales growth rates.

1. Mercadolibre, Inc. (NASDAQ:MELI): Business Services Industry. Market cap of $2.72B. RSI(14) at 36.85. EPS has grown by 122.23% over the past 5 years, with EPS growth projected at 39.84% over the next 5 years. Sales have grown by 68.66% over the past 5 years. Short float at 14.24%, which implies a short ratio of 4.74 days. The stock has gained 60.79% over the last year.

2. Home Inns & Hotels Management Inc. (NASDAQ:HMIN): Lodging Industry. Market cap of $1.85B. RSI(14) at 32.79. EPS has grown by 73.75% over the past 5 years, with EPS growth projected at 30.00% over the next 5 years. Sales have grown by 93.12% over the past 5 years. Short float at 3.23%, which implies a short ratio of 2.51 days. The stock has gained 51.01% over the last year.

3. True Religion Apparel Inc. (NASDAQ:TRLG): Apparel Clothing Industry. Market cap of $477.05M. RSI(14) at 36.17. EPS has grown by 59.3% over the past 5 years, with EPS growth projected at 22.5% over the next 5 years. Sales have grown by 62.24% over the past 5 years. Short float at 23.86%, which implies a short ratio of 12.95 days. The stock has lost -6.68% over the last year.

4. American Public Education, Inc. (NASDAQ:APEI): Business Services Industry. Market cap of $501.55M. RSI(14) at 36.28. EPS has grown by 41.62% over the past 5 years, with EPS growth projected at 26.25% over the next 5 years. Sales have grown by 45.16% over the past 5 years. Short float at 12.18%, which implies a short ratio of 5.47 days. The stock has lost -14.97% over the last year.

5. Discovery Communications, Inc. (NASDAQ:DISCA): CATV Systems Industry. Market cap of $11.94B. RSI(14) at 36.68. EPS has grown by 40.59% over the past 5 years, with EPS growth projected at 22.47% over the next 5 years. Sales have grown by 40.99% over the past 5 years. Short float at 8.09%, which implies a short ratio of 13.62 days. The stock has gained 47.35% over the last year.

6. Exterran Holdings, Inc. (EXH): Oil & Gas Equipment & Services Industry. Market cap of $1.53B. RSI(14) at 38.12. EPS has grown by 88.08% over the past 5 years, with EPS growth projected at 25.00% over the next 5 years. Sales have grown by 18.43% over the past 5 years. Short float at 12.83%, which implies a short ratio of 10.18 days. The stock has gained 15.36% over the last year.

7. Fuel Systems Solutions, Inc. (NASDAQ:FSYS): Auto Parts Industry. Market cap of $678.72M. RSI(14) at 38.45. EPS has grown by 70.05% over the past 5 years, with EPS growth projected at 16.67% over the next 5 years. Sales have grown by 30.77% over the past 5 years. Short float at 41.62%, which implies a short ratio of 16.96 days. The stock has gained 13.96% over the last year.

8. MedAssets, Inc. (NASDAQ:MDAS): Healthcare Information Services Industry. Market cap of $1.06B. RSI(14) at 39.37. EPS has grown by 30.23% over the past 5 years, with EPS growth projected at 20.77% over the next 5 years. Sales have grown by 35.26% over the past 5 years. Short float at 10.29%, which implies a short ratio of 7.29 days. The stock has lost -18.48% over the last year.

9. Lumber Liquidators Holdings, Inc. (NYSE:LL): Home Improvement Stores Industry. Market cap of $589.8M. RSI(14) at 37.97. EPS has grown by 26.64% over the past 5 years, with EPS growth projected at 18.98% over the next 5 years. Sales have grown by 25.96% over the past 5 years. Short float at 21%, which implies a short ratio of 12.5 days. The stock has lost -6.03% over the last year.

10. Genzyme Corp. (GENZ): Biotechnology Industry. Market cap of $18.27B. RSI(14) at 39.94. EPS has grown by 33.07% over the past 5 years, with EPS growth projected at 24.39% over the next 5 years. Sales have grown by 15.45% over the past 5 years. Short float at 2.95%, which implies a short ratio of 1.83 days. The stock has gained 40.56% over the last year.

11. Teva Pharmaceutical Industries Limited (NASDAQ:TEVA): Drug Manufacturer. Market cap of $47.51B. RSI(14) at 35.94. EPS has grown by 34.97% over the past 5 years, with EPS growth projected at 14.92% over the next 5 years. Sales have grown by 23.7% over the past 5 years. Short float at 0.98%, which implies a short ratio of 1.77 days. The stock has gained 2.05% over the last year.

12. Digital Realty Trust Inc. (NYSE:DLR): REIT. Market cap of $4.94B. RSI(14) at 34.59. EPS has grown by 22.84% over the past 5 years, with EPS growth projected at 11.95% over the next 5 years. Sales have grown by 42.85% over the past 5 years. Short float at 16.2%, which implies a short ratio of 12.2 days. The stock has gained 30.62% over the last year.

13. FTI Consulting, Inc. (NYSE:FCN): Management Services Industry. Market cap of $1.64B. RSI(14) at 33.08. EPS has grown by 21.73% over the past 5 years, with EPS growth projected at 14.44% over the next 5 years. Sales have grown by 26.8% over the past 5 years. Short float at 5.22%, which implies a short ratio of 5.8 days. The stock has lost -17.9% over the last year.

14. Citi Trends (NASDAQ:CTRN): Apparel Stores Industry. Market cap of $307.93M. RSI(14) at 34.46. EPS has grown by 15.27% over the past 5 years, with EPS growth projected at 17.5% over the next 5 years. Sales have grown by 22.09% over the past 5 years. Short float at 10.96%, which implies a short ratio of 7.43 days. The stock has lost -23.26% over the last year.

15. Amdocs Ltd. (NYSE:DOX): Business Software & Services Industry. Market cap of $5.59B. RSI(14) at 30.79. EPS has grown by 117.1% over the past 5 years, with EPS growth projected at 11.43% over the next 5 years. Sales have grown by 12.76% over the past 5 years. Short float at 1.54%, which implies a short ratio of 2.22 days. The stock has gained 11.89% over the last year.

16. Ormat Technologies Inc. (NYSE:ORA): Electric Utilities Industry. Market cap of $1.28B. RSI(14) at 32.45. EPS has grown by 16.09% over the past 5 years, with EPS growth projected at 22.03% over the next 5 years. Sales have grown by 13.63% over the past 5 years. Short float at 10.08%, which implies a short ratio of 12.58 days. The stock has lost -22.38% over the last year.

17. Capella Education Co. (NASDAQ:CPLA): Education & Training Services Industry. Market cap of $880.09M. RSI(14) at 32.87. EPS has grown by 9.12% over the past 5 years, with EPS growth projected at 20.3% over the next 5 years. Sales have grown by 23.25% over the past 5 years. Short float at 18.35%, which implies a short ratio of 7.36 days. The stock has lost -22.54% over the last year.

18. NRG Energy, Inc. (NYSE:NRG): Electric Utilities Industry. Market cap of $5.05B. RSI(14) at 33.5. EPS has grown by 34.81% over the past 5 years, with EPS growth projected at 9.00% over the next 5 years. Sales have grown by 33.59% over the past 5 years. Short float at 4.68%, which implies a short ratio of 4.57 days. The stock has lost -15.52% over the last year.

19. Sonus Networks, Inc. (NASDAQ:SONS): Communication Equipment Industry. Market cap of $773.37M. RSI(14) at 35.49. EPS has grown by 100.00% over the past 5 years, with EPS growth projected at 14.00% over the next 5 years. Sales have grown by 5.89% over the past 5 years. Short float at 3.41%, which implies a short ratio of 2.6 days. The stock has gained 44.85% over the last year.

20. Republic Services, Inc. (NYSE:RSG): Waste Management Industry. Market cap of $11.47B. RSI(14) at 37.02. EPS has grown by 4.93% over the past 5 years, with EPS growth projected at 17.55% over the next 5 years. Sales have grown by 24.8% over the past 5 years. Short float at 0.75%, which implies a short ratio of 0.97 days. The stock has gained 16.4% over the last year.


Disclosure: No positions