Twitter (NYSE:TWTR) is set to report FQ2 2014 earnings after the market closes on Tuesday, July 29th. The market has not been treating Twitter very well in 2014, and it really shouldn't come as much of a surprise. Twitter, a 140-character social media messaging platform, is often compared to Facebook (NASDAQ:FB). In recent quarters it's become extremely clear that Twitter is struggling to grow its earnings and vital monthly active user (MAU) number. At the same time, Twitter's big brother in social media, Facebook, now has 1.32 billion users and is virtually printing money with its lucrative mobile advertising business. Here's what investors are looking for from Twitter on Tuesday.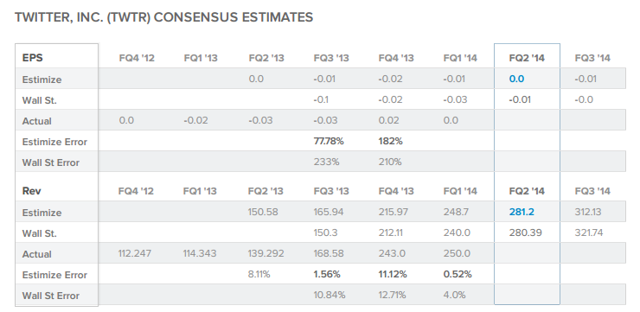 (Source)
This quarter contributing analysts on Estimize.com have come to a consensus earnings expectation of 0c EPS and $281.20M in revenue compared to a consensus of -1c EPS and $280.39M from Wall Street. Since Twitter went public the consensus from Estimize.com has been more accurate in forecasting Twitter's EPS and revenue in every quarter.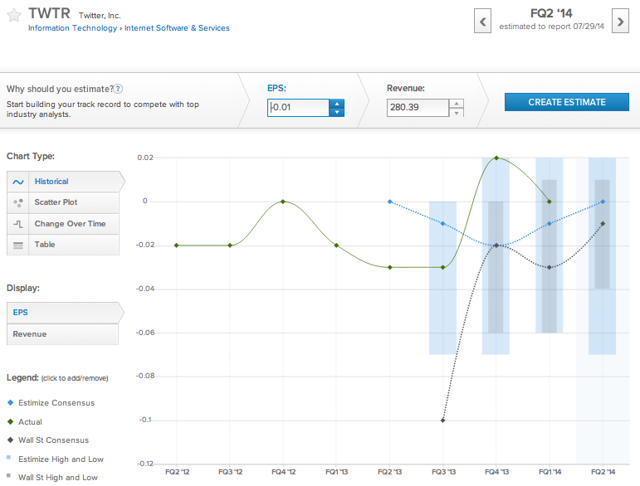 (Source)
Throughout the quarter Twitter CEO Dick Costolo has made several high profile shakeups among his management team. Perhaps the most notable change occurred in June when Chief Operating Officer Ali Rowghani announced his resignation. Mr. Rowghani oversaw the Twitter product and was the former CFO of the company.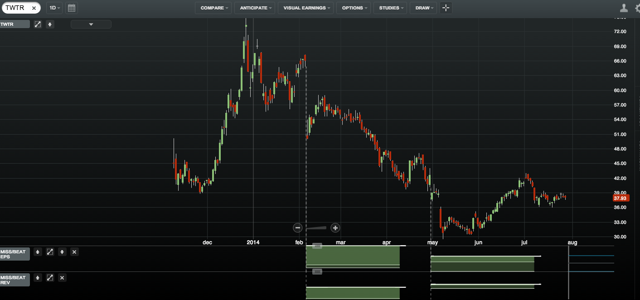 Although Twitter managed to beat the Estimize consensus on EPS and revenue last quarter, the stock price went in reverse as the monthly active users growth continued to disappoint analysts. Since going public Twitter's quarterly results have revealed a troubling weakness. The company struggles to attract and capture new users.
Last quarter Twitter reported a softer than expected 255 million monthly active users. That number was up just 14 million users from the prior period. Twitter has not made any major changes to its onboarding process since its quarterly report back in April, and therefore a sharp uptick in MAUs is unlikely. Although Twitter had a huge potential catalyst in the World Cup this quarter, MAUs are only expected to come in between 260 million and 270 million.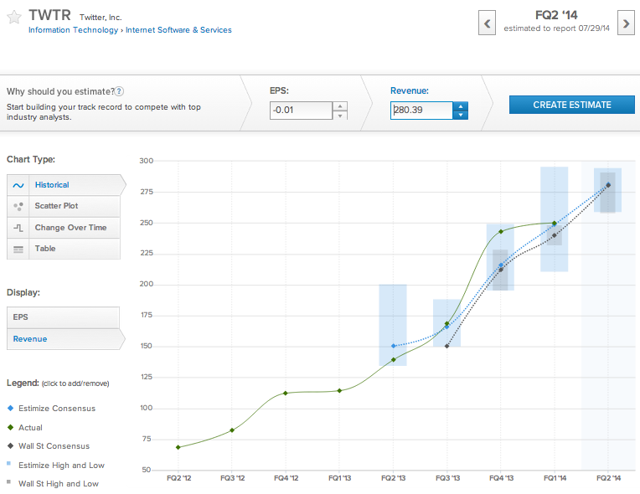 (Source)
Twitter may be struggling to grow its user base, but the advertising business is coming along nicely. Revenue has grown by over 100% on a year-over-year basis in each quarter over the past 2 years, which is encouraging. Unfortunately though, Twitter is still having difficulty turning a profit.
Analysts have historically focused on MAUs rather than EPS or revenue as the MAU number is believed to more indicative of the likelihood of Twitter becoming a successful business in the future. With Twitter having less than one fourth the size of Facebook's user base, Twitter still has a long way to go in this category.

(Source)
Estimize.com ranks and allows the sorting of analysts by accuracy. The analyst with the lowest error rate on Twitter is an anonymous information technology professional who goes by the username jrd245. Over 2 previously scored estimates on Twitter jrd245 has averaged an error rate of 11.8%. Estimize is completely open and free for anyone to contribute, and the base of contributing analysts on the platform includes hedge fund analysts, asset managers, independent research shops, non-professional investors, and students.
The Estimize consensus was more accurate than the Wall Street consensus 65% of the time last quarter on the coverage of nearly 1000 stocks. A combination of algorithms ensures that the data is not only clean and free from people attempting to game the system, but also weighs past performance and many other factors to gauge future accuracy.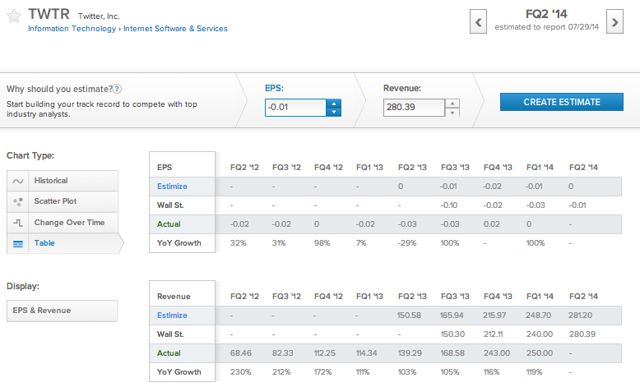 (Source)
Contributing analysts on the Estimize.com platform are forecasting that on Tuesday Twitter will report a break-even quarter and beat the Street's revenue consensus by $1 million (<1%).
Google (NASDAQ:GOOG) (NASDAQ:GOOGL) and Facebook have shown this quarter that there is healthy demand for mobile and internet advertising. Even if Twitter can report strength on the top line, and possibly even turn a bit of a profit this quarter, the first place traders will be looking in Twitter's report is at the monthly active users line.
Disclosure: None.