The following is a list of heavily shorted stocks that are approaching an inflection point, based on moving average trends. For this article, we define an inflection point as the convergence between the 50-day and 200-day moving averages.

When these two moving averages cross, it often represents a shift in investor sentiment. If the 50-day MA moves above the 200-day MA (bullish), it's called a "Golden Cross" signal. If, on the other hand, the 50-day MA crosses below the 200-day MA (bearish), it's called the "Death Cross".

To compile this list, we started with a universe of stocks with short floats in excess of 10%. We then narrowed down the list by minimizing the difference between each stock's 50-day and 200-day moving averages.

Will the bullish momentum force short sellers to cover their positions? What do you think?

All data sourced from Finviz.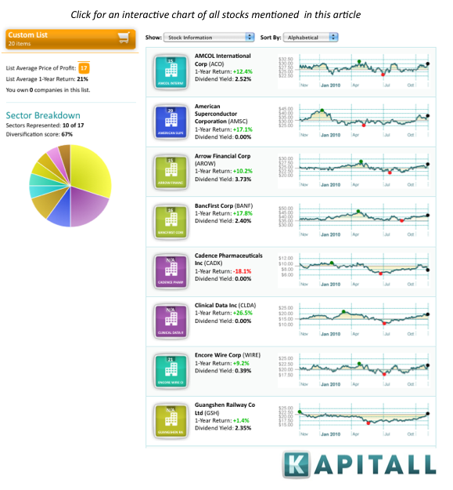 The list has been sorted by the short ratio.

1. IDEXX Laboratories, Inc. (NASDAQ:IDXX): Diagnostic Substances Industry. Market cap of $3.55B. SMA50 at $60.16 vs. SMA200 at $59.57 (current price at $61.65). Short float at 12.24%, which implies a short ratio of 32.11 days. The stock has gained 21.96% over the last year.

2. Insulet Corporation (NASDAQ:PODD): Medical Instruments & Supplies Industry. Market cap of $644.25M. SMA50 at $14.88 vs. SMA200 at $14.85 (current price at $14.74). Short float at 15.41%, which implies a short ratio of 30.97 days. The stock has gained 36.36% over the last year.

3. Renasant Corp. (NASDAQ:RNST): Regional Bank. Market cap of $441.2M. SMA50 at $15.21 vs. SMA200 at $14.98 (current price at $17.44). Short float at 8.16%, which implies a short ratio of 28.27 days. The stock has gained 39.4% over the last year.

4. Cadence Pharmaceuticals Inc. (CADX): Biotechnology Industry. Market cap of $404.48M. SMA50 at $8.57 vs. SMA200 at $8.53 (current price at $7.72). Short float at 20%, which implies a short ratio of 25.42 days. The stock has lost -14.89% over the last year.

5. Guangshen Railway Co. Ltd. (NYSE:GSH): Railroads Industry. Market cap of $3.15B. SMA50 at $18.96 vs. SMA200 at $18.55 (current price at $21.88). Short float at 1.35%, which implies a short ratio of 24.18 days. The stock has gained 7.48% over the last year.

6. Encore Wire Corp. (NASDAQ:WIRE): Copper Industry. Market cap of $505.56M. SMA50 at $20.49 vs. SMA200 at $20.40 (current price at $22.12). Short float at 6.42%, which implies a short ratio of 22.23 days. The stock has gained 8.67% over the last year.

7. Speedway Motorsports Inc. (NYSE:TRK): Sporting Activities Industry. Market cap of $651.23M. SMA50 at $15.28 vs. SMA200 at $15.06 (current price at $15.84). Short float at 8.95%, which implies a short ratio of 20.41 days. The stock has gained 4.36% over the last year.

8. Sonic Solutions (SNIC): Business Software & Services Industry. Market cap of $368.86M. SMA50 at $10.11 vs. SMA200 at $9.65 (current price at $12.40). Short float at 45.06%, which implies a short ratio of 19.75 days. The stock has gained 79.07% over the last year.

9. Amcol International Corp. (NYSE:ACO): General Building Materials Industry. Market cap of $928.71M. SMA50 at $27.15 vs. SMA200 at $26.85 (current price at $29.86). Short float at 7.46%, which implies a short ratio of 19.11 days. The stock has gained 16.16% over the last year.

10. McGrath Rentcorp (NASDAQ:MGRC): Rental & Leasing Services Industry. Market cap of $641.56M. SMA50 at $23.59 vs. SMA200 at $23.19 (current price at $26.21). Short float at 4.24%, which implies a short ratio of 18.83 days. The stock has gained 40.15% over the last year.

11. Arrow Financial Corporation (NASDAQ:AROW): Regional Bank. Market cap of $303.21M. SMA50 at $24.65 vs. SMA200 at $24.4 (current price at $26.94). Short float at 4.38%, which implies a short ratio of 18.75 days. The stock has gained 15.48% over the last year.

12. TreeHouse Foods Inc. (NYSE:THS): Processed & Packaged Goods Industry. Market cap of $1.67B. SMA50 at $45.09 vs. SMA200 at $44.74 (current price at $47.86). Short float at 15.58%, which implies a short ratio of 18.18 days. The stock has gained 29.47% over the last year.

13. American Superconductor Corporation (NASDAQ:AMSC): Diversified Electronics Industry. Market cap of $1.68B. SMA50 at $32.17 vs. SMA200 at $30.44 (current price at $37.33). Short float at 28.98%, which implies a short ratio of 18.02 days. The stock has gained 16.34% over the last year.

14. Clinical Data, Inc. (NASDAQ:CLDA): Biotechnology Industry. Market cap of $574.91M. SMA50 at $17.23 vs. SMA200 at $16.67 (current price at $19.5). Short float at 11.15%, which implies a short ratio of 18.01 days. The stock has gained 26.38% over the last year.

15. Shenandoah Telecommunications Co. (NASDAQ:SHEN): Telecom Services Industry. Market cap of $473.85M. SMA50 at $18.33 vs. SMA200 at $18.02 (current price at $19.73). Short float at 2.89%, which implies a short ratio of 17.6 days. The stock has gained 25.22% over the last year.


Disclosure: No positions