Royal Caribbean Cruises Ltd. (NYSE:RCL) released their 2Q2014 earnings and not only crushed net income with $0.66 per share ($0.16 above the midpoint guidance), but raised the full year guidance. This shouldn't come as a surprise to investors, who have seen Royal Caribbean out compete both Carnival Cruise Lines (NYSE:CCL) and Norwegian Cruise Lines (NASDAQ:NCLH). Over the past 12 months, Royal has climbed more than 60% while Carnival and Norwegian have remained flat.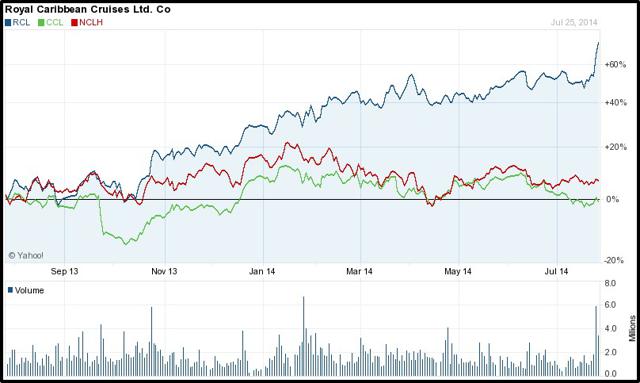 The conference call hosted by CEO Richard Fain pointed out a few contributors to that success, and also highlighted where the company is going from here.
Success in 2Q 2014 and Full Year
One of the contributors for the quarter was the success in Europe and Asia. Of the three cruise lines, Royal is the only one that offers cruises within Asia, and potentially tapping a large market. During the Q&A portion of the recent conference call, the following discussion took place:
Question: And I know there is a lot of hype out there about the opportunity in China over the long term but how do you guys decide what's the appropriate type of investment to put in that market? And then may be help us think about where the investments will fall in that market as well?

Answer: It's proven to be a very successful market for us but it's still young and we are still investing in two ways. First of all, the capital investment I think the move of Quantum was a pretty bold move now and looking back at it, it was a pretty obvious one but I feel these things are always obvious after the fact. I think that reflects our commitment to the market. It will of course, I think we mentioned this earlier that it requires some, not only capital investment with the ships that we have put in and very high growth rate that we have been having there and also requires an investment in infrastructure and in operating cost and that has challenged us this year and will be a challenge next year.
While other industries have moved in to capitalize on the Asian market, it is surprising that more of the Cruise Lines have not followed suit. Some of the smaller cruise lines such as Princess, Celebrity, and Holland America all run cruises out of ports in Asia, but Carnival and Norwegian have yet to tap that market. Royal currently has five ships that cruise in the Pacific, including the Quantum of the Seas, one of its newest and largest ships.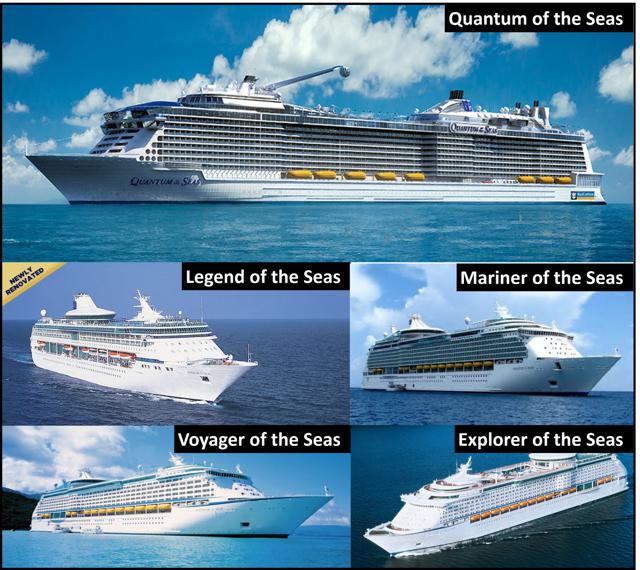 (Source: Company website)
From a fleet deployment perspective, even Royal is not as heavily invested there as some of their traditional markets, but that will likely change as the relationship in Asia begins to mature:
Net yields are expected to be up by approximately 4%, our deployment mix shift substantially in Q3, we have 44% of our capacity in Europe, 28% in the Caribbean, 10% in Alaska and 7% inside China. As a result the Caribbean pricing environment is less influential on our overall yield in Q3 and significant improvements in Europe and China as well as positive yield trends in our Alaska sailing are having more of an impact on our overall yield growth.
Chinese Growth
The growth in China has attracted investors over the past decade, GDP growth has pushed 10% before falling to around 7.5%. The movement by Royal Cruise Line to the Orient has opened up a new stream of revenue that the other big cruise lines have yet to invest in.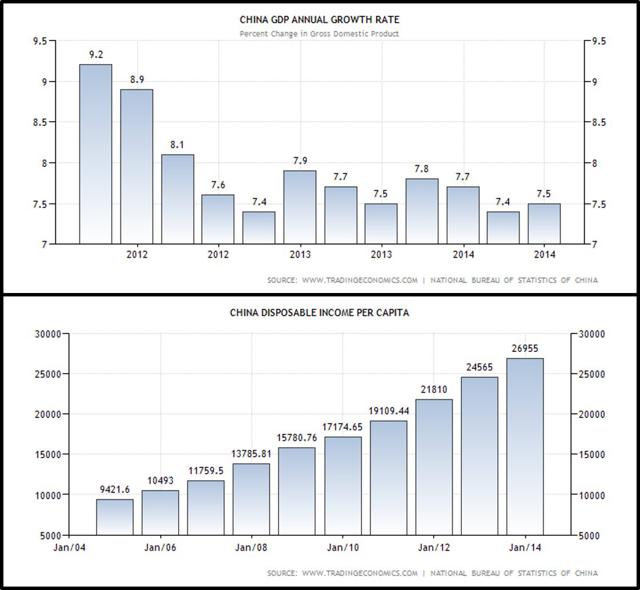 (Source)
The Pacific has already seen a swing in attention for the pleasure seekers. Casinos in Macau have overtaken Las Vegas in revenues. Singapore casinos boast some of the most luxurious hotels and shows.
According to the World Bank, China may become the largest economy in the world sometime between 2020 and 2030, while India may become the second largest economy in the world sometime between 2030 and 2035. According to Forbes, in 2013, Asia had 386 billionaires, while North America had 571 and Europe had 366.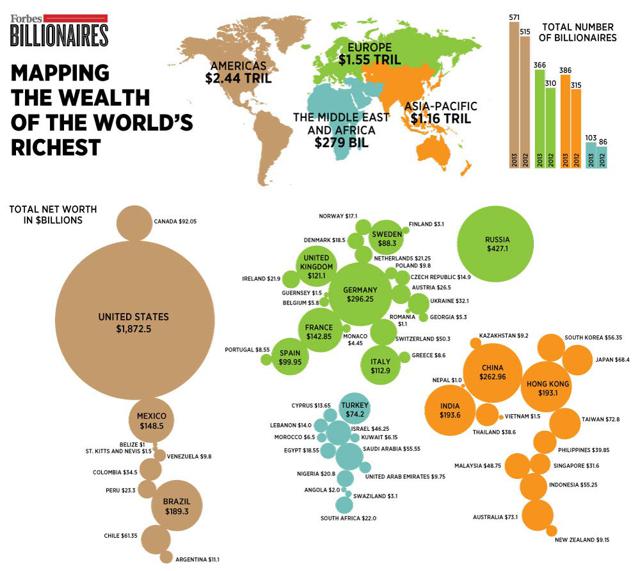 (Source)
The Asian countries have long been known for their income disparities and the wide gaps that exist between poverty and exuberance. The middle class almost doesn't exist in Asia. So while the majority of the population will not be able to afford the luxury of a cruise, the increasingly wealthy upper class will enjoy these benefits.
Opinions
Analysts remain bullish on Royal compared to its competitors, and there will likely be additional upgrades going forward based on the recent quarter.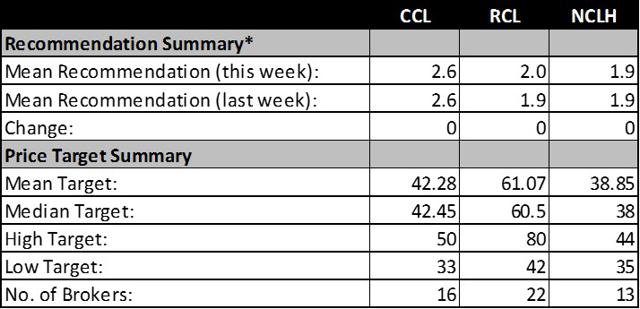 (Source: Yahoo Finance)
The company adjusted its full year estimates slightly to $3.40-$3.50, signaling a slightly bullish outlook for the company.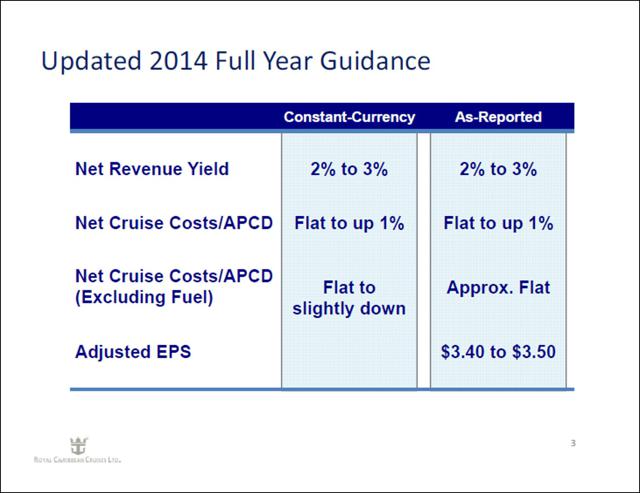 Conclusion
Of the big three cruise lines, Royal Caribbean is poised to continue growth and capitalize on the Asian Pacific region. As the company brings additional ships on line, investors should expect to see some of them heading to the Pacific.
Disclosure: The author has no positions in any stocks mentioned, and no plans to initiate any positions within the next 72 hours. The author wrote this article themselves, and it expresses their own opinions. The author is not receiving compensation for it (other than from Seeking Alpha). The author has no business relationship with any company whose stock is mentioned in this article.