By Mike McDermott
Two years ago, it was hard to miss the opportunity in the Chinese gaming and online information industry. Revenue growth rates for most industry participants were measured in triple digits. Analysts expected Chinese internet usage to continue to increase at a torrid pace, due to a large portion of the population moving to more urban cities.
The expectations weren't necessarily wrong, but as is often the case with exciting investment themes, equity valuations got a bit ahead of the actual fundamental growth. Stock prices began to reflect long-term expectations for unsustainable growth, and the sector became vulnerable to disappointment and decline in the face of any less-than-stellar developments.
Eventually, uncertainty surrounding China's regulation of the industry began to raise concern and eat into premium stock price valuations. Fierce competition also played a role, as too many gaming and "infotainment" content providers chased a finite pool of internet users. Investors also worried that tighter economic policy decisions could crimp the amount of discretionary spending available for the industry.
As a result, many stocks in this sector have suffered significant declines. A number of promising companies have actually gone out of business, or become so small they no longer represent legitimate investing or trading vehicles. But the remaining stronger players may actually offer compelling values – and a timely trading opportunity in today's turbulent market.
The Nature of China's Online Content Industry
There are primarily two different business models employed by the online infotainment industry:
Free content with revenue from advertisements.
Premium content with revenues from usage fees.
The two approaches are often used in tandem. Many companies have found it beneficial to leverage both the information side and the entertainment side of the business model.
On the information side, Companies like Netease.com Inc. (NASDAQ:NTES), Sina Corp. (NASDAQ:SINA), and Sohu.com Inc. (NASDAQ:SOHU) provide internet portals which include search and directory functions along with original or licensed content. Much like Google (NASDAQ:GOOG) or Yahoo (NASDAQ:YHOO), these companies are able to sell a significant amount of ad space because of the high level of traffic their sites receive.
In contrast, the entertainment side of the industry is dominated by Massively Multiplayer Online Role-Playing Games, or MMORPGs. Typically, these games are initially free to play, but have some strings attached. Certain games may charge hourly fees after a certain amount of time, or they may charge for certain in-game weapons or other functionalities. Almost universally, the approach is to first hook players into the game action, and then charge them to advance or continue playing.
Ironically, small (and not-so-small) digital economies have developed around these games, where users trade individual game trinkets or game currency for real world dollars or yuan. During the height of popularity, some of the implied valuations for assets in the games exceeded various small countries' total GDP! It's no wonder investors became overly-enthusiastic about the market potential for this dynamic industry.
Attractive "Risk-ON" Trading Vehicles
Today's global equity markets are increasingly uncertain, as governments deal with the aftermath of a worldwide financial crisis, simmering trade tensions, and a currency war that could very well morph into a "beggar thy neighbor" environment.
With this volatile backdrop, traders need to have an arsenal of appropriate weapons at their disposal to handle the different market gyrations. There are times when the best approach will be to reduce exposure and wait for better risk/reward opportunities. But there will also be times when the proper play is to dramatically increase exposure to take advantage of key inflection points. When markets set up for a "risk-on" environment, trading vehicles with significant velocity can offer the best opportunity for capturing profits.
The following Chinese online content stocks are exceptional "risk-on" vehicles for when traders need to quickly increase their exposure to emerging markets (and specifically bullish China trends). Rather than a "buy and hold" opportunity set, these names are likely to experience volatile swings, and if traded correctly, could offer outsized returns with a modest amount of speculative capital at risk
So without further ado, let's dig into the three Chinese online stocks that offer significant potential for "risk-on" trading gains.
Perfect World Co. Ltd. (NASDAQ:PWRD)
Perfect World is best known for its "Perfect World" Chinese mythology series, as well as the MMORPG (Massively Multiplayer Online Role-Playing Game) "Legend of Martial Arts" and "Fantasy Xhu Xian." Any media company will continually be challenged to develop strong, new content, and the online game industry is no different. Perfect World must continually update its existing games as well as feed its pipeline of new titles in order to stay competitive in the current environment.
To its credit, PWRD has built a technologically advanced 3D development engine, which allows the company to efficiently produce a high-quality gaming experience. The engine is not only helpful in creating realistic and aesthetically pleasing graphics, but is also adept at simulating (and manipulating) real-world physical properties such as gravity. A strong gaming experience is helpful in increasing player loyalty in a very competitive market.
During the second quarter, the company reported Aggregate Average Concurrent Users (ACU) of 886,000, with Active Paying Customers (APC) above 1.4 million for the quarter. These numbers are down from the respective peaks in Q4 2009 of 1.2 million ACU and 2.2 million APC as the user stats fluctuate with new game releases and expansion packs to existing games.
When PWRD released its second quarter earnings report, investors were less than enthused with the decline in paying customers, along with less-than-definitive guidance from management on when upcoming games would be launched. (In quarters past, a few games have been released with bugs that had not been resolved – resulting in less favorable reviews by gamers.)
To its credit, management is committed to getting it right on the next two game launches (Dragon Excalibur, and Forsaken World). And while the delay was disappointing in the short-run, the new games will likely increase the value of the franchise, due to higher quality and a resurgence of customer loyalty.
Game Releases Back on Track
In recent weeks, the stock has begun trading higher after the company announced launches of beta testing for both Forsaken World (Oct 21) as well as Dragon Excalibur (Oct 28). The announcements alleviate some of the concern over when the company will release the games for full distribution, and now the question is how the user base will respond to the titles.
In addition to these two new games in development, the company rolled out four new "expansion packs" for existing games this summer. Expansion packs typically have the effect of increasing the life-span of existing games as new functionality is made available. The expansion packs may also boost revenue, as users purchase new available weapons and spend more time interacting with the game.
These developments should help to inspire more investor confidence, as it appears PWRD is back in a strong development cycle and still has a number of unreleased games and expansions in the pipeline.
Leveraging Its Base
In addition to exposure in the domestic China market, management has been actively pursuing international opportunities through licensing and joint venture agreements. Perfect World currently has a reach which includes Taiwan, Russia, Thailand, Malaysia, Singapore, Europe and North America. The geographic diversification should add stability to the revenue base, and eventually lead to a higher earnings multiple as investors perceive less risk.
This year the company entered the movie & TV market by inking agreements with two media companies. Perfect World took a majority stake in Beijing Xinbaoyuan movie & TV Investment Co. as well as Shanghai Baohong Entertainment & Media Co., Ltd. These investments should allow the company to leverage their success with gaming titles and further expand their revenue base.
Valuation and Trade Expectations
Analysts currently expect PWRD to earn $2.60 per share this year, and earnings are expected to grow by roughly 17% to $3.05 in 2011. Based on these numbers, the stock is currently trading at roughly 11 times forward earnings – even after the late-fall rally. The conservative multiple indicates that investors are still relatively skeptical when it comes to PWRD's long-term growth – which should imply that the stock is more vulnerable to upside surprises than a major disappointment.
A still-conservative PE of 15 times forward earnings would put the stock above $45, to a level where PWRD was trading near the end of last year. If management offers more clarity during the third or fourth quarter conference call, we could see an increase in both expected earnings and the multiple investors are willing to pay for this growth opportunity.
Q3 earnings are scheduled to be released on November 15th, and the announcement should materially affect the stock price. With most investors anxious for more clarity on the development process (as well as user reaction to the new games), management has an opportunity to bolster investor confidence and set the stage for a significant trading rally.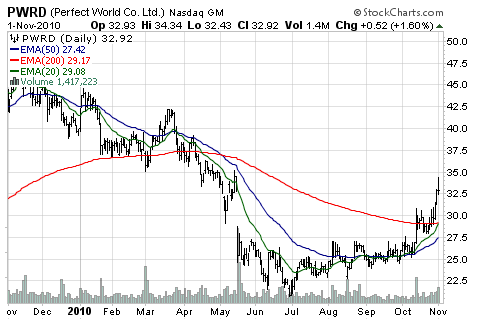 (Click to enlarge)
NetEase.com Inc. (NTES)
The primary draw for NetEase is the company's ability to leverage a number of different online businesses and cross-sell services to its broad client base. The company's product offerings include:
Established multi-player and casual game platforms
Internet portal
Advertising services
Email and blog services
Search engine
Wireless offerings
While the online game services represent the lion's share of the company's revenue, the additional emerging businesses should serve to augment and diversify gaming revenues. A secondary objective for these businesses is to funnel users to its profitable game platform once they become established customers.
Strong Suite of Game Titles
NetEase has been very successful in building its gaming business. Its flagship "Fantasy Westward Journey" franchise has been a huge hit. The original game was launched in 2004, and before the end of 2010 developers will implement the game's 10th expansion pack. Longevity speaks to the quality of this profitable asset, and the company has been able to launch two additional games within the "Westward Journey" series.
The company has developed several additional games, of the MMORPG type as well as casual games that are geared more towards individuals with busy daily routines and smaller time windows for online gaming. Looking forward, NetEase has a pipeline of both new game launches and expansion packs, which should continue to add value to the company's gaming business. Several expansion packs were expected to be released in the third quarter, and investors should receive important information on their effectiveness in both the Q3 and Q4 earnings reports.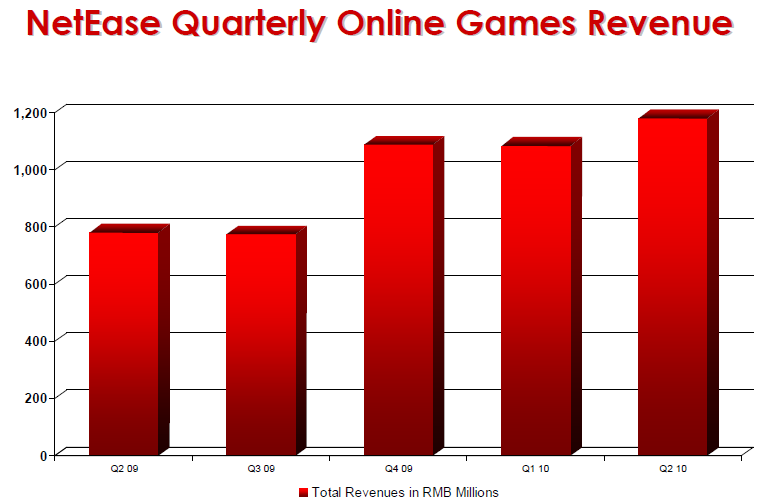 (Click to enlarge)
Perhaps the strongest gaming asset for the company is its license to distribute "World of Warcraft" in China. This game has become a huge success in other parts of the world, with an impressively active user base and strong revenue. NTES' ability to capture Chinese revenue from this global title should continue to support the robust growth in gaming revenue.
Strong Financial Position
NetEase is in the enviable position of having both a strong growth platform and a stable financial position. The company has cash of roughly $9.40 per ADS outstanding, and is able to use that cash to develop new products, expand into ancillary businesses, and acquire new licensing agreements.
Analysts expect the company to grow earnings by 25% next year, reaching $3.04 per ADS. Despite the strong growth engine and the company's proven ability to reach its target market, investors are able to buy the stock for an earnings multiple just above 13.
The price discount is likely due to uncertainty for the broad economic climate in China. However, with such a large portion of the country's population moving to urban cities, NTES should continue to see a dramatic expansion in its client base. Chinese internet cafes are more likely to have NTES games pre-loaded on machines due to their popularity, and NTES should also gain significant ground in its wireless business as smart cell phone usage increases.
A breakout above the $42 / $43 area could signal a new wave of buyers stepping up to the plate, and the trading opportunities will be especially attractive during periods of increased speculation on China growth.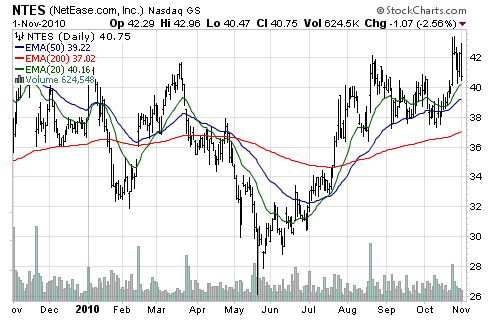 (Click to enlarge)
Changyou.com Limited (NASDAQ:CYOU)
Changyou.com has one of the best growth trajectories of all the Chinese online gaming companies. Management recently announced third quarter results and the numbers were impressive:
Revenue of $85.6 million – up 25% over last year
Adjusted earnings per ADS at $0.88 – beating guidance and up 14% over last year
Registered users up 40% over last year, reaching 105.2 million people
The results were strong enough to send the stock price sharply higher, but CYOU is certainly no stranger to positive revenue and earnings growth. Even while competitors were seeing flat to negative revenue trends, Changyou.com has been steadily growing its business quarter after quarter.
The company is actually a spin-off from larger Sohu.com, Inc. (SOHU), an online media portal which still owns 68.5% of CYOU. Spinning off the company into a separately trading stock allows SOHU to more accurately determine the market value of its gaming division (and also allows investors and traders to isolate this portion of the business).
Diversified Games Means Less Risk
CYOU owns the rights to one of the more popular online games, "Tian Long Ba Bu," but the company's fortunes don't rest on this one profit engine. Management has been careful to build out a diversified product suite, which caters to a number of different demographic categories. The benefit of this approach is that, if a competitor comes out with a game that initially captures a large portion of the market share in a particular genre, CYOU should still be able to maintain attractive profits through its other non-related games.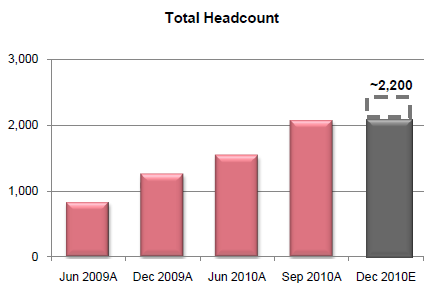 (Click to enlarge)
The company enjoys an attractive pipeline of new games as well as additional expansion packs, which should add incremental revenue to its strong existing business.
Management appears extremely committed to keeping growth rates intact through organically building out new products. Many CEOs will pay lip service to this goal, but CYOU is putting plenty of action behind the plan. Each quarter the company adds additional engineers to its payroll, which increases the company's ability to roll out games quickly – and adds additional layers of quality to each game.
By the Numbers
Changyou.com is in a strong financial position, with no debt on the books and strong free cash flow. Analysts are currently projecting earnings growth of 13% next year to $3.67 per ADS. While 13% growth may not be all that impressive, I should mention that the consensus expectation has been steadily rising over recent months, as analysts become more comfortable with the industry as well as the company metrics.
Even after a sharp post-earnings rally, CYOU is trading at a single digit multiple – implying little confidence in the future growth of the company. At the current price, it appears traders are pricing in the worst-case scenario – which leaves the stock vulnerable to positive surprises.
China-related securities have experienced plenty of volatility over recent months, as traders are uncertain how regulators will react to the danger of inflation, the potential for trade hostilities, and the ongoing currency disruptions. But when we enter positive time periods for China stocks, CYOU should be a high-beta name with the potential to appreciate rapidly due to both increasing earnings expectations and a potentially expanding price multiple.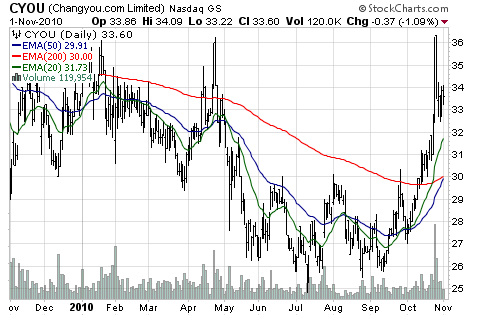 (Click to enlarge)
Disclosure: As active traders, authors may have positions long or short in any securities mentioned. Full disclaimer can be found here.