InvenSense (NYSE:INVN) is the global market leader in devices and software for the motion interface market that detects and tracks motion in three-dimensional space. The company's MotionTracking devices combine micro-electro-mechanical system [MEMS] motion sensors, such as accelerometers, gyroscopes and compasses used in various applications of consumer electronics such as smartphones and tablets, console and portable video gaming devices.
Impressive Track Record
The company has shown impressive revenue performance over the last five years and holds strong growth prospects in the future. Moreover, the company has substantially increased its order backlog in the last year which will result in strong future cash inflows. Due to splendid performance, the company stock has also gained over 55% during the last twelve months and is up around 16% year-to-date. InvenSense has performed better than its competitors such as, STMicroelectronics (NYSE:STM), which has recorded a loss of about 1% during the last twelve months; however, STM's year-to-date performance [up about 7%] has been better, but it is still far behind InvenSense.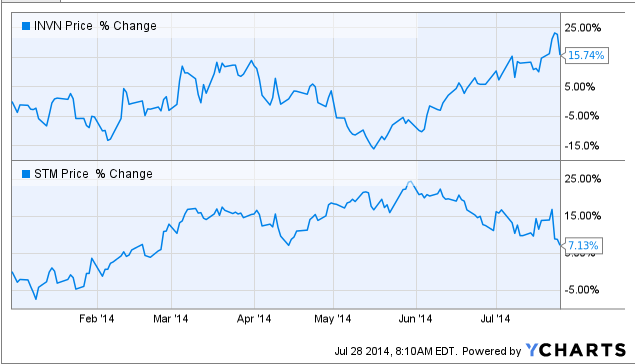 Business Model
Being the market leader in motion interface market, InvenSense sells its products through its direct worldwide sales organization as well as through indirect channel of distributors to manufacturers of consumer electronics devices. The company utilizes a fabless business model, which includes working with third parties in Asia to provide both wafer fabrication as well as assembly packaging services, while the critical testing and calibrating functions are performed in company's wholly owned subsidiary located in Hsinchu, Taiwan. InvenSense has the tradition of developing and producing the latest and more advanced technology before others in the market - thus giving it a first mover advantage against competitors. This ability has led the company to cater to the continuously evolving technological demand by developing high level integration, reliability and cost effectiveness in its product line.
InvenSense: Growth Story
Over the last two decades, the sector has seen some major changes - from large computers to hand held touch interface devices. This revolution has led technology industry to the path of rapid growth with multiplied number of consumer electronics devices used variously in communication, entertainment, and other businesses. InvenSense has transformed the motion sensing interface technology in several consumer electronics including smartphones, tablets, gaming consoles and smart TVs.
Dissecting the technical section of the company, InvenSense is comprised of several core proprietary components which include its MotionApps platform, with application programming interfaces [APIs], user navigation tracking and several other calibration and fusion algorithms, company's patented fabrication platform, the advanced MEMS motion sensor designs, and the application specific mixed-signal circuitry for sensor signal detection and processing. Moreover, the company's product line also includes its latest and most advanced M-2 Series product family, which is the third generation of InvenSense's 6-axis MotionTracking System-on-a-chip [SoC] devices, designed to deliver high performance in the recent handheld and wearable smart gadgets. This latest wearable technology has enabled the company to gain contractual agreements with several technology giants such as Apple (NASDAQ:AAPL) and Samsung (OTC:SSNLF). InvenSense has increased its R&D expenditures in the last two years in order to keep up with the technological changes and maintain its edge over the competition.

Click to enlarge
Source: SEC Filings
The company has five principal types of motion and audio sensors, which are important for motion interface in free space and a positive consumer audio experience. Moreover, within three years, the InvenSense has advanced its technology from two and three axis gyroscope sensors to the latest multi axis digital MotionTracking devices. Furthermore, as mentioned earlier, the company has heavily invested in R&D which has started to pay off as it has given InvenSense an advantage and its order backlog is growing. At the same time, the company has increased its customer base substantially, which has resulted in a considerable increase in revenues - revenues stood at $252.5 million in FY2014, up about 21% compared to the last year.

Click to enlarge
Source: SEC Filings
The company reported a year-over-year increase of around 62% in total unit shipments. This increase is also supported by a strong order backlog - InvenSense increased its order backlog by 136% from $12.3 million to $29.1 million by March, 2014.
Segmented Performance
InvenSense operates under three business segments: Smartphone and tablet devices, Optical image stabilization and other, and Gaming segment. The smartphone industry has grown a lot in the last five years and reported robust improvements during the period. Similarly, InvenSense observed strong revenue growth of around 35% from its smartphones and tablet devices segment in the last year. The company has the leading smartphones manufacturers in the industry as its clients, amongst which Samsung accounted for approximately 35% of total segmented revenues during the last year. The company also managed to increase its revenues from its Optical image stabilization and other segment which reported approximately 61% increase in the last year. This massive increase in company revenues is partially offset by the Gaming segment, which reported a decrease of about 55% during the last year - this decrease is mainly due to lower volume shipments to gaming manufacturers and lower per unit selling prices of the related components. Moreover, the revenue decline for gaming segment reflects a declining consumer market for console gaming and a shift to mobile devices and online gaming medium during that time.

Click to enlarge
Source: SEC Filings
Geographic Leadership
InvenSense has a wide array of customers, designing and distributing their products globally. With such global product diversification, the company has managed to reap huge benefits from developed and emerging markets - Asian countries have proved to be the leading revenue contributor over the last few years with 87% revenue share in the last year. This increase is due to the rising demand of company's products in Korea, primarily by the mobile device customers in the region - with an increase of around 61% in the last year. Japan, on the contrary, decreased its revenue share in the last year which is mainly due to declining consumer market for console gaming due to a shift to mobile device and online gaming, as mentioned earlier. Asia will remain the main region for the company as its major customers are placed in this region.

Click to enlarge
Source: SEC Filings
Recent Acquisitions
InvenSense recently announced its intent to acquire Movea, which is a leading provider of software for ultra-low power location, activity tracking and context sensing. This acquisition will enable the company to enhance its leading sensor based navigation solutions and broadens sensor software and other algorithm technology portfolio. Moreover, the company also signed an agreement to acquire Trusted Positioning [TPI] - TPI's location tracking technology will improve the accuracy by expanding GNSS and Wi-Fi based location infrastructure of InvenSense. These acquisitions will be beneficial for the company in the long-run as it helps the company to achieve significant milestones in System on Chips market.
Conclusion
The growth prospects are solid for InvenSense as its major segments are showing bright prospects. The stock has done extremely well over the last few months; however, we believe there is still room for InvenSense to move higher. The growth in the stock price is backed by the growth in the fundamentals of the company as it has been able to grow its revenue as well as earnings on consistent basis. We believe InvenSense will prove to be a solid investment.
Additional Disclosure: This article is for educational purposes only and it should not be taken as an investment recommendation. Investing in stock markets involves a number of risks and readers/investors are encouraged to do their own due diligence and familiarize themselves with the risks involved.
You can subscribe for real time alerts by clicking on the button at the bottom of this article, and you can also follow us at twitter here: twitter.com/IAEResearch
Disclosure: The author has no positions in any stocks mentioned, and no plans to initiate any positions within the next 72 hours. The author wrote this article themselves, and it expresses their own opinions. The author is not receiving compensation for it (other than from Seeking Alpha). The author has no business relationship with any company whose stock is mentioned in this article.
Editor's Note: This article discusses one or more securities that do not trade on a major U.S. exchange. Please be aware of the risks associated with these stocks.