Overview
Deere & Company (NYSE:DE) more commonly known by its brand name John Deere was founded over 175 years ago. John Deere is the world's largest farm equipment company and provides equipment for agriculture, construction, and forestry. Deere & Company is comprised of two major operating segments - Equipment Operations and Financial Services. Percentage of sales is shown in the bullet points below:
Equipment Operations - Agriculture & Turf (77%) and Construction & Forestry (16%)
Financial Services (7%)
Equipment Operations sell their equipment to John Deere dealerships and distributors with the majority of the trade receivables being sold to Financial Services as an intercompany transaction. Below is breakdown of the Equipment Operations FY 2013 results: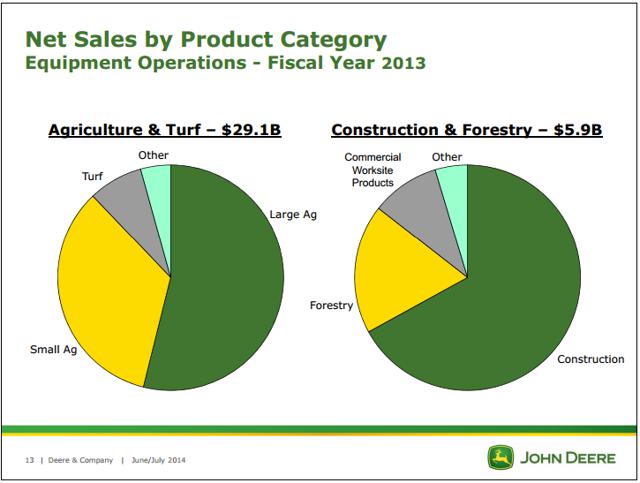 Source: Deere & Company Investor Presentations
Financial Services provides financing to dealerships (wholesale and revolving credit) and end users (installment financing and leasing) that can be seen below; write-offs were an incredibly low 3 basis points (.03%) in 2013.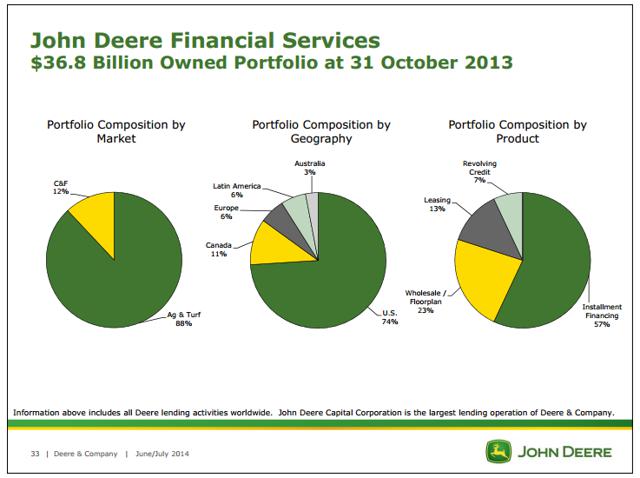 Source: Deere & Company Investor Presentations
"It's share of mind, not share of market that counts" - Warren Buffett
The quote above is from none other than the Oracle of Omaha talking about the importance of what a brand means in the mind of consumers. John Deere is synonymous with green and it's likely the first and maybe only brand you think of when you think tractor or combine. The brand loyalty in the agriculture industry is fantastic and will provide pricing power over time. The big question is if they can establish this in the minds of the people in emerging markets that "nothing runs like a Deere". Sales outside the US are 4.5 times higher since 2000 and John Deere is continuing to make capital expenditures in markets like Brazil, China, and India. With John Deere dealerships in over 100 countries, they definitely have the global reach to capitalize on emerging markets. Management has set a goal of reaching $50 billion in sales by 2018, CAGR ~5.5%. Reaching this goal will be dependent on expanding and building the brand globally.
Cyclical Headwinds Ahead
It is generally accepted among analysts that John Deere's record 2013 results will likely be the peak earnings for at least the next two years. Higher harvest levels and lower crop prices are expected to have a negative effect on farm income, thus less discretionary spending for farm equipment. Commodity futures for corn, soybeans, and wheat are dramatically lower compared to the last couple years.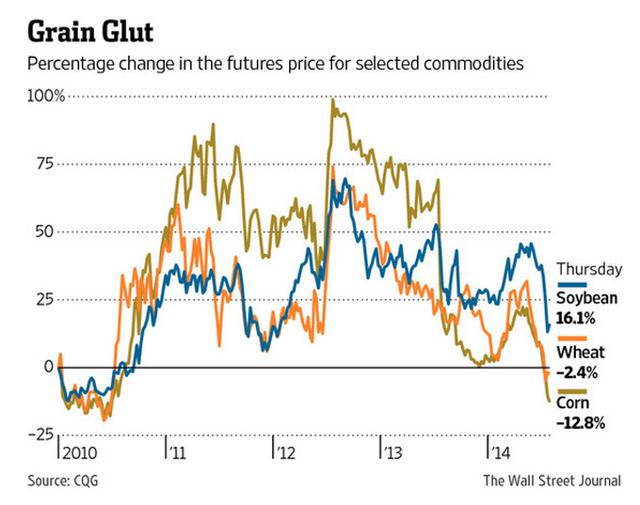 Source : Wall Street Journal
Long-Term Perspective
Despite the evidence that there will be a slowdown, long-term crop demand is fairly inelastic so it really is going to depend on supply. It is projected by the US Government that more food will need to be produced globally over the next 50 years than what has been produced during the past 10,000 years combined. It would seem reasonable as technology continues to advance that globally there will be continued adoption of equipment that will allow farmers to improve crop yields. John Deere also has opportunities in construction as infrastucture around the world is being built, but should be noted Caterpillar is the 800 pound gorilla in construction equipment. Overall, John Deere is conservatively run and that is important for a cyclical company that plans to continue to be around 30 years from now.
Deere & Company Valuation
Using DCF I assumed a 12% discount rate which matches the cost of capital used by Deere for their calculation of Shareholder Value Added. I also assumed a 2% long term growth rate and excluded changes in working capital and other non-cash items from the cash flow calculation.
If you refer to the 2013 10K cash flow statement, my calculation was the following: net income plus D&A plus impairment charges minus credit for deferred income taxes less PP&E
$4,608 Cash from Operations - $1,217 CapEx = Cash Flow of ~$3,400 Mils
I applied growth rates of -5%, -10%, 15%, 8%, 8% to reach my predication of owner's earnings of ~$3,900 in 2018 that it is based off $50 billion revenues with 5.5% CAGR growth divided by 2 to reflect higher proportion of sales coming from emerging markets that experience lower operating margins.

Conclusion
Based off my calculations Deere appears to be fairly valued to slightly undervalued based off my assumptions that I believe were moderately conservative. As a shareholder I hope the stock will decline in the short-term. Deere has doubled their dividend over the last five years and authorized to buyback $8 billion in stock (25% of shares outstanding at current market prices) and I'd greatly prefer them to buyback more shares than less. Deere is cyclical, capital-intensive, and highly leveraged as a result of its financial services operations, but at current valuations I believe it can be an integral part of a long-term portfolio. Its ability to survive the latest recession with relative ease speaks volumes of the management and brand equity that exists at Deere & Company.
Disclosure: The author is long DE. The author wrote this article themselves, and it expresses their own opinions. The author is not receiving compensation for it. The author has no business relationship with any company whose stock is mentioned in this article.