Company Profile
Vuzix (OTCQB:VUZI) is a small company involved in the development and manufacture of virtual reality and augmented reality technology. The company currently sells six different models of wearable optical displays (smartglasses), with applicable uses across a broad spectrum of activities.
Vuzix's most impressive product currently available for sale is the company's M100 "smartglasses" product. While the tech world has given a lot of attention to Google (NASDAQ:GOOG) Glass, which is still unavailable to the consumer, Vuzix has already brought a similar device to market. Nonetheless, Vuzix does not directly compete with Google as Google has focused on the consumer segment while Vuzix has targeted the enterprise customer for sales of its augmented reality glasses.
Device Applications
While the general consumer may be largely unaware of Vuzix's existence, its products have been utilized in enterprise environments with impressive results. Amongst the more popular enterprise applications is the incorporation of smartglasses into the warehousing sector. The glasses' functionality allows it to guide a worker to the shelf where an item is located, identify via a bar code (replacing a handheld scanner) reader that the correct item has been selected, and guide the worker where to place the item for shipment. Additionally, the glasses may also be used for inventory management and peer-to-peer communications.
The technology can also be used in engineering applications where on-screen guidance may replace a handheld instruction manual, and where electronic guidance could be of help. In the medical field the device could be used to display patient information and vitals in real time during surgery, in the security sector the glasses would be able to scan ID's and display pertinent information without the need for a handheld device as well. Essentially, the potential enterprise applications for smartglasses are limitless.
(click to enlarge)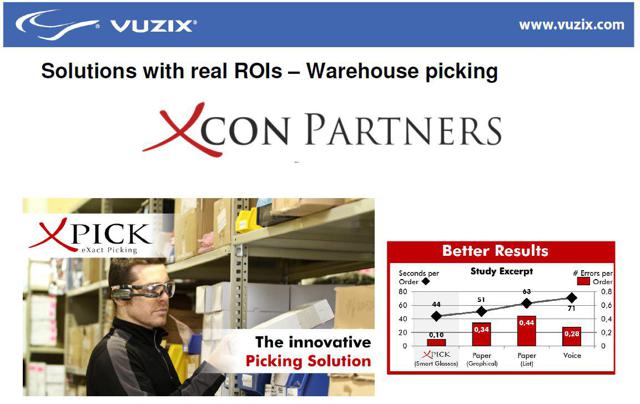 Operational History
Vuzix's first significant contracts came in 2010 with display modules and display engine electronics. Later on that year, Vuzix secured a contract to develop a personnel tracking system for the US Army. By early 2011, Vuzix had begun to ship head-mounted displays to the US Air Force. Those contracts were followed by at least two more defense contracts that same year. In 2012, Vuzix sold some of its military assets in order to raise cash in order to further develop augmented reality products. These products are amongst Vuzix's lineup which has won CES Innovation Awards for the past 10 years consecutively.
Vuzix's technology is superior to that of Google. While on Google's device, the user has to look up and focus on a tiny screen, while Vuzix's proprietary Waveguide technology projects the image in a 3-D form in front of the user (with a focal range of 7 feet-Infinity.) This allows for the glasses to overlay colors, maps, directions, or whatever else the user might want onto actual physical objects.
Vuzix has already proved that its device is effective streamlining certain tasks in the enterprise sector. While the competition hasn't yet brought a device to market, Vuzix is close to releasing a second generation of smartglasses with improved functionality. Additionally, Vuzix has developed devices for the US Army, and has ongoing development partnerships with the US Air Force and Naval Research Offices.
In the second half of 2014, Vuzix intends on releasing a second version of its UI for the M100 smartglasses. This software version will make the device more suitable for the consumer, as the prior version was more enterprise-focused. The new glasses will operate on an Android OS and should smoothly integrate with Android smartphones and tablets. This will be Vuzix's first credible attempt to mass-market a device to the consumer market.
Financial Condition
Vuzix has be running consistently at an approximately $1 million quarterly operating loss over the past year. Looking at the most recent quarter, in Q1 2014 sales stood just below $800,000, an increase of 8% year-over-year. Over the same time gross profit declined by 13% due to product mix. The company also expended significantly more on research and development and sales and marketing as the company began to further push its M100 product line.
Although Vuzix's cash balance will not sustain operations until the company is cash flow positive, investors can look towards a number of new revenue streams in the near future. Aside from cutting manufacturing costs on the M2000AR by using retooled equipment the company plans on releasing its V720 Video Headphones in the coming few months. Additionally, the company was recently awarded over $750,000 in funding from the Office of Naval Research which will cover some research and development costs going forwards.
Another significant revenue stream will come from imminent release of the second generation of M100 glasses. In this release Vuzix will become one of the first smartglasses/wearable optics players to address the consumer market, and volumes alone will likely lead to declining costs per unit. This release can also be expected before year-end.
Even in consideration of those factors, investors may expect some dilution over the coming few years to sustain increased R&D and sales efforts. If/When the company does have consistently positive cash flows it will look to further debt financing as the cost of equity is high in development stage companies.
Lenovo Partnership
This morning, Vuzix released that the company has come to an agreement with Lenovo to be its sell co-branded products in China, specifically the M100. Vuzix will now be Lenovo's exclusive provider of smartglasses, and will offer Chinese-language support, mapping and voice recognition. While the direction in which Lenovo intends on going with this is still unclear, what is clear is that Vuzix has the power to attract major partners. Shipments of units to Lenovo will commence in September and should positively impact the company financials in the fourth quarter of this year. As the leading supplier of enterprise computers, this deal should help Vuzix further penetrate the enterprise wearables business. As a This deal should drive sales of Vuzix products, along with giving Vuzix a huge vote of confidence in the wearables market.
Valuation
While Vuzix currently markets a number of devices, the company is just morphing from a development stage tech company to manufacturing and marketing end-user devices. While its hard to value the company on a cash flow basis, we can look at the Occulus transaction as a bull case for what may happen to Vuzix.
When Facebook (NASDAQ:FB) ponied up for Occulus, they paid $2 billion for a company with a single pending patent and a gaming product which was over a year away from hitting the market. Vuzix on the other hand has close to 50 pending and issued patents and has numerous products addressing numerous customer needs already in use.
It would be purely speculative to attempt to value Vuzix by cash flow analysis or by comparable transaction analysis as the current environment for wearable technology is still far from mature. The bottom line is that wearables are now the focus of all the largest tech players including Samsung (OTC:SSNLF), Apple (NASDAQ:AAPL), and Google. Management at Vuzix has also indicated potential interest in the acquisition of the company by a larger entity. Vuzix is trading at what appears to be a large discount to the value of its intellectual property, and we should see future partnerships, licensing, or a buyout in the coming months or years.
Disclosure: The author is long VUZI. The author wrote this article themselves, and it expresses their own opinions. The author is not receiving compensation for it (other than from Seeking Alpha). The author has no business relationship with any company whose stock is mentioned in this article.
Additional disclosure: I may purchase more shares in the coming days.
Editor's Note: This article covers one or more stocks trading at less than $1 per share and/or with less than a $100 million market cap. Please be aware of the risks associated with these stocks.