Even though we have been bullish on Wellgreen Platinum (OTCQX: OTCQX:OTCQX:WGPLF) for some time, calling them "A gem amongst the rubble" last January, we were rather surprised last week at how far the Company has leaped in terms of size and quality. We believed that Wellgreen was a world-class project, given the capable (new) high quality management team, the excellent Canadian location (right off the paved Alaska Highway, with access to low cost LNG power, and near West Coast shipping ports) plus the given scarcity of platinum/palladium outside of Russia and S. Africa……and now we know the size and grade is there.
Wellgreen is now nearly the same resource size as $2 billion platinum/palladium miner Stillwater Mining (NYSE:SWC) (Minnesota) yet share price has lagged recently: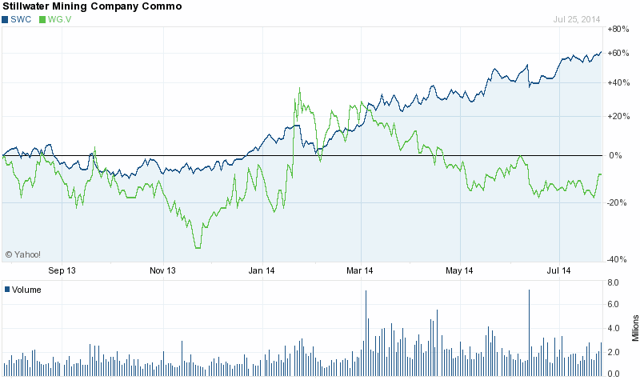 Click to enlarge
Source: Yahoo
Stillwater's shares have preformed well this year and the recent strike settlement in South Africa was a non-event; Wellgreen has traded soft with the rest of miners since March, although it is due for a catch up.
Additionally, Wellgreen has 4X the total resource of nearby Kaminak Gold (OTCPK:KMKGF), yet sells for about 2/3 the price.
Osisko, which just sold for over $3 billion, has a 60,000 tpd output at 1 g/t grade at a 0.3 g/t gold cutoff with which Wellgreen compares favorably with an ultimate 1.7 g/t + platinum equivalent project at a 0.6 g/t cutoff
Investors can see the entire release here:
http://www.wellgreenplatinum.com/news_2014_july_24_wellgreen_platinum_announces_new_resource_estimate_including_5_5_million_oz_platinum_palladium_gold_in_mandi_resources_and-_13_8_million_oz_3e_inferred.php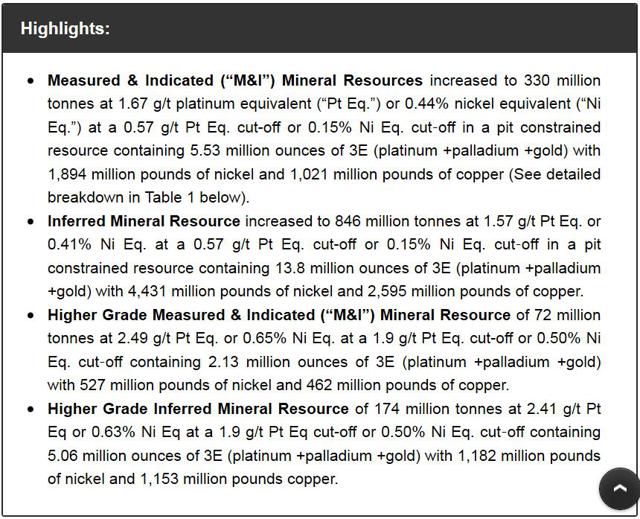 Click to enlarge
Source: Wellgreen NR
We have always thought the ideal Wellgreen location would one day ring bells in Asia; we think that day is getting closer: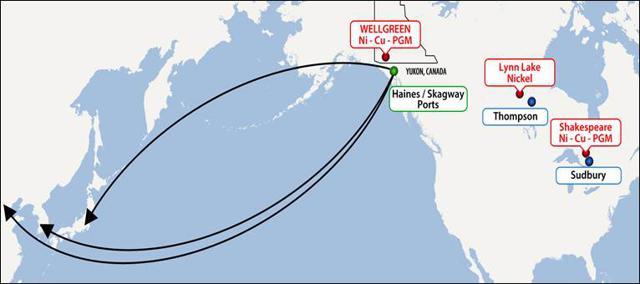 Click to enlarge
Source: Company
Why Wellgreen should be on your "To Do" list
We like Wellgreen in part due the scarcity of politically secure platinum and palladium projects world-wide and we believe this project should sell for a significant premium; given the $60 million valuation, the comparative risk is low.
Given the upside potential we are sticking with our January 2014 call that Wellgreen has genuine "10 bagger" potential. In the slide below, you can see how cheap Wellgreen is - and at an enterprise value of a mere $3 ounce - it compares well to others at 10 X the current valuation.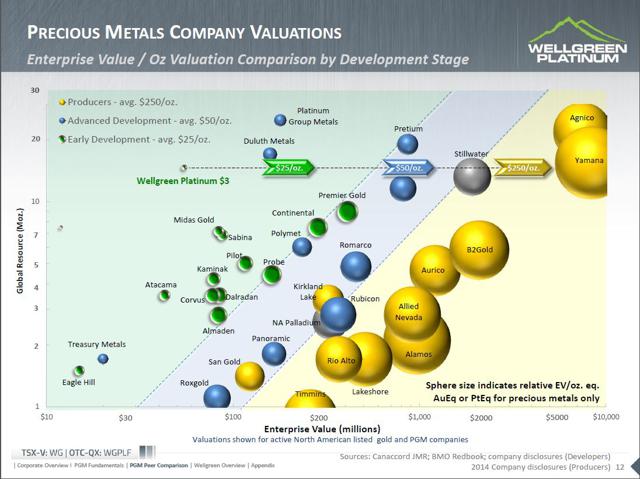 Click to enlarge
In good company and dirt cheap. Source: Company
With the updated metallugurical studies coming out in August plus a new PEA coming in September, and given that both us and the Company have stuck with the low capex "starter pit(s)" model (see Kevitsa analogue) whereby a 15,000 ton/day project - with a $300 - $400 mm initial CAPEX and an IRR in the 30% range - could grow into a 60,000 t/d project. Given that markets for platinum, palladium and nickel in particular look poised to rise, we believe the Wellgreen project "works" at current prices levels - an important "risk mitigation" factor if indeed the funk in gold remains.
Even better, we suspect the ultimate result of being blessed with so much nickel and copper is that these "co-products" could ultimately make the project 3E metals (platinum, palladium and gold) nearly "free" after smelter credits. Our figures indicate that the resource expressed in copper equivalent (since so many investors understand this) would be over 1.2%, while the higher grade M&I is at 1.8%, in an open pit.
That's world-class stuff, folks.
Plus, there is big upside potential at this project, which neither we, nor the Company, nor anybody else, know at present: that is a reasonable potential for Wellgreen to grow into a true monster project with multiple deposits along the 12 mile trend.
Note this line in the recent NR:
"The mineralization at Wellgreen is similar to gabbro-associated nickel deposits such as those found in Noril'sk, Russia; Stillwater, Montana; and Sudbury, Ontario, though it is unusual in comparison with the width of continuous disseminated mineralization and total PGM content."
At this point Wellgreen will have to drill out some of the target zones, but they are already identified. We are not saying they will "hit" but we are saying: if you are going to invest in mining, which is an inherently risky business, you should invest where your "back" is covered at current prices/valuation and also where there is a real shot at making a "big score"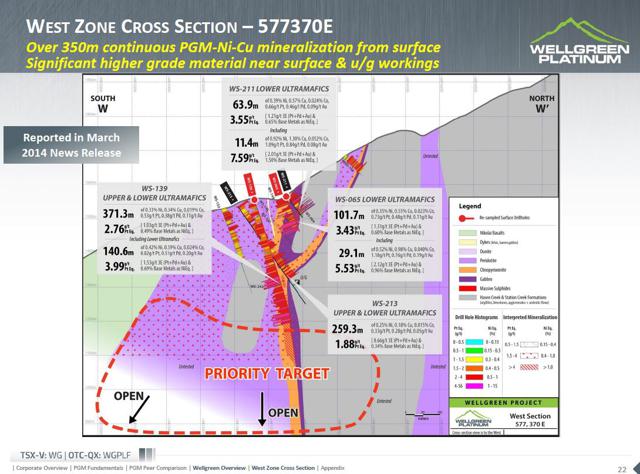 Click to enlarge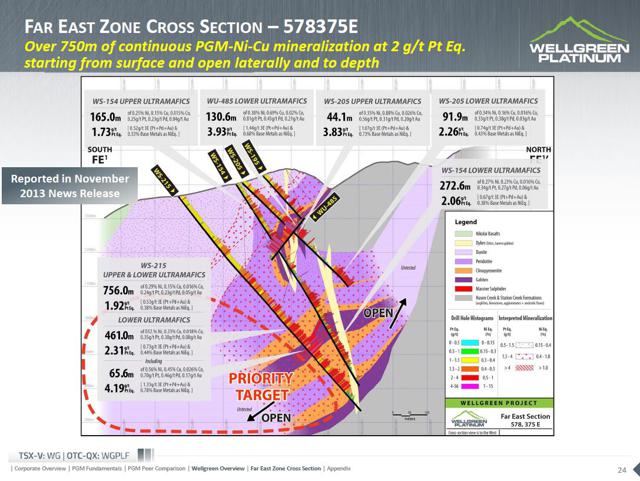 Click to enlarge
Source: Wellgreen
Still a long, long way to go: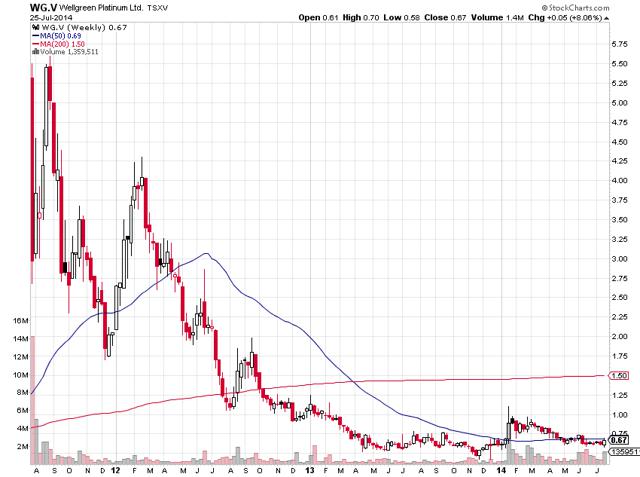 Click to enlarge
Source: Stockcharts
It's hard for us to believe this stock traded over $5 a while back - and now that they really have something, investors are skittish. Shows how much hype matters in Canadian mining stocks (we promise we were not around at $5). We believe the solid numbers will soon make Wellgreen a "go to" name for institutional investors and the real day for Wellgreen will soon dawn.
The Nickel Kicker
With Wellgreen's total nickel resource doubling from 3 B lbs to 6 B lbs, we believe investors are missing how important this component actually is, and we expect nickel to play a big part in the favorable economics in the upcoming PEA. Even better, nickel prices are expected to rise given the Indonesian situation, which we have written on in the past.
To finish this update report (please see our prior Wellgreen reports for complete risk factor and other disclosure information) we thought Seeking Alpha readers would enjoy reading the following report from our friend, Jeremy Gray, a commodity analyst and one truly qualified to render opinions on Asia supply/demand (ie. someone who actually lives in China).
Jeremy was formerly head of commodity research at mammoth Standard Chartered Bank in Hong Kong; please note the impact of higher nickel prices for Wellgreen is highly significant:
COMMODITY CORNER | 22 MAY 2014
"Why Nickel is heading to $30,000/t sooner than you think"
"Our exclusive REORIENT Nickel event on Monday with the Indonesian Ministry of Mines confirmed that the export ban is for real and that nickel prices are going to US$30,000 per tonne near term. To us this feels a lot like June 2006 just before the nickel market took off and tripled in price. The only difference between now and 2006 is that there is an overhang of nickel metal inventory held in warehouses today that will prevent it from going to $50,000 per tonne near term. If you want to know why nickel is going higher, refer to the chart below - it illustrates the growth in Indonesian nickel ore production since 2007. Last year a staggering 60 mn tonnes of nickel ore were mined either legally or illegally from the three main producing islands of Southeast Sulawesi, Central Sulawesi and North Maluku. The ore was then barged to ships and loaded for China to feed the booming nickel pig iron industry (some to Japan and India also). Today, 90% of that mining has stopped and the 10% that continues is going to local smelters and producers like INCO IJ and ANTM IJ. The Indonesian government's January 2014 decision to enforce a ban on exports is well known and a decision we applaud. The environmental damage this form of mining was doing and the lack of economic returns it was giving to Indonesia make the decision an obvious one. However, what we hadn't realized was just how much nickel was mined last year in a lead-up to the export ban. Assuming an average ore grade of 1.5% nickel, 60 mn tonnes of ore represents 900,000 tonnes of contained nickel or 55% of the global nickel supply.
Indonesian Nickel ore output - The party is over for Chinese NPI producers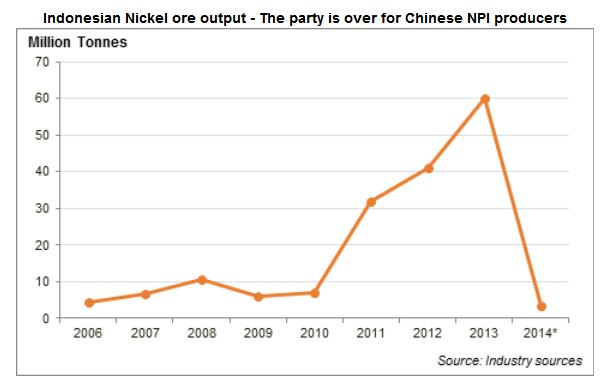 It's a mind-boggling number and proves that the Chinese NPI producers were aggressively stockpiling ahead of the January ban to ensure feed for the smelters in 2015. Now stockpiles in China of Indonesian ore are dwindling to less than 10 mn tonnes and we also believe those stocks are held by just a few smelters. The Chinese producers have gone to other sources for ore, but the Philippine ores are lower grade and the volumes lost from Indonesia cannot be replaced. The price of Philippine ore has jumped from US$43 per tonne in late 2013 to over US$140 per tonne today, making it also more difficult for the Chinese NPI producers to make a return at current nickel prices. There are other sources available also like Brazil, PNG or Samoa but their grades are 0.8-1.0% nickel and would not be economic unless nickel is north of US$30,000/tonne. In short the Chinese NPI industry is about to face major shutdowns as their inventories run down which we think will lead to the second phase of the nickel rally. The only reason prices have not yet gone silly is because of the LME metal overhang and the large stockpiling that occurred from the record mine output that we show in the chart above in Indonesia.
Looking back, the speed at which the Chinese industry has grown from sourcing Indonesian ore explains why nickel prices have been in a four year bear market. When an unknown private company like Shandong Xin Hai Technology can grow from nothing to over 100,000 tonnes of nickel output in just five years while BHP's Nickel West struggles to maintain output at 96,000 tonnes explains why the nickel market got smashed. Our nickel event on Monday this week with the Indonesian Ministry of Mines confirmed in our mind that this ban is for real. Whatever the outcome of the presidential election in Indonesia on July 9th we think Law 4 which enforces the export ban will remain firmly in place. The Indonesian government wants the Chinese NPI producers to invest directly in Indonesia and so far there are 29 NPI smelters under proposal. In reality we think fewer than 10 of those will be actually producing by mid-2015 which means nickel ore production could recover to 15 mn tonnes in 2015 (from its peak of 60 mn tonnes last year).
Indonesia represented 55% of global nickel supply in 2013. In 2014 it will be sub 8%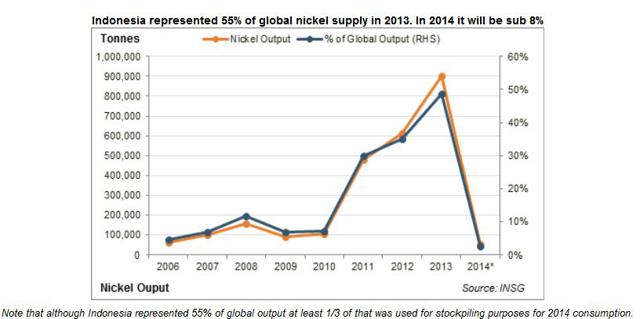 Click to enlarge
In the last great nickel bull market in 2006 and 2007 the key theme was the lack of sulphide nickel supply from Australia and Canada. Back in the day, analysts wrote at length about the lack of investment in these traditional sources of supply. The Chinese read those same reports and invented nickel pig iron to get around the problem of $50,000 per tonne nickel. The success of NPI and the negative impact it had on the nickel market was much greater than anyone expected. Today, we are in a similar theme as to 2006. We have had 5-8 years of limited investment in the traditional sulphide producers at a time when the NPI industry in China has been cut back dramatically because of the export ban. In reality there is no reason why nickel prices won't repeat what they did in 2006-7 and go back to $50,000 per tonne but for now we think $30,000 per tonne is more realistic given the metal overhang on the LME. The key risk of course is that the ban is lifted, but we think that is highly unlikely near term. Physical tightness in the nickel markets is about to become more pronounced as NPI's take downtime and inventories on the LME begin to drawdown. To put the Indonesian export ban into perspective it's the same as if Russia, Saudi Arabia and Iran switch off their oil wells and reduce global supply by at least 30% overnight. Imagine what that would do the oil price so that is why $30,000 per tonne nickel is not inconceivable near term.
Nickel Dejavu - It feels a lot like June 2006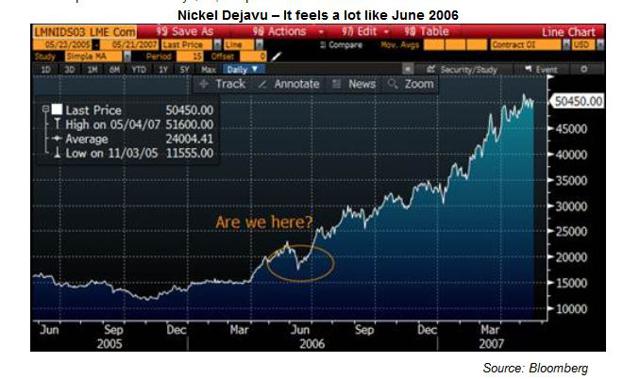 Click to enlarge
In this environment we recommend investors use every dip in names like WSA AU, INCO IJ, ANTM IJ and 5713 JT to build structural longs. We are in a new bull market as 25-30% of global supply has essentially been switched off and is unlikely to come back onstream anytime in the next 12 months. Even when it does the "Indonesia to China" model is now switching to the "China to Indonesia" model which means supply additions will take time but provide valuable investment and jobs for Indonesians. Many of the NPI Chinese players are financially hurting from the export ban and we doubt they are in a position to now move their operations to Indonesia that quickly. We are now seeing a return to the traditional nickel industry before the invention of Chinese NPI where the sulphide producers in Australia, Canada and Russia will enjoy substantially improved fortunes. Nickel stocks should be core longs in your portfolio."
Disclosure: The author is long WGPLF, SWC. The author wrote this article themselves, and it expresses their own opinions. The author is not receiving compensation for it. The author has no business relationship with any company whose stock is mentioned in this article.
Additional disclosure: This report is for informational purposes only and is not a solicitation of any security purchase or sale. Opinions expressed herein by the author are not an investment recommendation and are not meant to be relied upon in investment decisions. The information upon which this material is based was obtained from sources believed to be reliable, but has not been independently verified. Therefore, Fincom Investment Partners cannot guarantee its accuracy. Any opinions or estimates constitute our best judgment as of the date of publication, and are subject to change without notice. We recommend investors conduct thorough investment research of their own, including detailed review of the related Companies' SEC filings, and consult a qualified investment adviser. Fincom Investment Partners and it's principals participated in Wellgreen's June 2014 financing.
Editor's Note: This article covers one or more stocks trading at less than $1 per share and/or with less than a $100 million market cap. Please be aware of the risks associated with these stocks.