The upcoming Twitter (NYSE:TWTR) Q2 earnings report on Tuesday, July 29th will be another watershed event for Twitter. I do not know what the report will reveal, but I am pretty negative about the company's continued growth in Q3.
First, consensus analyst expectations for Q2 are for $-0.01 EPS in earnings and for $283m in 2Q14 revenue. I expect Twitter to beat these numbers, although perhaps not by much, in part because I think they low-balled the revenue number and in part because I think that the World Cup gave them a huge business boost. At any rate, user engagement growth and timeline views are the key metrics that everyone will be focusing on. Earlier last month Business Insider reported that Twitter's Q2 was saved by the increase in monthly active users that resulted from the World Cup. One key thing that I will be looking for on Tuesday afternoon is the company's Q3 EPS and revenue projections, which might be significantly lower because there are no scheduled world-scale events coming up like there were in Q2.
Several key senior management figures have changed over in the last quarter, including the CFO and COO. I interpret this to be a bearish sign about the company's recent trajectory and probably an indication that the company's board is concerned about slowing user growth. But I interpret it to be a bullish sign about the company's Q3 trajectory, as the new management, including especially new CFO Anthony Noto, know tech very well and have had experience with the company in the past. It is not clear to me that these senior management changes will have any immediate effect on the stock's behavior during the rest of Q3.
Also worrisome, in my mind at least, has been Twitter's experimentation with expanding its 140-character limit during the last quarter. This suggests, perhaps, that the company is trying to alter its format in an effort to stimulate user growth numbers. At the very least Twitter is trying to tweak its core microblogging ties in an effort to allow for greater platform flexibility.
The main reason why I am negative on Twitter's stock over the next few months is that I consider its valuation to be outrageous - P/S, P/E, P/B, and so forth. But another reason why I am negative on Twitter's stock is that I think that in the last couple of weeks the market has begun to show us its new opinion of mobile advertising revenue. One company that the market obviously perceives to be related to Twitter is Facebook (NASDAQ:FB). The actual data that Facebook offered for Q2 was terrific. And from the recent Facebook earnings beat, it looks as though mobile ad revenue is increasing at a faster than expected rate at some - at least - of the major mo-mo internet companies. But it took the market several hours to reward that upside surprise with an approximately 5% share increase at the end of AH trading. The reward was far less than what the market has given Facebook after past earnings surprises. This suggests, to my mind at least, that the market is being much more cautious this summer than it was last summer about rewarding mobile advertisement revenue. Look for the market to be more cautious in the coming months with its evaluation of Twitter as well.
Another company that the market perceives to be related to Twitter - at least in its reliance on mobile ad revenue - is Pandora Media (NYSE:P). Last week, Pandora reported Q2 EPS of $0.04 (which beat by $0.01), and $218.9M (which beat by $0.36M). But the market reacted negatively to the earnings report and Pandora was punished, falling about 14% the next day before settling more comfortably in a -10% range. Why the negative reaction? In Pandora's case the negative response seemed largely to be because the market was not paying attention as much to EPS and revenue as it was to other, non-monetary metrics like listener growth. My educated guess, on the basis of these results, is that the same might happen to Twitter in the coming months.
So it looks to me as though (1) mobile advertising is in fact becoming successful at a faster pace than a lot of people though; also, at the same time, (2) that the market is being much more cautious than it has been in the past about rewarding companies largely on the basis of rapid mobile advertising growth; and finally, (3) for some internet mo-mo stocks that are deriving revenue from mobile advertising the market might not in the next few months be paying attention to financial metrics at all - it might be paying much more attention to MAUs and other non-monetary considerations.
Again, one other thought to keep in mind when thinking about Twitter's stock performance over the next couple of quarters is that Twitter has now rallied over $8.50 from its post-lockup low of $29.51. Why has it rallied so much? Multiple explanations could be given - dead cat bounce, sympathy rallying alongside other mo-mo stocks, analyst upgrades, improving advertising metrics, and so forth. I take this to be a sign that the market has already priced in a lot of the upside that Twitter might have as a result of any revenue beat that it achieves for this last quarter.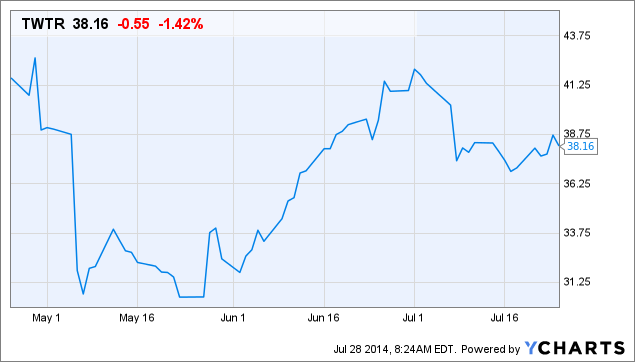 TWTR data by YCharts
Finally, in part, I have to admit, the reason why my long-term thoughts about Twitter are so negative are anecdotal. Consider the company vis-à-vis other social media stocks like Facebook and Linkedin (NYSE:LNKD). Personally, I do occasionally tweet from my Twitter account. And I have a number of people who follow that account. But I am constantly getting bombarded on the platform by fake accounts "following" and messaging me for no reason. It is incredibly frustrating and it happens so frequently that it makes me think that a significant percentage of Twitter's user accounts must be fake and driven by advertising data analytics. The company surely knows about the extent of this problem. One thing that I would like to see from the company going forward is greater transparency about the exact percentages and metrics on fake accounts that are being driven by data analytics firms. Whatever MAU number is released on Tuesday afternoon, I think there is a very good chance that that number will have a sizeable percentage of fake accounts in it.
Does Twitter have any special edge on other social media firms as a result of its microblogging emphasis? One thing that Twitter does very well is facilitate communication with persons with whom you have no real-life connection. On Facebook, and I am speaking anecdotally, most users' "friends" still seem to be real-life friends as well. But this does not seem to be true of Twitter at all. In fact Twitter seems to me to be in large part a platform for ordinary persons to follow the musings of celebrities. Accounts of persons like Christiano Ronaldo, Katy Perry, Justin Bieber, and Barack Obama are followed by tens of millions of Twitter users. Twitter's open microblogging format is very good at creating the feeling among users that they are directly connected in some way to the accounts of other users who they do not in fact know in real life. At the same time, the downside of this more open kind of user format is that Twitter cannot tap in as much to the monopolizing network effects that seem so powerfully to be driving the Facebook juggernaut.
Disclosure: The author has no positions in any stocks mentioned, but may initiate a short position in TWTR over the next 72 hours. The author wrote this article themselves, and it expresses their own opinions. The author is not receiving compensation for it (other than from Seeking Alpha). The author has no business relationship with any company whose stock is mentioned in this article. This analysis represents my personal opinion. Do not take this analysis as a basis for trading or investing.