Much has been made of this graph of market capitalization to GDP. At historic highs, this portends a large market crash, as happened the last two times that this ratio peaked. Many have talked about this, and we can see that in the last few quarters alone it has spiked precipitously, leaving the previous highs prior to the 2000 and 2008 crash in the dust.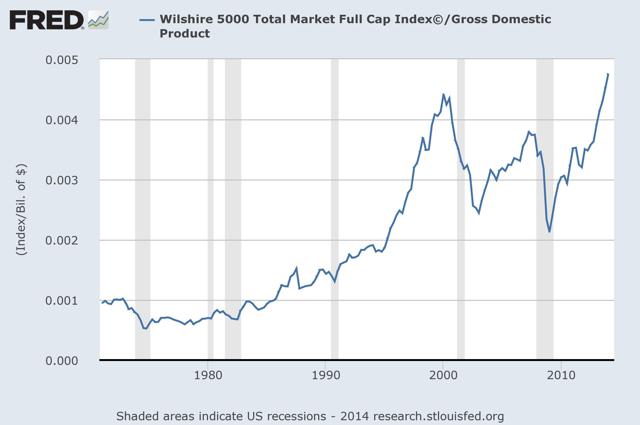 Click to enlarge
However, this analysis is rather simplistic. Can we go a little deeper into the numbers to determine how overvalued the market currently is?
Corporate Profits and Capitalization
Here in this ratio between corporate profits and capitalization we see that the disparity is not as large. The largest difference was in 2000 when market capitalization was way out of line with corporate profits. The current value is right where it was before the last market crash, when the Dow Jones Industrial Average lost 20%.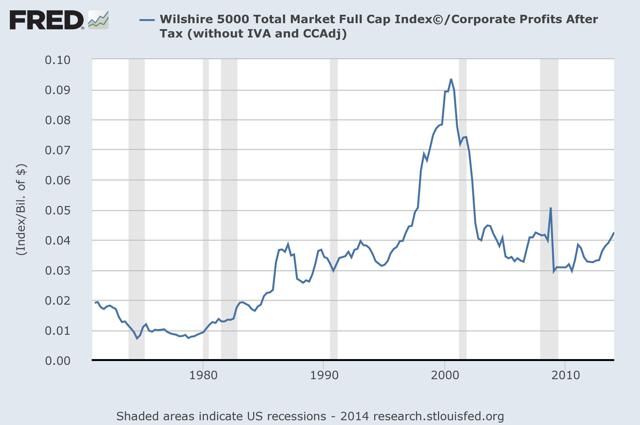 Click to enlarge
Still, perhaps investors are confident about future revenue prospects. Can we look at consumer spending and possibly see reasons to be hopeful?
Consumer Spending and Capitalization
The ratio between consumer spending and market capitalization looks almost exactly like the ratio between capitalization and GDP, revealing yet again how important consumer spending is to GDP.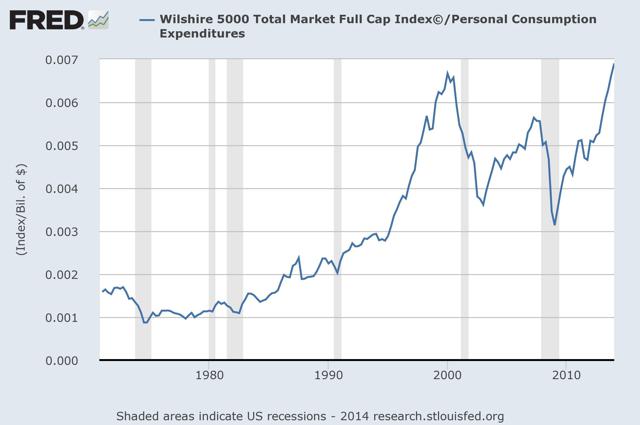 Click to enlarge
So again, relative to current consumer spending, market capitalization seems wholly unjustified. However, is the consumer in a better financial state relative to previous market upswings?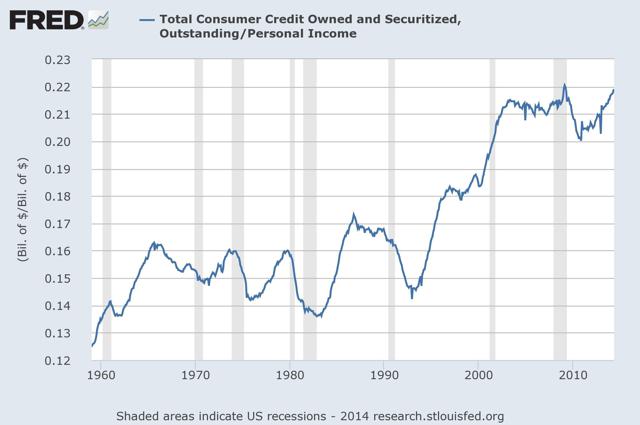 Click to enlarge
Consumer credit relative to personal income is approaching a new high not seen since the end of the last recession, and more importantly never seen outside of a recession. The typical consumer is doing far worse today than ever before. With a perpetually low savings rate, consumers do not have much to fall back on. Low savings and high debt are a deadly combination for future spending prospects.
Summary
Investors have seen market capitalization values run up to new highs, yet according to the underlying data, there is great reason to doubt the future performance of the US economy. The typical consumer is in terrible shape with soaring debt levels and a low savings rate. When another stock market crash hits, furthermore, the Fed does not seem to have many options left after using most of them to prop up the economy after the 2008 crash.
Action to take
No one can predict when a crash will come, but based on the data it will come and a rather large market contraction will come with it. This is a good time to sell most of your holdings and secure whatever profit you've made the past 6 years. As for what you should do with your money in the meantime, you can either bet against the stock market or hold out your money and buy the dip. My recommendation would be to buy dividend aristocrats at the dip since they tend to recover quite well after recessions and you'll have an opportunity to buy those stocks when they offer historically high yields (since they don't cut their dividends).
Disclosure: The author has no positions in any stocks mentioned, and no plans to initiate any positions within the next 72 hours. The author wrote this article themselves, and it expresses their own opinions. The author is not receiving compensation for it (other than from Seeking Alpha). The author has no business relationship with any company whose stock is mentioned in this article.