My income portfolio was heavily tilted towards real estate investment trusts (REITs) to begin 2014. This was primarily because I did not believe the economic consensus calling for the economy to break out from the anemic 2% GDP growth it has been stuck in for five years in what continues to be the weakest post war recovery on record.
Therefore the call for interest rates to rise significantly from the 3% level (at year end 2013) on ten year treasuries seemed misplaced. If the economy only could grow at a 2% level with the Federal Reserve fully on the gas pedal it seemed illogical that it could increase at 3% or better level as the institution slowly pulled back on its largesse and anti-growth policies like the Affordable Care Act took hold and presented an economic headwind.
This call turned out to be prescient. Not only did the economy contract at almost a 3% level in the first quarter - albeit with a horrid winter as a headwind - it again appears the economy will grind along at around a 2% level yet again for the year.
On the bright side, because of the decline in interest rates as the result of this tepid economic growth; REITs have been a star performer so far in 2014. Going against the herd and the trend yet again; I have lightened my allocation to this sector substantially over the past month or so as ten year treasury yield hovers near 2.5%.
REITs have provided a full year's gain in the first half of the year and interest rates appear ready to rise as the Federal Reserve fully exits their easing programs and the economy accelerates in the second half of the year.
One of the few REITs I have held on to is American Realty Capital Properties (ARCP). There are two reasons for this. First, I believe it is just beginning to get economies of scale from its huge purchase of Cole Real Estate Investments to form the largest single tenant REIT in the world a little over a year ago. Second, it is selling at a considerable discount to its two largest competitors in the single tenant space; Realty Income Corporation (NYSE:O) and National Retail Properties (NYSE:NNN).
This undervaluation can be seen in the following chart showing American Realty with a much lower valuation based on forward AFFO (Adjusted Funds From Operations) compared to its biggest brethren. The REIT's almost 8% yield also dwarfs that of its competition.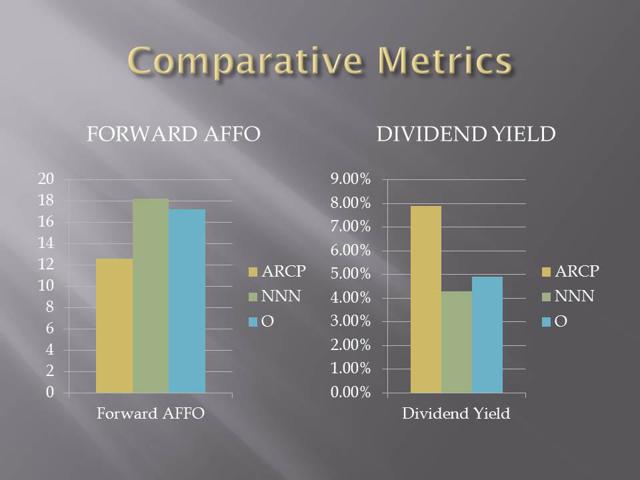 The synergies from American Realty's recent merger are starting to show up in its results. The company reported solid quarterly earnings this morning. AFFO came in at 24 cents a share for the quarter, up 26% year-over-year and one cent above the consensus. Revenue of ~$382 million was some $70 million over estimates. Occupancy rate was an impressive 99.8%.
I believe if American Realty continues to deliver this sort of improved results it should slowly narrow its valuation discount with its main competitors. Investors also get to collect an almost 8% yield while it does so; a winning combination. ACCUMULATE
Disclosure: The author is long ARCP. The author wrote this article themselves, and it expresses their own opinions. The author is not receiving compensation for it (other than from Seeking Alpha). The author has no business relationship with any company whose stock is mentioned in this article.