This article will discuss the current economic and investment climate in Mexico from qualitative and quantitative perspectives with a summary discussion of investment opportunities. The style, at times may be lighter than usual, though not as conversational as that used by Jim Rogers in his classic investment 2003 tome, "Investment Biker".
I had the good fortune to spend some time in Mexico recently. In full disclosure, it was all in Mexico City and most of it was in the upper income areas of that city. However, my conversations were varied and provided an interesting, if top down, view of the current Mexican economy, and more importantly its direction and prospects. I am not an expert on the country and there are, I'm sure, numerous exceptions to any specific observation.
In my preliminary research, I was surprised to discover Mexico's household net-adjusted disposable income per capita was almost $13,000/year, about 1/3 of the United States and slightly below Chile (OECD Better Life Index). Inflation is 4% (CIA Factbook) and long term (10 year) bonds trade at 5.7%, more than 300 basis points above the 2.5% for U.S. Treasuries (Bloomberg.com). Recent innovations in credit availability, combined with a growing economy have put a consumer lifestyle within the grasp of many.
Contrary to my perhaps paranoid anticipations, I found Mexico City to be safe (and over policed), commercially vibrant and optimistic in tone. Following the election of President, Enrique Peña Nieto in 2012 (one, six-year term), Mexico enacted a series of reforms that have (or will) opened up the petroleum, telecommunications and, to a lesser extent, financial/banking sector. In November 2013, 34 reform measures, designed to strengthen banking regulations, enhance the ability to collect on debt and bring the unbanked in the system, were passed. In December 2013, the constitution (not just a law- the constitution) was changed to allow foreign investment in the cherished energy sector. In January 2014, major legislation reforming taxation and the finance sector came in effect. Two weeks ago, on July 14, legislation liberalizing the telecom industry was signed.
While the constitutional change affecting the energy sector was controversial, especially among the working classes and poor, the action was supported by most of the "elites", who recognized Pemex, the state-owned oil company (and, in many sectors, quasi-monopoly), has been hurting the country with decades long under-investment, crony management and lack of competition.
Consequently, energy companies, and related support services such as attorneys and bankers, are rushing to Mexico. The Mexican market is considered highly desirable, relatively stable and economically attractive to potential energy investors. Another perspective to consider is, would an oil producer rather invest in Russia, and run the risk of Putin (and international sanctions), Iraq (enough said) or in reforming Mexico?
Collectively, these acts have served to create internal excitement and are generating real investment. An example to consider is how the U.S. economy reacted to the changes in taxes, laws and attitudes under President Reagan. In Mexico, the benefits appear to start at the top of the food chain, with major international support organizations (e.g. accountants, investment bankers and lawyers) staffing up, as client companies begin to make what is expected to be a long-term series of investments in infrastructure and M&A.
A visitor can't help but see signs of local optimism, as restaurants are being opened, retail vacancies are scarce in many areas, and new paint and other "sprucing up" is clearly visible. During my visit, many of the major hotels in downtown Mexico City were charging New York rates ($400+ at the Marriott during the week) as businesspeople flocked to town in search of opportunity. The bellboy I queried said (in excellent English), it was like that every week, there was nothing special happening.
What Others are Saying (and Doing)
In April, Alberto Ramos of Goldman Sachs said, he was "very positive on the macro economic outlook for Mexico in the short-term and medium-term", and indicated Mexico had a "very well-managed economy" and had undertaken "very substantive structural reform".
The Boston Consulting Group (BCG) indicated manufacturing could add, through 2018, a whopping $20-$60 billion to Mexico's economy.
HSBC indicated Mexico had the potential to become, by 2050, the eight largest economy in the world.
In a recent article, Forbes noted that China is expected to be Mexico's second largest export market (behind the United States) by 2030.
Last October, Chrysler announced plans to invest $1.2 billion to open two new manufacturing facilities in Mexico, while last May, Audi began construction of a $1.3 billion factory to build luxury cars in the country.
In February, Moody's granted Mexico its first A3 bond rating (strong capacity to meet its financial commitments), which was utilized in March for the countries first 100 year bond offering (raising $1.7 billion).
Context
For almost all of the country's history since 1500, a relatively few elites have controlled a disproportionate share of the economy. While there is no doubt Mexican entrepreneur Carlos Slim Helu is an astute businessman, his status as the 2nd richest man is at least somewhat due to the quasi-legal monopolies of today's Mexico. Mr. Slim-controlled America Movil (NASDAQ:AMOV) controls about 80% of Mexico's wired and 70% of the country's wireless market, (Forbes).
Economic reforms have traditionally stimulated competition and increased employment. These actions have the follow-on effect of increasing local purchasing, which stimulates consumer credit and creates a virtuous cycle of internal consumption and export growth.
(Very) Short-Term
On a national level, the country today is benefiting from a stronger U.S. economy (in July exports rose 7.7%), rising costs in China (making it comparatively less competitive in some products) and investment-driven optimism in the future (the opposite of the U.S., where companies have refrained from investment due to uncertainty regarding regulations, taxes, etc.). Inflation in 2014 has been running under 4%, and the Mexico peso has been relatively stable, down less than 2% over the past twelve months, against a strong U.S. dollar.
Education May Limit Long-Term Growth and Innovation
Mexico, has a subset of highly educated elites, almost all of whom are light skinned and "look" to be of European background (including a rising number of immigrants from other parts of Latin America and even Spain). These elites hold the vast majority of executive and "thinking" staff positions in the private sector.
The flip-side of this race-bias is Mexico is also home to a very large working class/poor sector. Only 36% of adults (25-64) have a high-school (or equivalent) degree. The OECD reports Mexican's work an average of 2,226 hour per year (by comparison in the United States, we work an average of 1,790 hours per year; the French work a shocking 1,479 hour per year- honestly, how does their economy survive?). The vast majority of Mexico's citizens lack the educational skills (and their children the educational prospects) to contribute from a knowledge capital perspective to the Mexican economy. However, poor does not equal unhappy, the OECD reports 82% of Mexican's have "more positive experiences . . . than negative ones" (by comparison only 75% of those in the United States and only 79% of the hardly-working French answered positively).
The Mexican government has taken steps to improve the living standards of the working class by, for example, reforming lending laws to bring the unbanked into the system. However, the real driver of long-term economic growth, educating the masses is still not given the resources needed.
From an investment perspective, the above analysis suggests that Mexico will continue to use its low wage economy as a comparative advantage and high-tech is not likely to be an area of strong growth in the short-to-medium term.
Crime
Investors rarely equate strong investment returns with high crime. Therefore, I would be remiss if I did not address the perception of Mexico being a high-crime environment. Yes, there is significant gang/drug related crime in selected regions. The perception was that most crime was gang-on-gang and the situation was improving. Personally, I felt completely safe (there were numerous police almost everywhere (traffic police, local police, federal police, etc.) during my stay. However, as I mentioned at the outset, almost all of my time was in "the high rent district", so my perceptions could very well have been quite different in another part of town (but I could also say the same thing about New York, or my native Chicago- America's new murder capital).
How will crime impact investment and the economy? Anecdotal evidence suggests crime notwithstanding, investment is strong and the wealthy and powerful (and foreigners) take precautions (especially outside Mexico City). Enhanced economic success, combined with the political will to challenge the narco-criminals should cause the situation to improve (from today) over time.
How to Invest
It is difficult for the average investor to purchase Mexican equities directly. There are a few listings of some major firms such as, America Movil, Cemex (NYSE:CX) and Coca-Cola Femsa (NYSE:KOF). However they are a subset of larger, established companies and do not represent the disruptors and up-and-comers. My excitement in investing in the Mexican economy was tempered by the lack of a Wilshire 4000-type of vehicle, as I think the smaller, more dynamic companies will create more value in this exciting time.
Most investors who desire exposure to Mexico, do so through Blackrock's iShares MSCI Mexico Capped ETF (NYSEARCA:EWW). This ETF is skewed toward more established and larger companies; 10 companies comprise 58% of value. One company, America Movil, comprises 16% of EWW. Another concern regarding EWW is valuation of the underlying securities. EWW's PE ratio is a whopping 26x trailing earnings (as mentioned, these are not tech companies and others typically associated with high PE's). I cannot identify expected growth rate, so the PEG (PE/Growth) is not available. Less than 1% of the firms were "technology". Mexico is about resource exploitation, selling to the locals and making things.
Over the past five years, EWW has grown by 74%, which is certainly respectable, but significantly less than the 100% increase of the S&P 500 over the same period.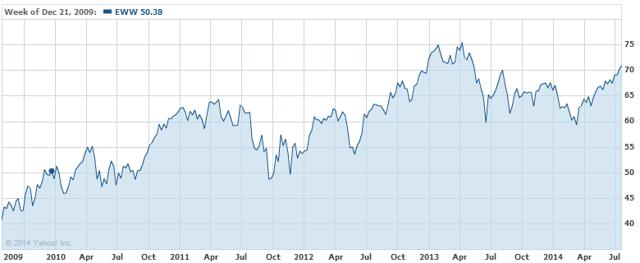 Click to enlarge
Source: Yahoo!
Over the past 12 months, the ETF has also underperformed the S&P 500 by more than 10%.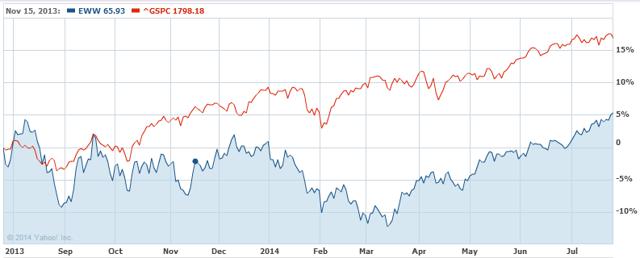 Click to enlarge
Source: Yahoo!
Summary
In summary, I am grateful my travels dispelled my outdated opinions of Mexico. It truly is a dynamic country, doing many of the right things to propel itself forward. Leadership at the top, as well as the elites, are generally supportive of reform. The hard-working masses should benefit from increased opportunities, more consumer goods and (hopefully) better educational prospects, all of which are positive from an economic and consumption perspective.
The main way to invest, with any sort of a diversified portfolio, is the closed-end fund ETF, EWW. However, multiples are rich. On the plus side, if the changes to the macro-economic environment occur as many predict, earnings will grow and investors should be rewarded.
The author wrote this article as an expression of his thoughts and it is not designed to suggest an investor buy or sell a security. All investors should conduct their own due diligence and make their own investment decisions.
Disclosure: The author has no positions in any stocks mentioned, but may initiate a long position in EWW over the next 72 hours. The author wrote this article themselves, and it expresses their own opinions. The author is not receiving compensation for it (other than from Seeking Alpha). The author has no business relationship with any company whose stock is mentioned in this article.