After the IBM (NYSE:IBM)/Apple (NASDAQ:AAPL) deal was announced, I took some time to pen a piece backing the case that BlackBerry (NASDAQ:BBRY) was even more of a buyout candidate than they were before the deal. Believe it or not, I stick to that sentiment now. If you think that some companies out there haven't looked at a cost/benefit analysis of making an offer to BlackBerry, you're wrong. A company like a Cisco (NASDAQ:CSCO) could come and scoop them up any second.
Except, that doesn't seem to be the case right now.
Earlier in the week it was reported via an interview that Mr. Chen acknowledged there were no buyout offers on the table for BlackBerry. This sent shares into a small tailspin for the day. Seeking Alpha reported:
John Chen, during a Bloomberg interview: "I don't have any offers on my desk ... If people would like to talk, I mean, talk is not an offer." (video)
BlackBerry (-2.8%) performed a strategic review last year, during which the rumor mill produced a long list of potential/would-be suitors. But the company abandoned its efforts to find a buyer in November in favor of a turnaround effort spearheaded by Chen.
Chen reiterates today he has no problem with staying independent. "I am comfortable with where the company is today, how we managed our technology, our businesses, the margins, the distribution channel or the new products that's coming out ... Whether it's going to be good enough to be iconic again, OK, that's something I need to chew on."
Last week: BlackBerry rallies after Chen talks partnership efforts
This came just days after it was reported that Chen was, in fact, looking at partnerships with other companies. When Chen was talking turkey to the FT, the stock had the opposite effect and was up the 4% it's already given back. Seeking Alpha had reported:
BlackBerry (+4.2%) is talking with other tech companies about partnerships in the wake of the Apple-IBM deal, John Chen tells the FT. "I am working on some, and maybe we will collaborate with others. If I focus on security and identity management then we will be a good solid partner."
Chen compared the Apple/IBM tie-up to two elephants dancing, and promised BlackBerry would be more nimble. He also talks up BlackBerry's long-term enterprise strategy. "What we are doing is focusing on security and privacy, which is where all the things are connected. Every IT device - no matter what operating system - we want to talk to and connect securely."
BlackBerry tumbled after the Apple/IBM deal was announced, as a slew of analysts argued the alliance is a negative for BlackBerry's MDM and/or enterprise hardware efforts.
What a busy week it's been for BlackBerry.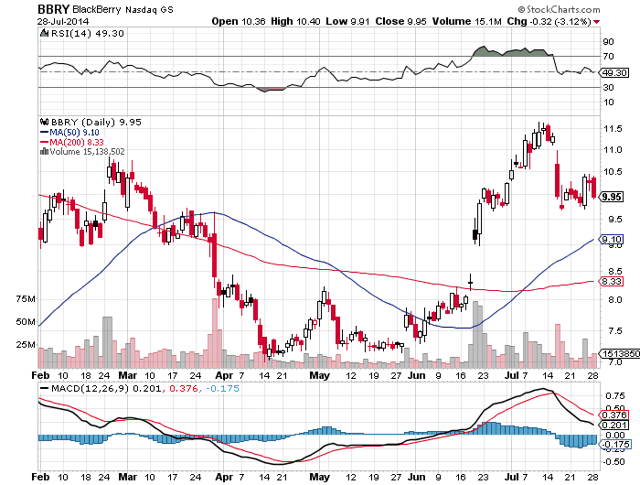 Click to enlarge
Although the net price hasn't changed much since the IBM/Apple deal, the candlesticks are getting big. We could be looking to a breakout one direction or the other when the dust finally settles here.
But, Chen seems to know what I feel is true for BlackBerry, as well. This company, with its cash hoard, can stand on its own. Chen sounds resolute and steadfast when he speaks about the company not having any partnership prospects. He seems comfortable and confident with it. And why wouldn't he? Again, it's likely going to take months before the IBM/Apple partnership begins to bear fruit and BlackBerry has a ton of cash in the bank.
Not only that, but the company can go on the offensive itself. Just this morning, BlackBerry announced they were going to be acquiring a mobile security firm called Secusmart, in order to boost their robust following related to security. The company being acquired has many ties to government customers, Mr. Chen notes in the press release. VentureBeat.com reported:
BlackBerry is ramping up its security offerings with a new acquisition today.

The company just announced that it has acquired Secusmart, a Dusseldorf-based company that secures all aspects of mobile communications, including calls, texts, and data. The deal is still pending regulatory approval.

BlackBerry CEO John Chen used the announcement to kick off its Security Summit in New York City today, pointing out that Secusmart will play a big role in the company's globalization plans. BlackBerry and Secusmart have been partners since 2009, and Chen noted that the firm has "many big government customers."

Secusmart will operate independently and remain based in Germany. The company recently launchedan "anti-eavesdropping" solution, something that will likely appeal to both governments and businesses in a post-NSA spying world.

"Secusmart and BlackBerry's solution already meets the highest security requirements of the German federal authorities and NATO for restricted communications," said Secusmart managing director Hans-Christoph Quelle in a statement. "We see significant opportunities to introduce Secusmart's solutions to more of BlackBerry's government and enterprise customers around the world."
So, as speculation looms going forward, Mr. Chen calmly sits by and executes his playbook. Bears that think there is no niche for BlackBerry now that this IBM/Apple partnership has taken place will likely be surprised when Mr. Chen is able to steady his ship in spite of the news. I'm still looking for monetization from BBM and continued smart phone sales in emerging markets to help fuel BlackBerry to a cash flow neutral and cash flow positive state.
While I have taken my position off the table momentarily, I continue to be bullish on BlackBerry in the long term, and may initiate a position at any point going forward.
Best of luck to all investors.
Disclosure: The author has no positions in any stocks mentioned, but may initiate a long position in BBRY over the next 72 hours. The author wrote this article themselves, and it expresses their own opinions. The author is not receiving compensation for it (other than from Seeking Alpha). The author has no business relationship with any company whose stock is mentioned in this article.