Introduction
Earlier this week, Apple (NASDAQ:AAPL) announced an incredible quarter with strong revenue growth being driven by the iPhone and, yes indeed, the Mac. I believe that the Mac is a highly underestimated product at Apple, and previously, I have even written about the Mac's potential in dominating the PC market. Mac revenue grew 13% annually and is now right on the iPad's tail, as it trails around 6% lower, a figure that was 30% lower one year ago. There are even more Macs being sold than iPods now, assuming you knew that Apple still sold iPods. Mac is an important part of Apple's ecosystem, so for this article I would like to talk about its growth that's bound to continue.
Mac results
For Apple's third quarter, fiscal year 2014, it announced that the Mac generated record June quarter sales with year-over-year unit sales and revenue growth in spite of the declining PC market. For the quarter, Apple sold 4.4 million units, which includes the purchase of my very first Mac two months ago. Unit sales growth was up by an attractive 7% sequentially and 18% year-over-year, again, in spite of a soft PC market.

The recent rise in affordability of Macs is highly responsible for much of this growth. Last year, the MacBook Pro with retina display underwent two $200 price drops, creating the attractive price of $1299. Even Apple's entry-level 11" and 13" MacBook Airs decreased from $1000 to $900, and $1100 to $1000, respectively. The MacBook Air is Apple's most popular computer, and with its diminutive value starting around the beginning of the third quarter, revenue for the Mac remained flat sequentially. However, year-over-year revenues were up by 13%, which suggests that demand is increasing in addition to the increase caused by the price reduction.
Mac's Market Share Growth
For the first quarter, we witnessed an unexpected ramp in PC sales largely due to replacements of PCs that were still running Windows XP, which lost support from Microsoft earlier this year. Even though these were Windows PCs being replaced, Apple still managed to generate another quarter of market share growth. That is, market share growth for 32 out of the last 33 quarters, or approximately eight straight years of growth.
Thanks to Microsoft's decision, the PC market declined by 2% versus the formerly predicted 7.1% by the IDC. The chart below from the Business Insider displays the decline in the PC market that has occurred over the last several quarters. It's been a rough time to be a PC, but not a Mac. Mac has continuously resisted this trend with a continuous increase in sales. As mentioned above, Apple managed to generate an 18% increase in sales. China came as a surprise to Apple, as PC sales were expected to be on a decline, but nonetheless the Mac grew by an astonishing 39%. Apple's unmatched ecosystem in addition to the incredible computers it makes are currently driving forces that will continue to drive future growth.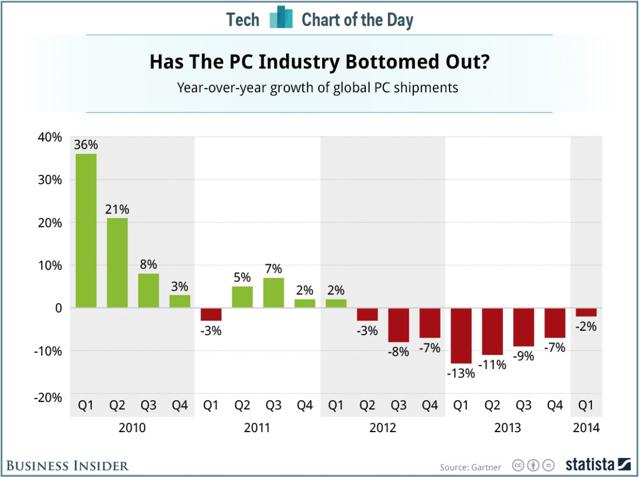 Source: Business Insider
More iPads and iPhones still means more Macs
With over 35 million iPhones and over 13 million iPads sold for the quarter, Apple is showing that its massive ecosystem is growing even further. The iPhone showed 54% growth in BRIC countries, and more than half of the new iPads purchased came from first time users. In Apple's fiscal second quarter, half of newly registered iPhones came from first time users. First time users are important to Apple as it thrives on the halo effect, and with the upcoming updates to operating system for Mac, the iPad, and iPhone, customers who buy iPhones and iPads will be even more inclined to own a Mac.
With the upcoming updates, OS X Yosemite, and iOS 8, users will be able to enjoy a powerful integration that's absent in nearly every other ecosystem. Dubbed "Continuity", an iPhone can start an activity such as web browsing and email, and seamlessly resume the activity straight from their computer if necessary. While the previous messenger app by Apple was limited in sending messages to other iPhones and Macs, the update will be able to receive and send SMS text messages as well. Furthermore, without taking your phone out of your pocket, you will be able to dial out and accept incoming phone calls straight from your Mac at the push of a button. Users like me who spend a great deal of their time on their Mac while listening to music with microphone-equipped headphones will absolutely adore this.
Mac's challenge has yet to begin
This doesn't mean that it will be smooth sailing to the top for Mac. With Microsoft (NASDAQ:MSFT) releasing innovative products like the Surface Pro 3 while desperately readying for the release of a more promising version of Windows, Apple may have some challenges ahead of itself. Microsoft is shaping up its attitude and its advantage is backed up by the enormous gravitational pull provided by its huge market share lead. If anything, before Apple "takes" the market from Microsoft, a massive war will arise in the coming years.
Closing Thoughts
Very often, you hear people talk about Apple becoming the world's first trillion-dollar company, and as outrageous as it sounds, it's not entirely out of the question. As a disclaimer, I think growth is ahead of Apple, but I am in no position to say how much. That being said, the iPad and the iPhone alone may not have the juice to reach this long-term goal by themselves. One new innovation like another Galaxy S3, which introduced the big screen phone, could completely slam the brakes on Apple's growth. This leads me to suggest that diversification will be key at Apple, and Mac's growth can contribute just that.
Despite being the starting core of Apple, the Mac is still in its adolescent stage, targeting an industry that's in a steady decline. PCs are long-term investments that aren't replaced at anywhere near the rate of cell phones and their two-year contracts. It will be a long-term journey faced with challenges, but at the rate it's traveling, I believe that the Mac will unquestionably continue to grow, and maybe even dominate.
Disclosure: The author has no positions in any stocks mentioned, and no plans to initiate any positions within the next 72 hours. The author wrote this article themselves, and it expresses their own opinions. The author is not receiving compensation for it (other than from Seeking Alpha). The author has no business relationship with any company whose stock is mentioned in this article.