GeoPark Ltd (NYSE:GPRK) - Sell Recommendation - Price Target $9.75
August 6 marks the end of the 180 day lockup period for GPRK. At this time, major pre-IPO shareholders, including asset management, private equity firms, and GPRK executives and directors are allowed to begin selling their 26.1 million shares. Given this potential supply shock, as firms might take advantage of GPRK's strong gains, it is likely that GPRK's price will temporarily decline. We see this event as a temporary short opportunity for aggressive investors.
Summary
August 6 will mark the end of the 180 day lockup period that began with GeoPark Ltd 's February 6, 2014 IPO, allowing major pre-IPO shareholders to sell their outstanding shares in the South American oil and gas E&P.
These shareholders include asset management firms and private equity firms. GPRK's directors and executives, some of whom hold millions of shares of GPRK, will also be permitted to sell their outstanding shares in the company with the expiration of the lockup period.
The sudden increase in GPRK shares free to be sold on the market at the conclusion of the lockup period will likely lead to at least a temporary fall in GPRK share prices, and could generate a short opportunity for aggressive investors.
Strong Gains Post-IPO
GPRK's IPO priced at the low end of its expected price range at $7 per share; the offering had been downsized to 13.5 million shares at an expected range of $7-8 per share from 20 million shares at an expected range of $8-10 per share. The stock lost 7.9% in its first day of trading, but has since made strong gains, closing as high as $10.49 per share on July 11; GPRK closed at $10.26 per share on July 17.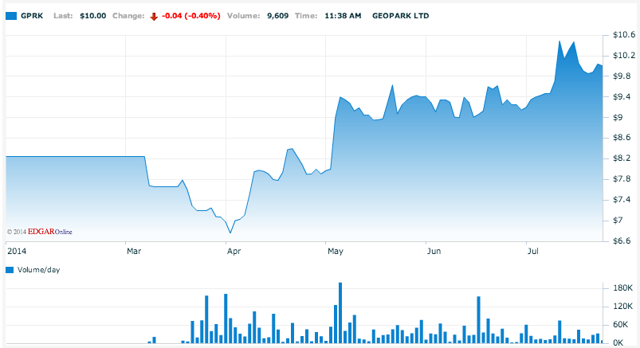 (Nasdaq.com)
Share Unlocking: 26.1 million Possible Sales
The August 6 unlocking will free approximately 26.1 million shares of GPRK for public sale, almost twice the 13.5 million shares offered to the public in the firm's February IPO.
The firm's largest shareholder is alternative asset manager Cartica Management, LLC, represented on GPRK's board by Steven J. Quamme; Mr. Quamme and Cartica collectively hold some 9.7 million shares of GPRK. Asset manager Moneda A.F.I. holds some 3.2 million shares, while private equity firm IFC Equity Investments holds 3.5 million shares.
These firms may sell some of their shares in GPRK in order to take advantage of the strong current prices and to diversify their portfolios.
GPRK executives and directors will also be permitted to sell their shares in the firm as of August 6, and may choose to cash in on the firm's recent successes. CEO James F. Park holds approximately 7.4 million shares in GPRK; Executive Chairman Gerald E. O'Shaughnessy holds an additional approximately 7.5 million shares.
Evidence That Lockup Expirations Offer Short Opportunities
Empirical studies published by professors at the University of South Florida, University of Kentucky, and other institutions (Bradley, Jordan, Roten, and Ha-Chin Yi) have identified significant, negative abnormal returns associated, on average, with lockup period expirations; the rise in available public shares (a potential tripling, per a 2001 NYU study) generally leads to a fall in share prices. A joint study by Duke's Fuqua School of Business and Harvard Business School finds that this drop in share prices is 2%.
Data generated throughout our past three years of research aligns with these conclusions. Thus, the lockup expiration often generates a short opportunity for aggressive investors.
The largest losses have been found in "high-tech" firms, firms with the largest post-IPO share price increases, firms with the best-reputed underwriters, and firms with the largest relative trading volume close to the time of the lockup expiration.
Summary of GPRK's Operations
GPRK is an independent oil and gas E&P based in South America, with operations in Chile, Colombia, and Argentina; the firm is in the process of establishing operations in Brazil.
GPRK produced a net average of 13,148 boepd for the first nine months of 2013, the great majority of which was produced in Chile and Colombia (53% and 46%, respectively). Nearly all of the firm's 16.8 mmboe of net proved reserves as of December 21, 2012 were in those two countries as well, with 10.2 mmboe in Chile and 6.6 mmboe in Colombia. These reserves consisted of 71% oil and 29% natural gas, while the 8.1 mmboe of net proved reserves in the firm's Brazilian acquisition is approximately 98% natural gas.
Strong Q2 Performance
GPRK has enjoyed strong expansion in 2014; for the quarter ended June 30, 2014, the firm's average production grew to 20,441 boepd, a 57% year-over-year increase from the same period in 2013. The firm drilled seven new wells in Chile and six new wells in Colombia during the quarter as an element of a 2014 investment program worth over $200 million. These numbers place GPRK on a path to achieve its expected production goals for the year.
Management Highlights: Exceptional Experience
Co-founder James F. Park has served as GPRK's CEO since 2002. Mr. Park served as a senior executive with Central American E&P Basic Resources International Limited, where he was involved in both the practical business of constructing oil infrastructure and in the financial and legal aspect of the oil business. He joined Basic Resources in 1978 and remained a member of its board until the firm was sold in 1997. Mr. Park has been involved in various oil and gas projects in Yemen, Argentina, China, California, and Louisiana.
Mr. Park received a degree in geophysics from the University of California at Berkeley and has worked as a research scientist in earthquake and tectonic studies.
Competitors Across Regions
GPRK faces varying competitors across the different regions in which it operates. In Chile, its main competition is the state-owned Empresa Nacional del Petróleo; in Colombia, GPRK competes with the state-controlled Ecopetrol as well as privately owned firms including Pacific Rubiales, Petrominerales, Gran Tierra, Parex Resources Colombia Ltd. Sucursal, and Canacol.
Conclusion: Temporary Short Opportunity
We are optimistic on GPRK moving forward; however the current strong gains are even greater reason to believe pre-IPO shareholders will effect a short opportunity as they realize profits for the first time.
The firm has posted impressive and growing operating profits over the last several years, and we like its recent aggressive expansion into Brazil with a large investment into growing its natural gas reserves.
The firm's exceptionally experienced management team-itself heavily invested in GPRK-is also encouraging.
Though GPRK's fortunes will rise and fall with the oil and gas markets, as with every E&P, we believe that the firm has every opportunity to continue to grow its operations and profits.
Thus, we see only a temporary short opportunity-for aggressive investors-at the time of the lockup expiration.
Disclosure: The author is short GPRK. The author wrote this article themselves, and it expresses their own opinions. The author is not receiving compensation for it (other than from Seeking Alpha). The author has no business relationship with any company whose stock is mentioned in this article.