I first wrote an article about the trend of declining production per well in the Bakken last year. I was ready to call the peak in production per well then, despite only having six months worth of data which pointed to that trend, because I identified the cause of the decline. It had to do with a drop in the percentage gain in total wells year on year from over 50% in the 2009-12 period to 33% in 2013. Based on reader feedback, I noticed that there was significant skepticism in regards to the peak I called. We now have enough data to confirm the declining trend as a permanent one.
Note: The pink line shows the percentage increase in total wells year on year. The blue line shows a drop in daily production volume per well, and it clearly follows the trend of declining percentage gains in total wells experienced since 2013.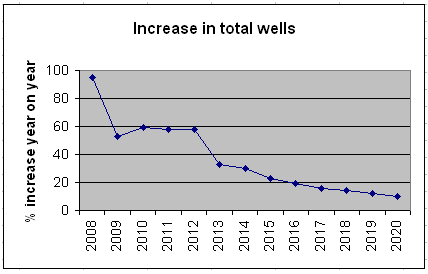 Note: While the 2008-2012 period was characterized by an exponential increase of wells drilled each year, since 2012, we seem to have reached a plateau, where roughly 2,000 wells can be expected to be drilled each year. As a result, the percentage increase of total wells year on year is declining. The percentage increase represented on the graph after 2013 is an estimate, based on the assumption of a continued plateau in number of wells added each year.
While I was able to identify the peak in production per well as well as the cause of it, it was not entirely clear back then what the implications will be, due to the early trend in the data. Many questions remained, such as what decline rate per well we should expect year on year. There was no way of knowing whether production per well will decline at a constant pace, an accelerating pace or a slowing pace. I think we can now say with reasonable certainty that the 7% decline we saw in 2013 will be the highest on record as long as total wells added every year will remain stable at around 1,800, which is what we had in 2012 and 2013. I believe this year we will have a decline in production per well of somewhere around 5% and next year's decline will be marginally lower.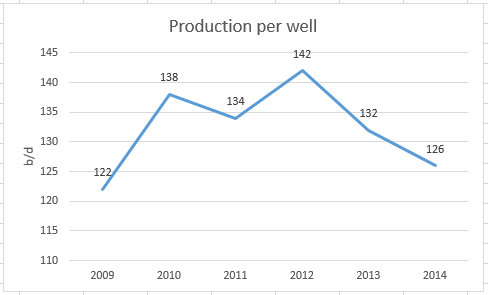 In terms of production growth, the rate of growth year on year reached its maximum level in 2012 with a gain in production of 234,000 b/d. In 2013, production growth was 166,000 b/d, but this value is heavily distorted to the downside given that in December, 2013 only 48 new wells were added, whereas the monthly average has been in the 150 range for the past few years. This weather related disruption to operations distorted the year's final number by about 50,000 b/d, so in reality the gain in production should have been about 215,000 when adjusting for weather. For that reason, I believe that this year's increase will be higher than experienced in 2013 as long as there will be no unforeseen major disruptions. Based on production per well declining to 120-125, and 1,800 new wells being added, I project production will reach 1,032,000-1,075,000 by year's end, which will be an increase of 165,000-208,000 b/d compared to December, 2013. Each year afterwards will see a smaller and smaller increase in production, unless there will be a sudden surge in drilling activity, which I personally doubt because there is no price signal to trigger it.
Given the marginally slowing rate of decline year on year of production per well, and given the assumption that well additions will remain steady and ignoring the fact that initial production volumes per new well are in a significant decline pattern as the EIA data shows, by 2020 we should expect Bakken production to increase to about 1,850,000 b/d. This prediction is based on the assumption that average production per well will decline to 95 b/d by then and there will be over 19,000 wells in production, compared to 7,700 as of May of this year. The obvious factor which could greatly change this production figure is drilling activity which I assumed will continue to reflect the rate experienced in the 2012-13 period. The other factor which will have an effect, is that we just don't know how much is the declining rate of initial production of new wells, which the EIA claims it declined by about 10% in the past two years. There is also the possibility that I am wrong about the rate of decline in average production per well, given that the trend is still fairly new and perhaps more data points will be needed to confirm the rate of decline. If I am wrong, I firmly believe that I am under-estimating the rate of decline, not over-estimating, therefore future gains in production will be smaller than I predicted.
The production gains from the Bakken field since 2008 have been an important factor in making the US the biggest contributor to global liquid fuels production growth. In fact, without this gain in production in the US, global liquid fuels production would have remained almost flat since 2008 as shown by EIA data. The fact that the rate of growth is now on a slowing path, coupled with recent disappointments, such as the announcement that the Monterey field which was thought to hold the greatest reserve potential from all shale oil fields is not going to produce much oil at all, puts in doubt the continuation of the shale oil boom. I think by the end of this decade, we have to be prepared for the US shale oil slide. With it, we can expect slowing global economic growth and all that it implies.
Disclosure: The author has no positions in any stocks mentioned, and no plans to initiate any positions within the next 72 hours. The author wrote this article themselves, and it expresses their own opinions. The author is not receiving compensation for it (other than from Seeking Alpha). The author has no business relationship with any company whose stock is mentioned in this article.