In this article, I will be screening for stocks that have been buying back large amounts of shares, growing dividend, and have a high short interest. The first step in my search was to find stocks with share buybacks, and dividend growth, and I accomplished this by combining the holdings of the PowerShares Buyback Achievers Portfolio ETF (NYPKW), and the holdings for the iShares Core Dividend Growth ETF (NYDGRO). I looked for stocks that were listed in both funds, and that list ended up being 27 stocks. I then took the list pasted it into the FinViz.com stock screener and used the following screen criteria. After selecting those criteria, only one stock remained and that was ADT Corp. (NYSE:ADT). For the remainder of the article I will be focusing on the financials, share buybacks, dividend growth, short interest, and technical outlook for ADT.
Float Short: >5%
EPS Growth This Year: >5%
EPS Growth Next 5 Years: >5%
Financials
ADT has shown that it has a stable business, and has shown the ability to control costs. The following table shows that ADT has grown revenues over the last 5 quarter 1.95%, and SG&A has only grown slightly faster at a rate of 2.29%. The low growth in revenues is why ADT recently purchased Protectron for $555 million Canadian Dollars, which provides security products and services in Canada. With this purchase and the share buybacks detailed below one concerning item is that free cash flow has been decreasing and debt has been increasing. Because revenues are growing at a slow pace, ADT has a need to grow its revenues, which is has chosen to do through acquisitions, and at the same time continue to buy back stock to increase earnings per share growth.
| | | |
| --- | --- | --- |
| Quarter Ending | Revenues | SG&A |
| 2013-03 | 821 | 306 |
| 2013-06 | 833 | 292 |
| 2013-09 | 846 | 322 |
| 2013-12 | 839 | 307 |
| 2014-03 | 837 | 313 |
| | | |
| Growth | 1.95% | 2.29% |
The table below shows the last three years of EPS data for ADT, along with revenue, SG&A, and long-term debt from the same period. As you can see SG&A growth has outpaced revenue growth by almost 2-1, however EPS has increased 18.24% over the last three full fiscal years, which is due to ADT buying back large amounts of stock, which masks the slow revenue growth.
Annual Data

Revenue

SG&A

EPS

Long-Term Debt

2011

3,110

1,076

1.59

1,506

2012

3,228

1,132

1.67

2,525

2013

3,309

1,196

1.88

3,373

Increase

6.40%

11.15%

18.24%

123.97%
One somewhat concerning item is the significant amount of debt that ADT has taken on in the last three full fiscal years. The data shows that long-term debt has more than doubled in the last three fiscal years. However, when I took a deeper look at the outstanding bonds that ADT holds that number is actually closer to $4.7 billion in outstanding bonds. I looked at bond data from the Finra-market/Morningstar Bond Center and compiled the data into the following chart. The issue is not a pressing one as the next bond maturity date is 3 years away and ADT the last four quarters has had a total free cash flow of $894 million, which shows that it can easily pay off its long-term obligations when they come due.
| | | | |
| --- | --- | --- | --- |
| CUSIP | Coupon Rate | Amount | Maturity Date |
| 00101JAE6 | 2.25% | 747,900,000 | 7/15/2017 |
| 00101JAF3 | 3.50% | 1,000,000,000 | 7/15/2022 |
| 00101JAG1 | 4.875% | 746,000,000 | 7/15/2042 |
| 00101JAH9 | 4.125% | 699,700,000 | 6/15/2023 |
| 00101JAL0 | 4.125% | 500,000,000 | 4/15/2019 |
| 00101JAK2 | 6.25% | 999,975,000 | 10/15/2021 |
| | | | |
| | Total | 4,693,575,000 | |
Share Buybacks
Over the last five quarters, ADT has lowered its share count from 229 million to 183 million at the end of the last quarter. This represents a 20.09% reduction in shares outstanding over the last five quarters. The rate at which ADT has been purchasing shares over the last five quarters is at a rate of 5.45%/quarter, which is quite large. With the ADT share price down 19.53% over the last year, ADT is being very opportunistic given the decline in its stock, and the stable nature of its business with recurring revenues.
| | |
| --- | --- |
| Quarter Ending | Shares Outstanding |
| 2013-03 | 229 |
| 2013-06 | 219 |
| 2013-09 | 213 |
| 2013-12 | 198 |
| 2014-03 | 183 |
Dividend Growth
ADT only has a small history as a dividend growth stock, but it has grown its dividend substantially in the last 2 years. Below is a table, which shows the quarterly dividend payments that ADT has made in the past and ADT has already declared a $0.20/share dividend for the current quarter. The increase from $.125/share to $.20/share is an increase of 60% and I expect that ADT would increase its dividend at the start of the New Year, as they did at the start of 2014. Considering that in the last four quarters, ADT has repurchased a total of $1.76 billion in shares, and over that same period, ADT paid out a total of $116 million in dividends. As you can see, ADT could raise its dividend significantly and still repurchase a large amount of shares at the same time.
| | |
| --- | --- |
| | Dividend/Share |
| 12/6/2012 | $0.125 |
| 1/28/2013 | $0.125 |
| 4/22/2013 | $0.125 |
| 7/29/2013 | $0.125 |
| 1/27/2014 | $0.20 |
| 4/28/2014 | $0.20 |
Short Interest
According the Finviz, ADT has a short float of 19.16%, which I believe is quite large for a company with this stable of revenues. I went to the NASDAQ short-interest page for ADT and constructed two charts showing that short interest has doubled over the last year, and days to cover, has increased nearly four times over the last year. The first chart shows that short interest for ADT has gone from 16.7 million shares a year ago to a current level of 33.2 million, which is nearly double. As you can see, short interest has been slowly drifting lower ever since shares of ADT has a major sell-off at the end of January and the beginning of February. The second chart shows the days to cover has been increasing over the last year from just less than five days, to a current level of 19.75. If ADT surprises to the upside in a big way, a massive multi-day short-squeeze could occur because of the high short interest, and the high days to cover. Looking at historical volumes of the stock there has only been one day of trading in the last two years where there was enough volume to be able to cover all 33 million shares currently short, and that was at the end of January when shares fell from $37.81 on January 29th, to $31.40 on January 30th. While this kind of move in one day is possible, I think it would be more likely to occur over a multiple day timeframe.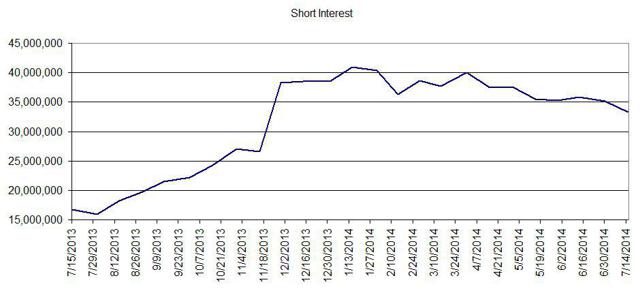 Click to enlarge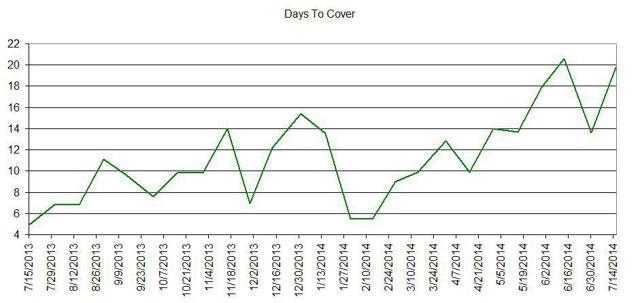 Click to enlarge
Technical Outlook
The technical chart from ADT shows that shares have been trading relatively sideway for the last month, and have been holding a level of support [purple line] that had been resistance earlier in the year. In addition, the stock is nearing the end of its triangle pattern as noted by the declining yellow line, and rising blue line. When a stock gets near the point of the triangle, a breakout to the upside or the downside will occur. A catalyst is needed to get the breakout in either direction, and ADT is reporting earnings before the market opens on Wednesday July 30th.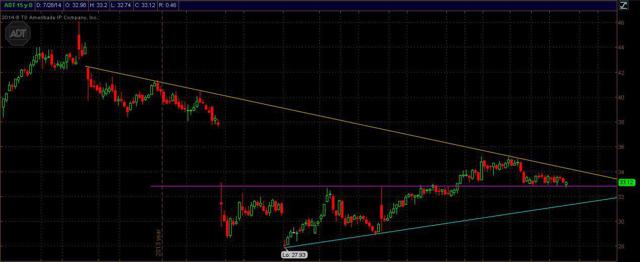 Click to enlarge
Closing Thoughts
In closing, I believe ADT is set up for potential short-term squeeze over the coming week with the catalyst for that squeeze being ADT is reporting earnings on Wednesday. There are some issues with ADT like slow revenue growth, and a large increase in long-term debt, however, ADT has a very stable business with recurring revenues, is buying back large amounts of stock, is paying a growing dividend yielding 2.41%, is technically set up for a breakout. When you combine all these factors, with the potential for a massive short squeeze, I think ADT is worth a look before they report earnings on Wednesday and for the long-term as well.
Disclosure: The author has no positions in any stocks mentioned, but may initiate a long position in ADT over the next 72 hours. The author wrote this article themselves, and it expresses their own opinions. The author is not receiving compensation for it (other than from Seeking Alpha). The author has no business relationship with any company whose stock is mentioned in this article. After my article is published, I may possibly buy call options on ADT.