Wix (NASDAQ:WIX), an Israeli website creation platform, raised $127M in a successful IPO last November. The company offered 7.7 million shares at $16.5 each, the top of a $14.5-$16.5 price range that reflected a $750M market cap for the Israeli start-up. One month later, the underwriters of Wix's IPO published bullish opinions and price targets for the stock. As shown in Chart 1 below, underwriters' prices reflected a potential upside of 22% on average that ranges from 5% to 53%, an impressive return for a small sized micro-cap tech company from Tel-Aviv.

Wix's stock price fluctuated considerably until it reached its all-time high of $31.32 in February 2014 and completed an 89% increase from its IPO price level. After hitting an all-time high, Wix's stock price declined sharply and lost 36% of its value, which stopped when the company withdrew its secondary offering.
At the beginning of 2014, many Israeli tech companies filed for either initial offerings or secondary offerings, and Wix followed that trend and filed for a secondary offering at the end of March. In an earlier article published in April, I described a market sentiment of an Israeli tech bubble evolving in NASDAQ. Following that sentiment, Wix withdrew its secondary offering filing, and the stock price responded with a 10% increase as shown in point B in Chart 2 below. Shortly after that increase, GoDaddy (Pending:DADDY) filed for IPO, and Wix's stock price reacted with another correction that ended when the company reported Q1'14 results with a higher EPS and more revenues than expected. From that point, Wix's stock price increased 19% to below $18, far from the underwriters' price targets.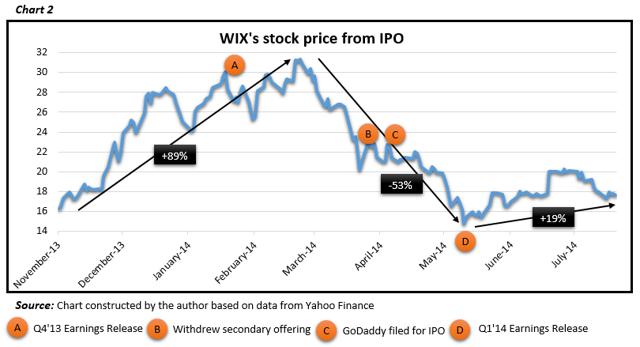 Business Analysis
Wix operates in a Freemium business model in which registration to the website and essential web services such as a website creation platform and minimal storage are free, but Wix will display ads on your site. The premium plan includes more advanced features such as domain registration, ample storage, large bandwidth, mailbox, option to connect an external domain to Wix platform, and no external ads on the website.
At the Bank of America Merrill Lynch 2014 Global Technology Conference held in San Francisco in June, Wix presented slides that show the impressive increase Wix had in the total number of users and premium subscriptions to Wix services from Q1'11 to Q1'14. In its presentation, the company showed that as of Q1'14, premium subscriptions are only 2% of Wix registered users. This is not very impressive and may be alarming until you take a look at the conversion rate of users from the free plan to the premium plans.
As shown in chart 3 below, since Q412, the company's increase quarter-over-quarter in the number of premium subscriptions (orange line) is higher than the increase quarter-over-quarter in the number of total users (blue line), which means that more and more registered users convert their free plan to a premium plan. The rate of conversion from free to premium plans that is reflected in the gray line in chart 3 below increases regularly from Q211 and has a direct impact on the revenue increase the company had in the same timeframe.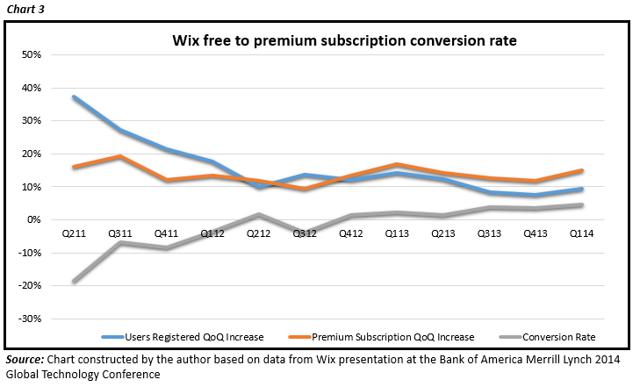 At the end of June, Google (NASDAQ:GOOG) (NASDAQ:GOOGL) announced its domain registration services, named Google Domain. I covered the impact of that announcement on the web services market in an earlier article; however, one thing is worth mentioning again. Google Domains is a big threat for GoDaddy, which mainly offers domain registration services, but also offers web creation tools that compete with Wix. Google Domain offers Wix as one of the platforms to create a website after a domain is registered through its new service. This collaboration is expected to attract additional users to register to Wix services. Users that register a domain and don't look for free domain names available will probably use premium services offered by Wix. Impact of that move will not be reflected in Q2'14 earnings release but should have a positive impact on Wix's financials in Q3'14 and on.
In the paragraphs above, I described catalysts for revenues increase; however, Wix is still losing money. At the Bank of America Merrill Lynch 2014 Global Technology Conference I mentioned above, Wix's executives presented a table that relates to that. That table can be seen in chart 4 below and discusses the level of R&D and SG&A the company targets. Wix's gross margin is increasing year-over-year to 82% level in Q1'14, which is a reasonable figure for a software company like Wix; however, its operating profit is negative driven from high levels of R&D and SG&A. In that table, Wix shows its intention to keep reducing its operating expenses in order to get closer for a positive operating profit. Once Wix shifts from an operating loss to operating profit, the company can start looking at how to improve its earnings.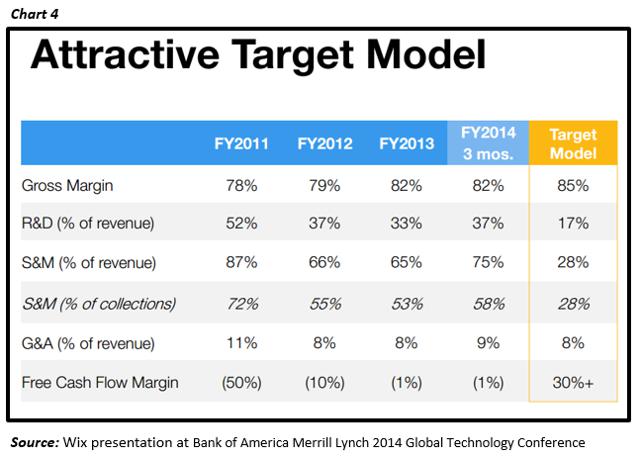 Conclusions
Wix's stock fluctuated considerably since its IPO last year, and the current price is way below underwriters' price targets. Wix's operating figures are good, and the company presents an increasing number of registered users and increasing conversion rate to premium subscriptions. Google's entrance to the domain market and collaboration with Wix should attract users to use Wix premium services. The company targets to improve its operating profit by reducing levels of R&D and SG&A as percentages of revenue. Wix has a great potential and an impressive possible upside that makes it a buy for long-term investment.
Disclosure: The author has no positions in any stocks mentioned, and no plans to initiate any positions within the next 72 hours. The author wrote this article themselves, and it expresses their own opinions. The author is not receiving compensation for it (other than from Seeking Alpha). The author has no business relationship with any company whose stock is mentioned in this article.
Additional disclosure: Information provided in this article is for informational purposes only and should not be regarded as investment advice or a recommendation regarding any particular security or course of action. This information is the writer's personal opinion about the companies mentioned in the article. Investors should conduct their own due diligence and consult with a registered financial adviser before making any investment decision. Lior Ronen and Finro Financial Consulting and Analysis are not registered financial advisers and shall not have any liability for any damages of any kind whatsoever relating to this material. By accepting this material, you acknowledge, understand and accept the foregoing.