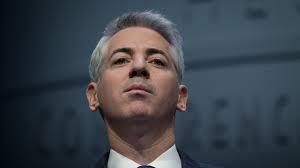 Picture: Hedge fund manager, Bill Ackman. Source: Forbes.com
The public feud between Herbalife Ltd (NYSE:HLF) and hedge fund manager, Bill Ackman, was the talk of the market on Monday. The feud made Herbalife's Q2 earnings report the most anticipated earnings report of the year. The pressure was on. Management knew it; shareholders knew it. However, management did not deliver, missing on both revenue and earnings estimates. Below are the historical quarterly financial results for Herbalife: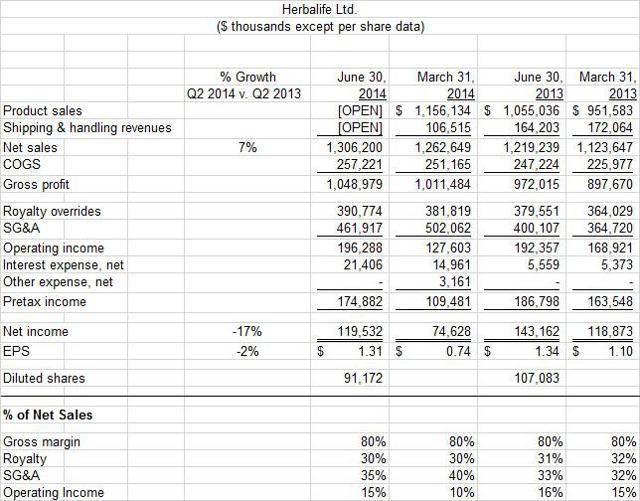 Revenue
Herbalife achieved revenue of $1.31 billion, 7% above Q2 2013 results of $1.22 billion.
However, revenue was 4% less than the $1.36 billion analysts were expecting. The revenue miss was disappointing. That said, I do not think it proves the thesis that Herbalife's business model is unsustainable or that its sales force is being negative impacted by the public feud between the company and short sellers.
Earnings
What I did find disappointing was how Herbalife underwhelmed on managing its cost structure. The company's costs were practically in line with Q2 2013 results except for SG&A. This implies that there are very little benefits, if any, from economies of scale. I would have expected some pick up on royalties and SG&A as a percentage of net sales year-over-year.
SG&A expense came in at 35% of net sales, which was lower than the 40% experienced in Q1 2014. However, the metric still ticked up from the 33% recorded in Q2 2013.
Q1 2014 SG&A was negatively affected by an $86 million foreign exchange loss. We will have to wait to hear from management about what caused SG&A to rise in the current quarter.
The bottom line is that [i] with rising SG&A costs [ii] and increasing interest expense from additional debt used for share buybacks, it would have been difficult for Herbalife to meet earnings estimates even at revenue of $1.36 billion.
The uptick in SG&A costs and increase in interest expense also negated some of the benefits of share buybacks. That said, the company missed its earnings estimate even as diluted shares declined 15% from 107 million to 91 million.
Net income was $120 million, or $1.31 per share. Adjusted earnings per share was $1.55.
Adjusted earnings includes adjustments for such items as [i] non-cash expenses related to convertible notes and forward contracts and [ii] expenses incurred responding to the attacks on the company's business model.
The stock fell in after-hours trading by $7.48 (11.1%) to $60 per share.
Conclusion
Herbalife's Q2 revenue and earnings disappointed the market. With rising SG&A expenses and interest burden from additional debt, Herbalife is a different company than that of prior years and should be valued accordingly. The shares could fall further as short sellers and potentially analysts, question Herbalife's business model and business prospects.
Disclosure: The author is short HLF. The author wrote this article themselves, and it expresses their own opinions. The author is not receiving compensation for it (other than from Seeking Alpha). The author has no business relationship with any company whose stock is mentioned in this article.