Hello, my name is Heather, and for the last twenty years I've had an ongoing struggle with my weight. For many women this isn't the easiest of topics to discuss, but given the potential of Apple's (NASDAQ:AAPL) "Healthbook" (which will bundled with iOS 8 due out in September), I've not only developed a newfound respect for Apple as a company, but also for what I consider to be its hands-on approach in joining the global battle against such epidemics as obesity.
A Brief Overview of "Health"
According to the folks at 9to5 mac,"Apple plans for iOS 8 to include an application code-named "Healthbook." The software will be capable of monitoring and storing fitness statistics such as steps taken, calories burned, and miles walked. Furthermore, the app will have the ability to manage and track weight loss. The software will be a pre-installed challenger to offerings such as those from Nike (NYSE:NKE) and Fitbit, making it all the more intriguing that Apple CEO Tim Cook still sits on Nike's Board of Directors."
For women like me, who are currently 20%-to-25% above their recommended weight thresholds, not only does the initial idea of going beyond the amount of steps taken and calories burned intrigue me, but many of the additional features also sound quite compelling. Here's a look at four of those features.
The Interface: The "Healthbook" application is noted to be quite similar to Apple's own Passbook app, which is software for storing loyalty cards, coupons, and other materials normally stored in physical wallets.
How similar you ask? In the "Healthbook" application each card will reference a different fitness or health-related data point, such as blood pressure tracking and hydration readings. What many people don't understand, is the fact that water is an essential part of anyone's struggle with weight-loss, it fills you up and acts as a very important alternative substitute to many of the so-called' sports drinks" that contain unwanted salts and sugars.
Heart Rate and Blood Pressure Monitoring: The biggest benefit to both heart rate and blood pressure monitoring is the fact that "Healthbook" will have the ability to store this information for a prolonged period of time.
It should be noted that "Healthbook" will be able to store and track heart rate/pulse data in BPM (beats per minute) as well as blood pressure data. Blood pressure will be recorded in both its diastolic (minimum) and systolic (peak) forms. For someone like me, this is extremely beneficial given the fact high-blood pressure runs in my family and has to be constantly monitored.
Blood Work & Oxygen Saturation Tracking: Considered by some to be the most unique and innovative functions of "Healthbook", the blood work and oxygen saturation tracking functionality may be the most in-depth of the individual features.
Although not much is known about the how the blood work portion will operate in terms of its tracking functionality, it is believed to mimic hospital-like tracking capabilities that include data points related to liver function, kidneys, thyroids, and of course the heart.
If an overweight or obese person were to take the extra steps and regularly monitor their numerous types of counts that are directly related to blood work, more and more lives have the potential to be saved due to the immediate availability of such information.
From an oxygen saturation standpoint, the app can also track the percentage of oxygen that is in a person's blood as a ratio to how much oxygen can possibly be stored in that person's bloodstream. In my opinion, the hiring of Dr. Michael O'Reilly back in 2013, actually solidifies the rumors that such an app is under development given the input he provided when Masimo was developing the iSpO2 pulse monitor and his vast knowledge of monitoring technologies.
Tracking Blood Sugar (Glucose) Levels: Being an overweight woman approaching 30, one of my biggest fears is developing Type 2 diabetes, especially since this runs on both sides of family.
According to the American Diabetes Association, patients who are diagnosed with Type 2 diabetes are considered to be insulin resistant, which is defined as being unable to use the insulin their bodies produce properly and those who are overweight are a greater risk of developing the disease than those who are not.
By having the ability to track blood sugar levels in overweight people and especially those who may have developed Type 2 diabetes, users may find themselves "remedied by an advanced, Apple-built application pre-programmed into the iPhone" versus traditional monitoring methods that include pricking one's finger.
Now It's Time To Examine The Numbers
Before we find ourselves establishing a position in Apple on the sole-basis of "Healthbook's" rumored potential, (which on paper sounds amazing), we need to look at a number of recent fundamentals just as any other potential investor would. On Monday, for instance, shares of AAPL, which currently possess a market cap of $592.92 billion, a forward P/E ratio of just under 14, and an annual dividend yield of 1.89% ($1.88), settled at a price of $99.02/share.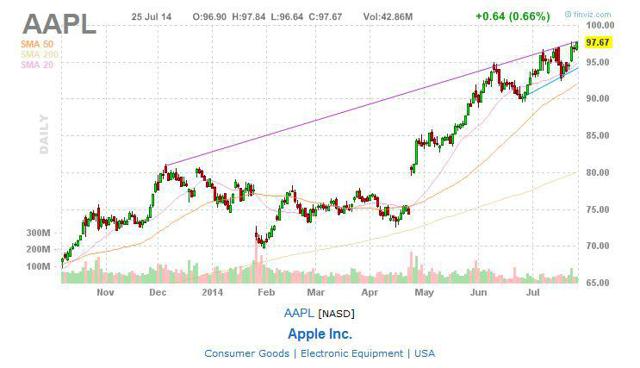 Based on its closing price of $99.02/share, shares of AAPL are trading 4.37% above their 20-day simple moving average, 7.51% above their 50-day simple moving average, and 23.55% above their 200-day simple moving average.
It should be noted that these numbers indicate both a short- and long-term uptrend for the stock, which generally translates into a buying mode for most near-term traders and many long-term investors.
It should also be noted that Apple announced its most recent earnings on July 22 in which it beat EPS estimates by a margin of $0.05/share ($1.28/share actual versus $1.23/share estimated) although it missed revenue estimates by a margin of $540 million ($37.43 billion actual versus $37.97 billion estimated).
Several Areas In Which "Healthbook" Will Help Drive Overall Growth
#1 iTunes/Software/Services Sales: Apple's iTunes/software/services segment recently saw its revenue rise 12% during FQ3 to a pretty favorable $4.5 billion, and although not verified, I can only assume that there will be additional in-app and premium subscription related purchase options when it comes to "Healthbook". It is the potential for these types of in-app purchasing and premium subscription options that leads me to believe "Healthbook" may be responsible for as much as 2% (up to $90 million) of the total sales related to Apple's iTunes/software/services segment.
#2 Global Revenues: During FQ3 and excluding retail, Apple's Americas revenue rose 1% on a year-over-year basis to $14.6B, its European revenue rose 6% on a year-over-year basis to $8.1B, its Greater China revenue (boosted by China Mobile/4G launches) rose 28% on a year-over-year basis to $5.9B, its Japanese revenue rose 1% on a year-over-year basis to $2.6B (slowed from FQ2's +26%), and the remainder of its of Asia-Pacific revenue rose 6% on a year-over-year basis to $2.2B (a notable improvement from the 17% reduction it posted during FQ2).
By considering the fact that the number of people that are overweight and obese throughout the world has increased nearly three-fold since 1980, I strongly believe Apple's global revenues will be driven to new heights over the next 12-24 months on the heels of "Healthbook". If we were to examine the company's European revenues, which only rose 6% during FQ3, as an example. I strongly believe there may still be room for improvement given the fact France (50.7% overweight), Sweden (53.3% overweight), Finland (58% overweight) and the United Kingdom (64.2% overweight) are some of the heaviest populations in the European region.
#3 Accessory Sales: When it comes to "Healthbook" and its impact on Apple's overall growth, one of the key things we must consider is its ability to work hand-in-hand with Apple's highly anticipated iWatch and the iPhone 6. According to the folks at MacRumors, the iWatch already has the ability to serve as a companion device to the iPhone and iPad, and will be able to measure multiple different health-related metrics like steps taken, calories burned, sleep quality, heart rate and advanced metrics such as blood-sugar and oxygen saturation level monitoring (which is what gives Apple the proverbial leg up on such products as Nike's Fuel Band).
Although Apple's accessory-related sales demonstrated growth of just 6% during the third quarter, there's a very good chance those numbers will increase over the next 12-18 months as devices such as the iPhone 6 (early numbers indicate Apple has ordered between 70 and 80 million devices) and the iWatch have a high probability of being introduced to the company's retail customers all throughout the globe.
Conclusion
Although the numbers clearly speak for themselves, it is the continued development of "Healthbook" that has me most intrigued.
By going beyond the traditional step counting and calorie burning capabilities, "Healthbook" will potentially offer a wide-range of user-friendly monitoring tools that are geared toward those who have battled with such issues as being overweight for most of their lives.
Not only does "Healthbook" have the ability to create additional revenue streams for Apple, through potential subscriber fees and in-app purchases, it may also be a contributing factor when it comes to the company's iTunes/Software/Services Sales, its accessory sales, and its global revenues.
Disclosure: The author is long AAPL. The author wrote this article themselves, and it expresses their own opinions. The author is not receiving compensation for it (other than from Seeking Alpha). The author has no business relationship with any company whose stock is mentioned in this article.