Amazon's (NASDAQ:AMZN) share price has been on a steady march upwards from around $125 in August to near $170, begging the question of whether it is time to take profits.
Oppenheimer analyst Jason Helfstein trimmed his price target to $181 from $186 earlier this week after having raised it to $186 from $162 following the internet retailer's earnings on October 21. He maintained his Outperform rating. As noted earlier on Pulse Check, James Mitchell of Goldman Sachs removed Amazon from the firm's Conviction Buy List, while keeping a Buy rating and upping the 12-month price target from $150 to $195. Mitchell did not seem to have the courage of his conviction: he had lowered his target in July from $190 to $150.
Benchmark's Fred Moran cut his rating to Hold from Outperform, while raising his 12-month price target to $170 from $148. "Amazon's operating income forecast for the fourth quarter looks below the consensus even at the highest end of the guidance range," he said. "It shows the margin pressure the company has been experiencing."
The fact that Amazon has not been forthcoming with the financial details of Kindle sales is leading some analysts to wonder whether the e-Reader could be squeezing margins.
"Based on margin uncertainty and lower EPS we consider the shares fully valued, but would be buyers on weakness due to the long-term potential," wrote Steve Weinstein of Pacific Crest, who does not have a price target.
Still, analysts on the whole have been upping their targets for the company, based on its long-term prospects.
The median price of 23 sell-side and independent analysts who have updated their price targets since Amazon reported earnings is $180, up from $150. The mean target has risen to $174.87 from $152.00. Amazon closed Wednesday at $168.47.
Current 12-month price targets of selected sell-side and independent analysts. Click image to enlarge.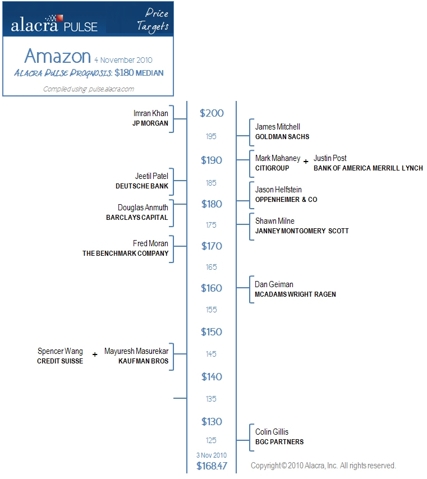 Of the 23 analysts, 16 maintain a positive rating, six are neutral and only one, Colin Gillis of BGC Partners, is negative. Gillis has a Sell rating, but raised his target to $125 from $90. "It's really hard to get your hands around the valuation," said Gillis, who cited confusion over how much Amazon is making — or losing — on the Kindle, as well as mixed data over the health of consumer spending.
Also at the lower end of the range is Credit Suisse's Spencer Wang, who has a Hold rating. as he sees the company appearing to be in a reinvestment cycle. "In our view, this is the right decision for the long run, given Amazon's attractive prospects and its high return on invested capital, notwithstanding the near-term impact on margins." He raised his price target on the stock to $145 from $115.
Susquehanna's Marianne Wolk raised her target to $150 from $117, but wrote: "We continue to be Neutral on the shares given valuation, particularly as Amazon invests in its long-term growth and competitiveness, capping upside to projected EPS."
Kaufman Bros.' Mayuresh Masurekar raised his price target to $145 from $135, and reiterated his Hold rating. He says Amazon has "excellent long-term growth prospects, the stock should trade sideways over the next 12 months" as a result of margin pressure. "Investors can expect either phenomenal revenue growth or operating margin expansion, but probably not both at the same time."
On the positive side, Deutsche Bank's Jeetil Patel upped his price target to $186 from $145, based on 31x 2011 EBIT of $2.6bn. He has a Buy rating on Amazon shares.
Even more bullish is Bank of America Merrill Lynch's Justin Post, who raised his price target to $190 from $176 at the end of October, upgrading Amazon from a Neutral to Buy rating based in part on "healthy and accelerating Kindle book sales."
Citi's Mark Mahaney thinks the Kindle will account for seven percent of the company's revenue this year. He upped his target to $190 from $165, and maintained his Buy rating.
JP Morgan's Imran Khan "views the continued growth of Amazon's sales of physical books as evidence that the growth of eBook sales may create upheaval in the retail book market – pressuring sales at traditional booksellers, rather than meaningfully cannibalizing book sales at Amazon." He nudged his target up to $199 from $198 target and kept his Overweight rating. Like Goldman's Mitchell, maybe Khan should have stuck to his guns: in July he had lowered his target to $154 from $180, today's median.
In late July Brian Pitz and Brian Fitzgerlad at UBS had the highest target at $170, which is also the closest to today's price. They now have a target of $195 and a Buy rating.
"Given the strong Q4 revenue outlook – 3% above consensus at the mid-point – we are not overly concerned about some continued near-term spending," wrote Douglas Anmuth at Barclays Capital. He has a target at the median of $180 and an Overweight rating.
(Sources: Alacra Pulse, Schaeffer's Investment Research, Bloomberg BusinessWeek, MarketWatch, Reuters, StreetInsider, Barron's TechTraderDaily, AllThingsD, Benzinga, Vator News)