I've shorted Quepasa.com (QPSA.OB) a number of times over the past decade. In 2001 and again in 2007, spikes in the stock provided easy and profitable short entries. Not so when I shorted earlier this summer. I was quickly stopped out at a loss, and Quepasa shares continued to climb.
Instead of looking for an opportunity to re-short QPSA, I've started to buy shares. As I noted on Seeking Alpha, I went long immediately after it gapped up on Oct. 6. It's a small position — I'll explain why below — but there are three reasons I think QuePasa.com shares could go higher:
1. Revenues. Up until very recently, QPSA.OB had virtually no revenues. A good quarter for Quepasa was a few hundred thousand, and QPSA put up a lot of quarters with less than a hundred thousand in revenues. It looks like that will soon change. Quepasa announced last month that it had "secured ad campaigns totaling more than $7.3 million so far this year." That is a huge improvement. QPSA will still have a nosebleed price-to-sales ratio above 10 (even if all that revenue is recognized this calendar year), but it is making big steps in the right direction.
2. Subscriber growth. While they are no substitute for revenues, it's hard to have a social network without members. As of Friday's announcement, Quepasa has 22.8 million members and is adding at a clip of about 2 million per month.
3. It's still not that expensive. By most metrics and performance ratios, Quepasa is not cheap. However, its $86 million market cap (about $160M fully diluted) is small enough that it would make an easy acquisition for many companies or private equity funds. Take a look at AOL's recent purchase of 5min for $64.7 million. If Quepasa is able to continue its revenue ramp, its takeout value could substantially exceed current market prices. After all, it is one of the leading Latin American social networks with a huge user base. Monetization has always been the problem; if that's fixed watch QPSA ramp further.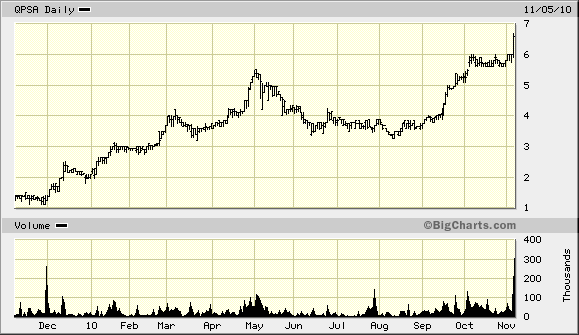 Caveat emptor: I mentioned before that this is a small position for me. I have doubts about the way QPSA.OB counts users. While Quepasa reported 21.63 million users at the end of last month, it only had 16.3 million unique visits. That is less than one visit per month per user (per wikipedia, a visit is unique if it is separated by more than 30 minutes from another visit from the same machine). But Quepasa.com is a social network. Like Facebook, one would expect the stats to be dominated by heavy users (or as non-social networkers like me call you folks, addicts). Something is amiss here. Either they are counting unique visits differently than everyone else, or their user base isn't quite as active as management has led on.
DISCLOSURE: Long QPSA.OB.