Asanko Gold (NYSEMKT:AKG) recently announced the results of its metallurgical testing on the ore found at its newly discovered deposit - Dynamite Hill - which is located on the Asanko Gold Mine complex in Ghana. The company is reporting that the ore is similar to that found on the rest of the complex, and that it is suitable for carbon-in-leach processing and can be processed with a 95% recovery rate.
This is phenomenal news. Asanko Gold now plans to release a resource estimate for its Dynamite Hill deposit in September, and given the deposit's proximity to the processing plant (see the following map), management intends on starting production here as soon as Q3 2015, which is a full quarter ahead of the company's initial production timeline.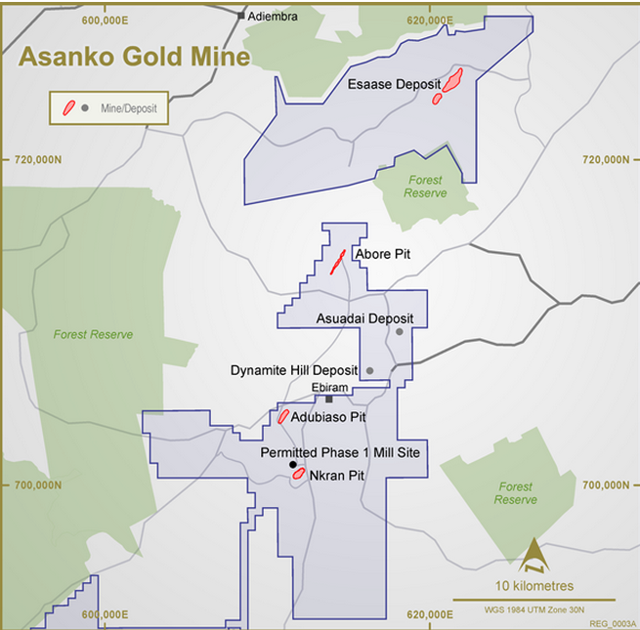 (Source: Asanko Gold)
In my January article, I hadn't anticipated that the Dynamite Hill Deposit would play such an important role, and it hadn't played into my valuation analysis. Now the deposit is slated for exploitation in a year's time, meaning that management must have extremely high hopes that the deposit is large and high grade despite the fact that it hasn't yet released a resource estimate. Investors should be enthusiastic that the company is continuing to explore and that it is finding gold on its massive land package. Given that the shares are already undervalued considering the company's large cash position and the large size of its anticipated mine discoveries such as Dynamite Hill are just icing on the cake, and the stock should be bought on any weakness.
Disclosure: The author is long AKG. The author wrote this article themselves, and it expresses their own opinions. The author is not receiving compensation for it (other than from Seeking Alpha). The author has no business relationship with any company whose stock is mentioned in this article.