American (AMR) is threatening to pull its flights from Orbitz (NYSE:OWW) at the end of the month. This threat constitutes a marked escalation in American's attempt to push its AA Direct Connect platform as the sole means to access its inventory. While there are many good things to say about the modern, XML-based system, the bottom line for this effort is... well, the bottom line... as American attempts to reduce its distribution costs.
Cutting out middle men, such as global distribution systems and online travel agencies, is an obvious way to reduce what are essentially commission expenses. But the surest way to reduce commissions? Reduce bookings—exactly the risk American is facing if unable to come to an agreement with Orbitz this month:
American will be "out of sight, out of mind" for millions of Orbitz users. According to Compete's site comparison, Orbitz received nearly 8.4 million unique visitors in September. With its inventory pulled, American will simply disappear for millions as Orbitz offers and books alternative itineraries.
AA.com is no Southwest.com. Southwest (NYSE:LUV) famously shuns indirect distribution channels with no OTA presence and very limited GDS access. But Southwest has been focused on driving consumers directly to its web site for years. The Compete data show Southwest with nearly double American's web traffic. JetBlue (NASDAQ:JBLU) wasn't able to match Southwest's success in web-only distribution despite its relatively small size and strong brand. How can American hope to change consumer behavior in the next three weeks?
Orbitz is only the first to fall. American is serious about Direct Connect and about cutting its costs. Expect American to take an equally hard line with other OTAs as existing agreements allow. Next up, at least by web traffic, could be Sabre's Travelocity (TSG), but Expedia (NASDAQ:EXPE) is the big fish online.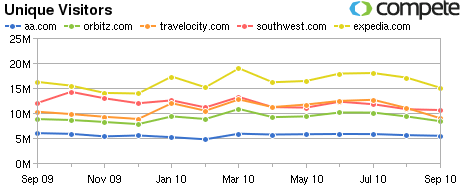 The real question is whether American is bluffing, hoping to win a few percent savings. But dogged with high costs across its operation, American needs more than a few percent here and there. American may well feel it has no choice but to carry out its threat... and shoot itself in the foot.
Disclosure: No positions