Gold development companies are an exciting, speculative bet that companies can successfully advance a gold deposit towards production. These are companies that are either still exploring a gold deposit to increase and define a resource base, or nearing the final stages of project completion in the construction phase.
Gold development companies often have a lower per ounce valuation than gold producers, mainly due to the risk that problems may occur as they turn the deposit into a mine (there are many things that can happen). However, increases in the price of gold, great drill results that increase the resource base, and successfully declaring commercial production can led to huge gains for shareholders, so I feel that the reward potential can greatly outweigh the risk.
In fact, share price gains of these companies can outperform any producer (or any stock for that matter) during a positive gold price environment. We can look back at 2009-10 as an example, when gold soared from $1,000 and ounce to $1,500, gains of 50%. During this time, the gold miners index (NYGDX) returned 221%, representing 4x leverage.
However, several exploration and development companies performed even better, with NovaGold (NNG) returning 300%, Premier Gold Mines (OTCPK:PIRGF) returning close to 600% and Rubicon Minerals (NRBY) returning 300%. Just having a small position in any of these exploration/development companies would have had a very positive effect on your portfolio's total returns.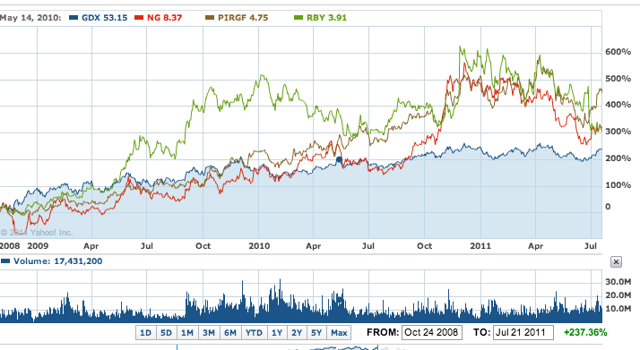 I'm not guaranteeing those types of gains if gold takes off from here, but it's certainly possible.
Top 3 Gold Development Projects
Investors looking for leverage to a potential rise in the price of gold should check out the following three gold development companies that have a high-grade deposit nearing production.
Here you will see the total resource base, gold grade per tonne, initial capex required to production, annual production estimate, and all-in sustaining cost estimate.
| | | | | | |
| --- | --- | --- | --- | --- | --- |
| Deposit | Ounces (NYSE:M) | Grade (g/t) | Initial Capex | Annual Production | AISC |
| Brucejack | 13.6 | 14.1 | $747 | 404,000 | $448 |
| Buritica | 7 | 10.4 | N/A | N/A | N/A |
| Aurora | 8.4 | 2.74 | $249 | 194,000 | $802 |
I've selected these deposits because they are all high-grade, with projected low costs, and require a reasonable amount of capital to get to production. I fully expect each of these deposits to become operating mines in the near future and if I'm right, shareholders could be in for big gains.
#3 Guyana Goldfields (OTCPK:GUYFF)
Share Price: $2.81
Market Cap: $354 million
52-week range: $1.40 - $3.02
The Aurora project, owned and operated by Guyana Goldfields, contains 8.36 million gold ounces, with 3.47 million proven and probable, 6.54 million measured and indicated (included in proven and probable), and 1.82 million inferred. The mine comes with robust economics and high grades, which gives the company downside protection against a lower gold price.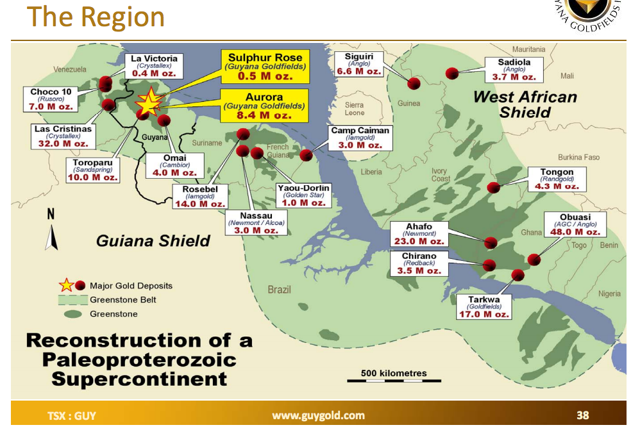 Guyana has a market cap of $440 million, with $77 million cash in the bank and no debt. This gives the company an enterprise value of $363 million, and places an EV/ounce of 43. The Aurora project is fully-funded and permitted, with commercial production expected to commence in mid-2015.
Once in production, the mine should be a high-grade, low cost mine. According to the January 2013 feasibility study, the mine will produce 150,000 gold ounces for the first 4 years, 285,000 ounces for years 5-10, and 144,000 ounces in years 11-17.
At a gold price of $1,300, the company projects $154 million in EBITDA for 2015-16 - which is quite substantial given the company's current market cap is just $354 million. At a $1,300 gold price, the project carries a pre-tax net present value of $1 billion - three times the current market cap. Cumulative cash flow, which is defined as revenue less operating costs and capital expenditures, is estimated at $1.78 billion.

The reason I really like Guyana is the potential for the company to grow and define its current resource base outside the current mine plan. In fact, the company has reported a high-grade resource below satellite pits and below 970m at Rory's Knoll.
If the company can grow and define this resource base, I see good potential to increase the life of mine and increase annual production. With 8.36 million gold ounces in all categories, it's possible the company could increase its current projected annual production levels of 195,000 to at least 250,000 ounces. With low projected all-in sustaining costs, Aurora also looks like it could be profitable with much lower gold prices.
#2 Continental Gold (OTCQX:CGOOF) Buritica Project
Share Price: $3.64
Market Cap: $461 million
52-week range: $2.26 - $5.64
Continental Gold's flagship, 100% owned Buritica project is located in Colombia. The project is a large, high-grade gold deposit with big upside potential. Buritica contains total measured and indicated resources of 2.97 million gold equivalent ounces at grades of 11 g/t, and 4.4 million gold equivalent ounces, at 8.2 g/t (which includes 90.1 million lbs. of zinc measured and indicated, and 111 million lbs. inferred).
This is simply one of the highest grade gold deposits in the world, with Buritica's grade more than double the average of all other underground development projects in the world, according to the company's corporate presentation.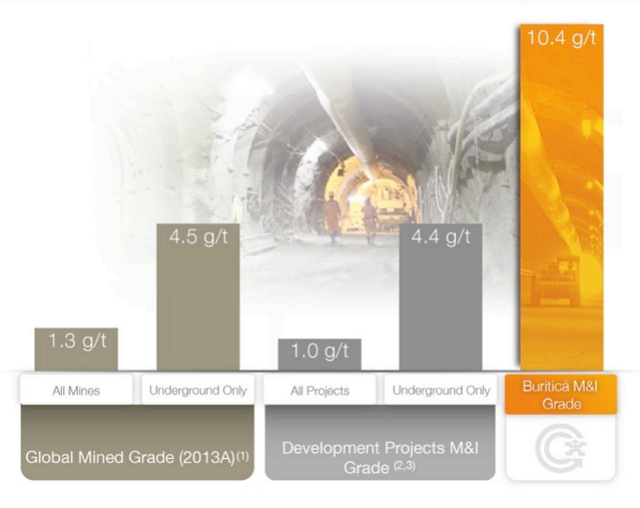 The company has been successful thus far in expanding the deposit, growing it from just over 3 million ounces to 7 million ounces today. Ultimately, management thinks the deposit can grow to at least 10 million ounces, including 3.5 million in the measured and indicated categories.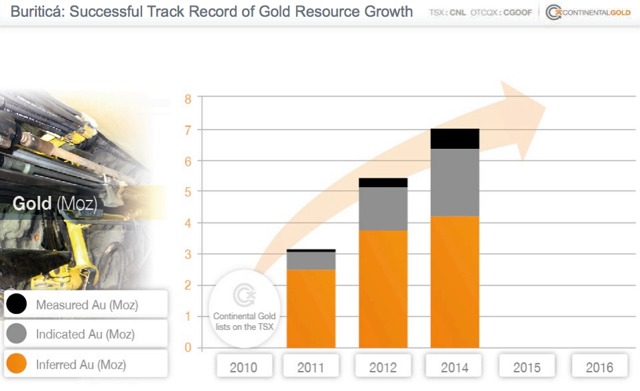 Permitting for the deposit is well advanced, with the company receiving its 30-year mining license in 2013. All that remains is a final environmental permit, which is expected to be issued in mid-2015. After that, the company expects to update the resource estimate and complete a pre-feasibility study. Project financing is then expected in the fourth quarter of 2015.
Recently, the company announced that step-out drilling encountered insanely high gold grades of 2,615 g/t gold and 388 g/t silver, over 2.2 metres. The project is open to the north, south, west and at depth for expansion, according to the company.
The company is well funded, with $100 million in cash as of May 7, 2014. In addition, insiders own approximately 16.3% of shares.
While the Buritica project is earlier stage than the other two projects mentioned here, the deposit holds tremendous growth potential with new discoveries and targets open in all directions. I am excited to see the company continue to explore the property, and I feel the potential for a 10+ million ounce high-grade deposit is good. Eventually, I think the mine could end up producing at least 300,000 gold equivalent ounces a year, and very low all-in sustaining costs.
#1 Pretium Resource (NYSE:PVG) Brucejack Project
Share Price: $6.94
Market Cap: $752 million
52-week range: $2.70 - $10.14
The Brucejack project is a high-grade, underground gold project operated by Pretium Resources, with commercial production targeted for 2017. The project is located in the mining-friendly jurisdiction of British Columbia, Canada.
Brucejack is a special project because of its very high gold grades: the company has a proven and probable reserve base at Valley of The Kings of 6.9 million ounces of gold at 15.7 grams per tonne, in addition to 4.6 million ounces of silver. At the West Zone, the company has 26 million ounces of silver proven and probable, at grades of 279 g/t.
You'll see in the below chart that the Valley of the Kings deposit is truly a world-class deposit, with the highest grades and the largest proven and probable reserve base out of its peers, including Goldcorp (NYSE:GG) and its Cerro Negro and Eleonore deposits, and Hecla Mining (NYSE:HL) and its Casa Berardi deposit.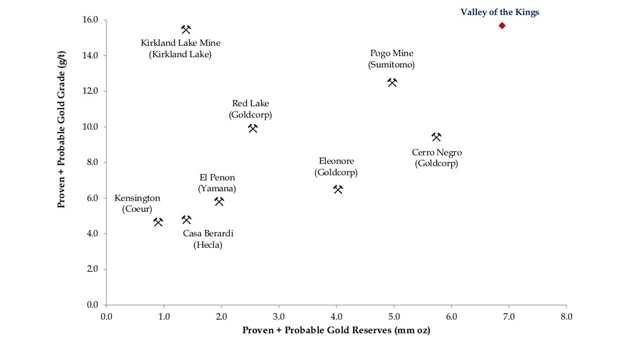 The high grades make the project very economical, with a June 2014 feasibility study giving the project an internal rate of return of 47% ($1,400 gold and $21 silver, pre-tax), a net present value of $3.54 billion (pre-tax, 5% discount) and total net cash flow of $6.35 billion. Most notably, all-in sustaining costs per ounce are estimated at just $448 per ounce, meaning the project should be profitable at nearly any gold price.
The project requires $746.9 million in capex, which is low given the potential net cash flow. The mine life is estimated at 18 years and total gold production is estimated at 7.27 million ounces.
As of July 2, the company had a market cap of $962 million, with 118.7 million shares outstanding, fully diluted. Major shareholders of the company includes Silver Standard Resources (NASDAQ:SSRI), which owns 18.9 million shares or roughly 6.2% of the outstanding shares.
Pretium is currently advancing Brucejack on its own and continues to drill to expand resources. The key is to do with without diluting shareholders too much. I think the company will eventually be taken over by a major mining company, potentially at a significant premium. Potential suitors could include Goldcorp , Agnico Eagle (NYSE:AEM), or Kinross (NYSE:KGC).
Disclosure: The author has no positions in any stocks mentioned, and no plans to initiate any positions within the next 72 hours. The author wrote this article themselves, and it expresses their own opinions. The author is not receiving compensation for it (other than from Seeking Alpha). The author has no business relationship with any company whose stock is mentioned in this article.
Editor's Note: This article discusses one or more securities that do not trade on a major U.S. exchange. Please be aware of the risks associated with these stocks.