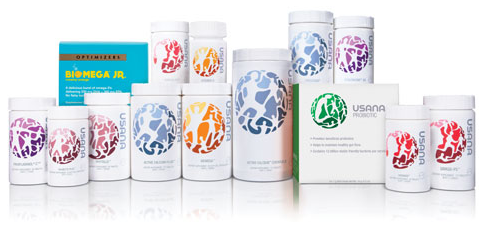 Source: True Health Vitamins
Like Herbalife (NYSE:HLF), Usana (NYSE:USNA) is the gift that keeps on giving. But for some inexplicable reason, the financial media has largely ignored this company despite all of the attention MLMs are given lately thanks to Bill Ackman. Not to take the spotlight away from Herbalife, but in my opinion, Usana behaves similarly to Herbalife, selling overpriced supplements to their distributors where commissions from one's downline accounts for at the very least 70% of a distributor's income on average.
Usana's Q2 results arrive today and there are many things left unanswered since my last article. If you're long, then you should carefully consider some of these concerns I have below, and how Usana might address them in their Q2 results.
1. Possible further weakening of North American sales, which distributor growth has essentially flatlined.
North America and Europe has become a somewhat stunted region. As you can see below, sales have dropped in the past four quarters, and distributors' growth have flatlined since 2011.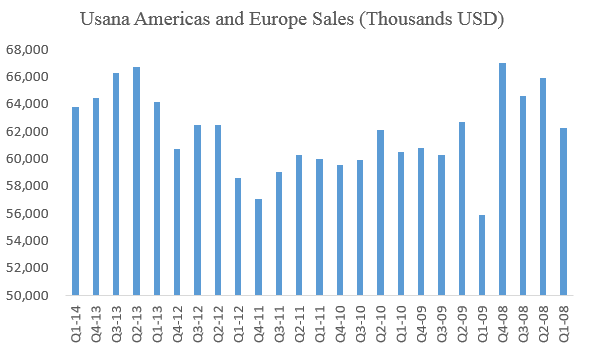 Source: Usana's 10Qs compiled by Author
Source: Usana's 10Qs compiled by Author
In addition, one of Usana's most famous spokesmen, Dr. Oz, has recently been publicly shamed by U.S. Sen. Claire McCaskill, chairwoman of the Subcommittee on Consumer Protection, Product Safety and Insurance. While Dr. Oz might have some effect on Usana's bottom line, I don't suspect it to have a significant effect on distributor's confidence, but it certainly doesn't help their image either as North America continues to struggle to grow. John Oliver also skewers him in an epic 16 minute segment.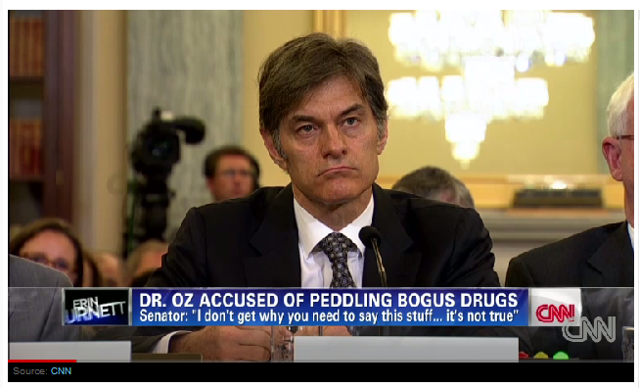 Source: CNN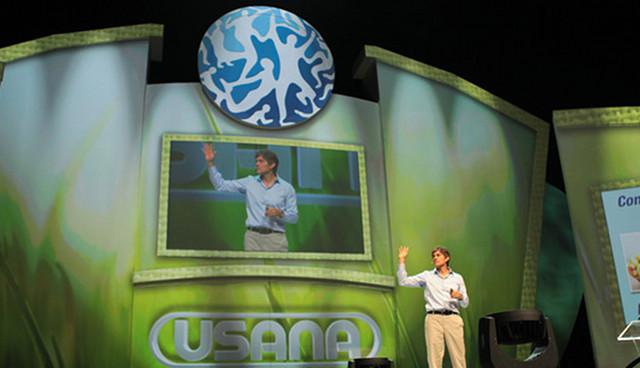 Source: WhatsupUsana
2. China and Hong Kong results will determine Usana's fate, where the former have drastically offset the latter. China's media have also publicly criticized Usana's questionable practices.
Hong Kong's distributorship was cut in half in Q3-13, probably due to a report put out by Citron Research, accusing them of violating Chinese laws and illegal activities. As an MLM, this appears to be the classic pop and drop that Bill Ackman described, but luckily, Usana was able to offset the decline with China's growth.
However, this fortunate situation might be short lived, as the Chinese media has recently published a scathing and damning article on Usana's practices as per Citron Research. According to the China Business Journal (google translated):
Furthermore, in order to attract new members to join, exaggerated direct sales industry outlook, exaggerated for USANA product descriptions, became a part of our direct sales team Baoying (Babycare) common practices.

Perhaps, precisely because of declining in North America, USANA will all bet on the Chinese market. And on the production line at its U.S. headquarters to upgrade or purchase new equipment almost no investment funds, the number displayed on its financial statements only enough maintenance costs, and research and development funding from the U.S. R & D department is almost negligible.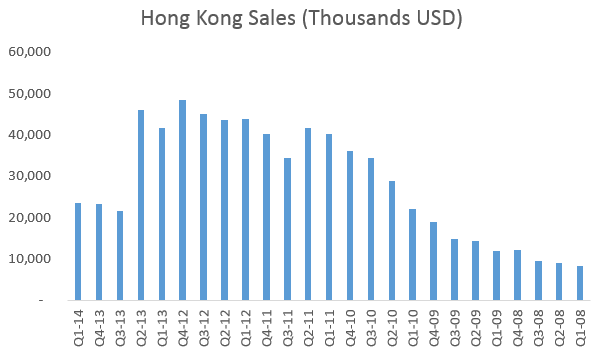 Source: Usana's 10Qs compiled by Author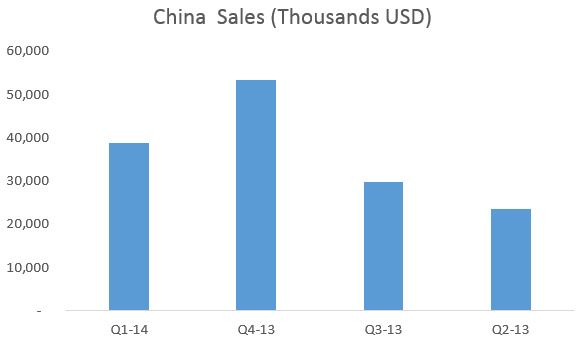 Source: Usana's 10Qs compiled by Author
If that wasn't enough, I expect Usana to address some of the recent litigation for allegedly making "false and misleading disclosures" about their China operations:
Glancy Binkow & Goldberg LLP:...USANA develops, manufactures and sells nutritional and personal care products focusing on chronic degenerative disease worldwide. The investigation is related to allegations that the Company may have made false and misleading disclosures concerning its operations, true financial condition, and financial prospects, and that the Company has engaged in widespread, illegal multi-level marketing operations in China.

Source: WSJ

The Rosen Law Firm Announces Investigation of Civil Securities Claims Against Usana Health Sciences Inc: ..On July 15, 2014, Citron Research issued a report stating that as much as one third of USANA's revenue and half its revenue growth rest on its widespread illegal multi-level marketing ("MLM") operations in China. The report further stated that multiple media outlets in China have recently exposed USANA's MLM operations in China. On that same day, CNBC contributor Herb Greenberg suggested that USANA might be in violation of China's direct-sales rules. Source: Marketwatch
While this could just end in settlements, Usana may incur more litigation costs than usual, and possibly more negative press that could dampen their image and operations.
3. Q2 results may reveal the intent of their $200 MM buyback program that was authorized in Q1, while insiders have continued to sell their stock and exercise their options.
Usana had authorized a pretty significant $200 MM buy program in Q1 ($969 MM market cap). Since the Chairman, Dr. Myron Wentz, holds nearly half the shares, I alluded that it could be related to a significant sell off while the company buys back shares.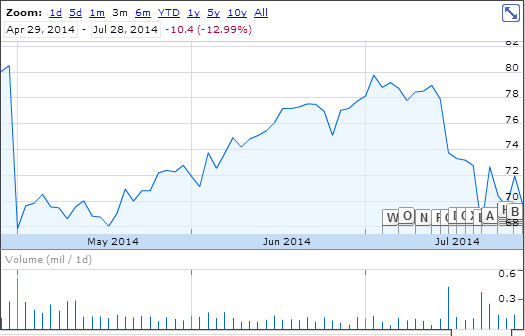 Source: Google Finance
Regardless, I expect the company to have purchased back a somewhat significant amount in Q2, which the stock rose almost 18% since its fateful drop after Q1 and before falling once more post Ackman's presentation. The astute investor should monitor how much buybacks Usana has made relative to insider trading (which I will look more closely in my next article) to gauge management's confidence, and of course their alignment to common shareholder's interest. With so much negative press, regulatory risk and insider activity, the long investor should heed extra caution.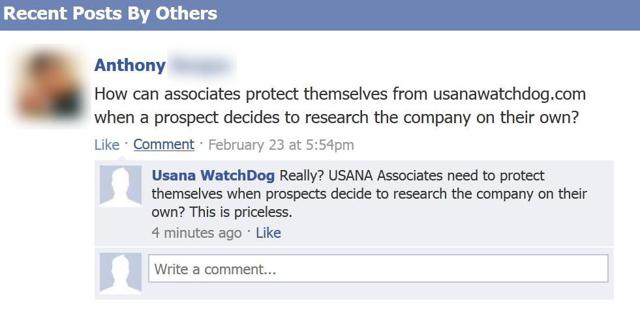 Source: Usana WatchDog
Disclosure: The author has no positions in any stocks mentioned, and no plans to initiate any positions within the next 72 hours. The author wrote this article themselves, and it expresses their own opinions. The author is not receiving compensation for it (other than from Seeking Alpha). The author has no business relationship with any company whose stock is mentioned in this article.