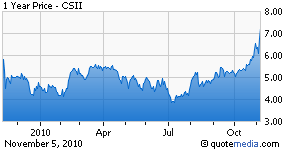 Cardiovascular Systems (NASDAQ:CSII) is a medical device Company that focuses on interventional treatment for peripheral arterial disease (PAD). The primary products are the Diamondback 360 and the Predator 360, minimally invasive catheter systems for a range of plaque types in leg arteries. PAD blockages in leg arteries can lead to pain, immobility, non-healing wounds and eventual loss of limbs and mortality.
The Company reported earnings on Wednesday November 3 with improved financial performance over the prior year's first quarter.
Revenues increased 20% to $18.2M
Adjusted EBITA Loss improved 51% to $(1.7M)
Net Loss improved to 31 % to $(4.3M) or 4(0.28) per share.
Scientific evidence and clinical studies continue to support treatment with over 1700 patients studied and 33,00 patients treated to date. Three recent PAD clinical studies with the Diamondback 360 System showed excellent safety and long term efficacy (very low lesion retreatment rates of 2.4% at six months and 13.6% at 24 months).
Cash on the balance sheet is $22M with shareholder equity of $15.4M. A market cap of $112M compared to next year's revenue estimate of $102M gives the stock a very attractive Price to Sales Ratio of 1.1, making it a value play.
The stock has 22% institutional ownership with Maverick Capital and Wasatch Advisors holding 1.9M shares as of June 30. Other major holders are Wellington, Perkins and Soros.
The Company recently settled employment litigation with ev3 settling to pay $1M.
The stock hit a low of $3.75 in July , was at $5.25 in October, and was trading up 5% to $7.13 Thursday. We bought small positions in the stock at the $5.50 level and will add it to our Rayno Life Science Model Portfolio as top line revenue growth improves.

Disclosure: Long CSII