Tuesday Morning (NASDAQ:TUES), a closeout retailer of decorative home accessories, housewares and famous-maker gifts, recently reported its first quarter fiscal year 2011 sales. Revenues rose 4.2% to 172.8 million compared to 165.9 million for the quarter ended September 30, 2010. Same store sales increased by 4.3%, composed of a 6.1% increase in traffic offset by a 1.8% decrease in average ticket. This seems pretty impressive, so whats wrong with the stock? After trading as over $30 per share in 2005, the stock has fallen to the $5 range.
FINANCIALS
Despite the current uncertain economic conditions, management has done a good job of managing their balance sheet. Their liquidity ratios are about average relative to their peer group. They have generated positive operating and free cash flow to the firm for the last three fiscal years. However, return-on-equity has been sub-par for the last few years with the most recent ROE registering at an anemic 4.43%. Hardly the results of an under appreciated or overlooked firm.
The companies major challenges are the dead housing and lousy labor markets. Since a majority of their merchandise consists of home furnishings, the stock performance of Tuesday Morning is very sensitive to new home sales and the level of unemployment. An analysis showed a significant relationship between New Home Sales and Unemployment. The analysis used monthly data between August 2006 and August 2010.
Below is a chart that illustrates the relationship between monthly new home sales and the stock price of Tuesday Morning between August 2006 and August 2010.
click to enlarge images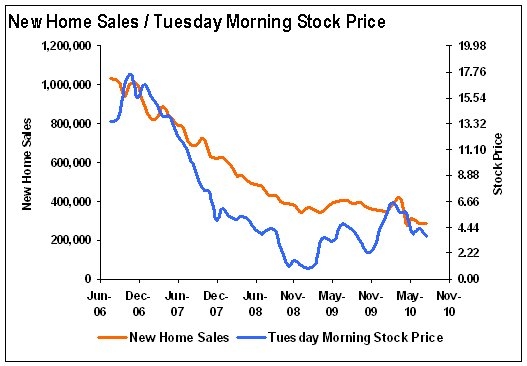 Source: The Mays Report
The analysis showed that new homes sales and the rate of unemployment explained 89% of Tuesday Morning's stock movement.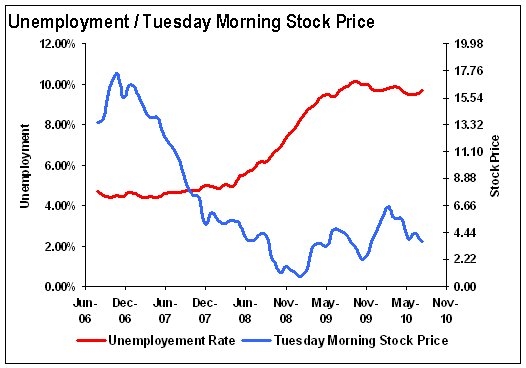 Source: The Mays Report
Management lists new home sales, unemployment, consumer sentiment, CPI, personal income, personal consumption expenditures and others as key factors affecting sales in their most recent 10K . However, new home sales and unemployment have the most significance relative to the stock price. Personal Consumption Expenditures were also significant, but to a lessor extent.
HOW TO VALUE
Using relative valuation as a basis to value the shares, the companies in the discount variety stores peer group are most consistently priced on a price-to-sales and price-to-book value basis. On this basis, Tuesday Morning shares are valued at around $9.61 and $14.48 per share, respectively. However, based on this companies sensitivity to new home sales and the level of employment, it is clear why the market has valued the shares considerably lower than the peer group.
Unless the company changes its product mix to something comparable to a company such as Big Lots (NYSE:BIG), another closeout retailer, the stock can be expected to trade in a low narrow range until new home sales and employment improve. The stock is now trading at less than 1 times book value while its peer group is trading at an average price-to-book of 2.41 times. Using the most recent quarterly financials, a price of 1 times book value would yield a price per share of $5.72.
Management provided earnings guidance in their press release and on the most recent conference call of .39 to .43 per share during FY2011. They also reaffirmed expectations of uncertainty in the retail environment due to current economic conditions. Without the ability to make a reliable forecast of new home sales and unemployment, the earnings guidance could be subject to large adjustments.
A lack of coverage by analysts also negatively affects the stock price. Tuesday morning is a retailer that is impacted by economic factors that are beyond its control and ability to predict. The market appreciates this and has valued the stock appropriately.
Disclosure: Neither the author of this article or any family members own shares in Tuesday Morning (TUES) or Big Lots (BIG) as of this writing. For a complete disclosure of my policy about ownership of stocks written about or recommended, please see my about page.