Integrated solar manufacturer ReneSola Ltd. (NYSE:SOL) reported strong earnings results Friday morning. The summary from the company's presentation says it all: SOL's push downstream into the module production business has had a very positive impact on the business. Revenue and earnings growth accelerated in the third quarter.I highly recommend reviewing the entire presentation; it is well-done and a quick, easy read.
(Click all images to enlarge)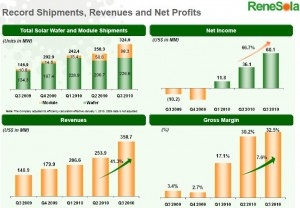 ReneSola 10Q3 Earnings Summary
Source: ReneSola 2010Q3 Earnings Presentation
While gross margin improvements slowed down from previous quarterly gains, SOL's future cost targets remain aggressive. As the company ramps production of polysilicon from 269 metric tons (MT) in the third quarter, to 500-600 MT in the fourth quarter, and then 3000-3500 MT in the first half of next year, SOL expects to drive costs down to $35 per metric ton by the first half of next year.
Today's polysilicon costs about $45 per metric ton. Wafer processing costs are projected to go from $0.25 per watt (W) to $0.18/W by the end of next year. One analyst on the conference call remarked that this cost structure would make ReneSola one of the lowest cost wafer producers in the industry. The CFO explained that the company's new factories require less capital expense and less electricity consumption. SOL is also saving money from efficient supply chain management.
ReneSola's plans for expanding capacity and production are also very aggressive, supported by the robust demand SOL has for its products. Guidance for FY2010 module shipments increased from 225MW to 265-275MW (comparable to module guidance from Jinko Solar (NYSE:JKS)). Total wafer capacity will grow from 1210MW to 1800MW next year (multi and monocrystalline).
Module capacity is growing from 375MW to 600MW. As stated above, polysilicon capacity will also soar. SOL has already signed contracts for most of its capacity in Q1 next year. Total revenues for Q4 should be $340-360M with a gross margin of 30-32%. For all of 2011, SOL expects to ship 400MW of modules and 1.2-1.3GW of wafers.
According to SOL, its operating and free cash flows will be strong enough to support its expanded capital structure in 2011. This claim suggests that SOL will not issue more stock or incur debt to finance the business next year. In fact, ReneSola has reduced its net debt-to-equity below 50%. Cash and cash equivalents now sit at $212M.
This bullish outlook made me wonder who is buying all this product. However when analysts asked, SOL would not reveal the names of any customers. Instead, it revealed that modules are sold in Europe, the U.S., and Korea. Here are the various pieces of commentary that I gleaned from the conference call regarding expectations for pricing and demand:
ASP flat from Q3 to Q4. Small declines in Q1 of 2011.
Module pricing for Q1 about 1.25 to 1.30 euros, slightly down from current levels.
68% of wafer pricing is fixed for Q1 with +/-5% flexibility to accomodate market demand.
Market demand strong well into first half of 2011.
No large module price drop in the first half of the year.
The dramatic improvement in SOL's year-over-year results and the persistently bullish outlook for the business explain the strength of the stock. SOL is up an incredible 172% for the year. It should still have more upside given its relatively low valuation of 7.7 forward P/E and 1.4 price-to-sales ratio (price-to-book is 2.5 and on the high side for solar companies). A 9 forward P/E prices the stock at $15.14, just under the latest 52-week high. A 12 forward P/E prices the stock at $20.20.
The selling in October and the poor post-earnings reaction in the stock provide a small point of caution. The chart below shows that after SOL hit a fresh 2-year intra-day high of $15.34, sellers stepped in with force (the surge in trading volume is consistent with a surge in trading volume in many solar stocks in October).
The pattern is a typical topping pattern, and the post-earnings fade confirmed the resistance. Given SOL's strong performance, I am guessing this overhead resistance will eventually get breached. It could take at least another month or so and will require investors gaining more comfort and confidence with SOL's bullish expectations for 2011. I am a buyer on dips.