On November 3, 2010, Bloomberg featured this article: "China to Sell 50,000 Tons of Zinc From Reserves as Power Cuts Lift Prices". From that report, we get a glimpse of what China has been stockpiling:
China bought 235,000 tons of copper, 590,000 tons of aluminum, 159,000 tons of zinc, 30 tons of indium and 5,000 tons of titanium for reserves, Caijing magazine reported in June last year,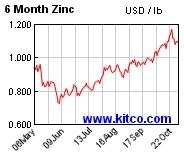 In hindsight, it was in plain sight and obvious, China was using its U.S. currency reserves and exchanging them in return for goods with hard value- metals- for its strategic stockpiles. They are definitely growing for the foreseeable future and these materials will be needed for China's infrastructure building. The announcement that China released a portion of its Zinc stocks into the marketplace indicates a possible forthcoming shortage. (A secondary reason is in the above article - power cutbacks will reduce production).
Take a look at Kitco's six month Zinc price chart. Since June of this year, Zinc has moved from USD 0.70 a pound to the price of $1.13 today. Zinc's main usage is in industry. It's used as an anti-corrosion coating for steel. For Zinc prices to move like that, along with the anticipated shortage as indicated by China's actions, this means that construction and infrastructure building is increasing. China's positioning tells us that an economic revival is at hand. And never mind the noisy pundits that are still distracting us and calling for caution because they say a double dip is ahead.
Precious Metals Bull
In the midst of the commodities and metal prices up swing, precious metals are enjoying their own boom.
Last week, the Commodities Futures Trade Commission (CFTC) alleged market manipulation in silver markets. The precious metals markets responded brightly as the news was disseminated and investors felt that the scrutiny would cause the perpetrators to refrain and the markets would move higher.
Recently there has been much speculation on precious metals blogs about large Asian players buying into precious metals. This adds further to the raucous behaviour of precious metals prices.
Irfan Chaudhry, another Seeking Alpha contributor, recently presented solid research about Central Banks buying back into Gold:
Central banks will keep diversifying their reserve holdings into gold without trying to convey any price information to the market.

The U.S. dollar part of [China's] reserves has seen most of the diversification as dollar reserves have declined more than euros and other currency reserves. Expectation of further weakness of dollars may exacerbate this trend (a positive feedback).

China, Middle Eastern countries, Russia and India will continue to be the most aggressive diversifiers of their reserves into gold.
These reported Central Bank actions would explain some of the price supports for precious metals overseas.
Junior miners
China's actions with its Zinc holdings, and the precious metals boom makes for an interesting time in the markets. "Interesting" in this context means exuberant, especially for junior miners.
The author has stated his preferences in juniors miners in his previous articles on Seeking Alpha.
For a selection of companies to invest in, the author uses one attribute as paramount for success - the quality of management of the company. All other company attributes such as projects, locations, grades, etc. fall by the wayside in importance, relative to the perseverance, integrity and intelligence of a small company's management. It all comes down to whether the management's goal is to create sustainable value for the shareholder.
Mining Environmental Side Note
As a counter example, the Canadian government recently delivered a rounding blow to Taseko Mines (TGB) on November 1, 2010. In a scathing rebuke to the Canadian miner over its proposed copper and gold "Prosperity" project in British Columbia, Environment Minister Prentice denied the company an operating permit.
Though the mine was supported by the provincial government, there was concerted opposition to the project. The opposition was centered around lack of consultation and the proposed filling in of a lake with mine tailings. Franco-Nevada (FNNVF.PK) was also affected by this development as the company had signed a royalty agreement in May 2010 of $350 million with Taseko for future off-take of gold production from Prosperity.
Due to the inability of Taseko's management to handle the environmental impact, Taseko's stock price dropped 30% on the government's denial of a permit.
Investor Action
The author sees much upside ahead for commodities, metals and junior miners in the markets. Investors are advised to be selective in their choices of mining equities, however. The author participates in the metals, gold and silver bull markets and has invested in junior metals and precious metals mining equities.
Disclosure: The author is long junior mining equities.

Important Disclaimer: The information and opinions contained within this document reflect the personal views of the author and should be viewed as food for thought and amusement only. The author may from time to time have a position in any of the securities mentioned. There are no guarantees of the accuracy, reliability or completeness of the information contained herein. Independent due diligence and discussions with one's own investment and business advisor is strongly recommended. These writings are not to be construed as an offer or solicitation with respect to the purchase or sale of any security or as an endorsement of any product or service. We do not request or receive compensation in any form in order to feature companies in this publication. It is prohibited to copy or redistribute this document to any type of third party without the express permission of the author. This document may be quoted, in context, provided proper credit is given.