Shares of HCP Incorporated (NYSE:HCP) have underperformed the Vanguard REIT Fund (NYSEARCA:VNQ) over the last year on slowing dividend growth and fear of oversupply in the senior housing market. Despite possible near-term weakness, the shares are attractively priced and one of my favorite plays on long-term income.
Why I love this underdog
Healthcare REITs have underperformed other REITs over the last year as a dramatic increase in senior housing facilities drives investor fears of overbuilding. Beyond general weakness in the space, HCP surprised the market in October of last year with the termination of long-time CEO James Flaherty. The board named Laurelee Martin, formerly the Chief Executive of the Americas at Jones Lang LaSalle (NYSE:JLL), as the new head but was relatively quiet about the change, and investors have yet to really come back to the shares. Besides underperforming the overall REIT index, shares have underperformed peers like Health Care REIT Inc. (NYSE:HCN) and Healthcare Realty Trust (NYSE:HR) by about five percent over the last year.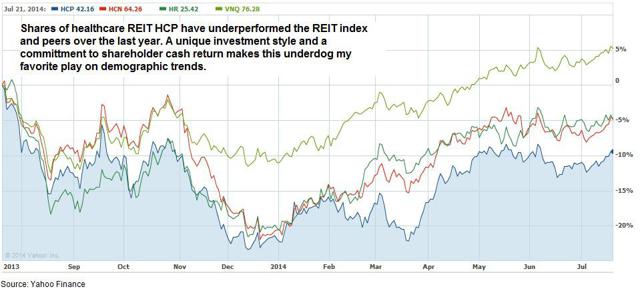 Click to enlarge
Despite the recent underperformance, I believe HCP is one of the best and most diversified plays on the demographic change that will reshape America over the next several decades. More than 10,000 people reach the age of 65 in the United States every day and this trend will continue until well into the next decade. Seniors' share of the total population is expected to increase to 20% by the year 2030 and the group will place enormous demands on our healthcare system.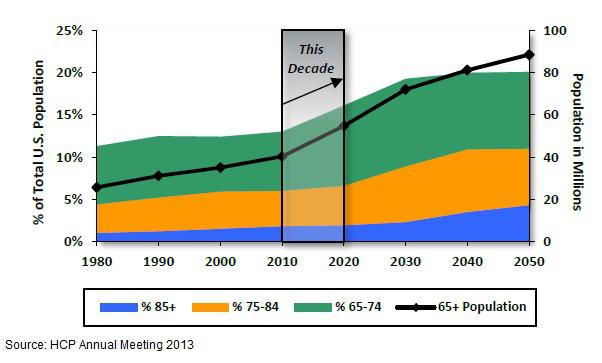 While many companies are positioning to take advantage of changing demographics, what I like most about HCP is its diversification across the theme. The company holds more than $21.7 billion in property and $200 million in development assets across a range of property types and investments.
Investors often mistake the company for simply a provider of senior housing, but the division actually accounts for just 36% of net operating income. Skilled and post-acute facilities make up nearly a third (31%) of operating income, followed by life sciences (15%), medical offices (13%) and hospitals (5%).
The company has 444 senior housing properties worth $7.8 billion in 43 states, nearly all of them (424) on triple-net leases. Post-acute facilities make up the second-largest segment with 302 properties in 31 states and $6.2 billion in assets. The company also owns 115 life science properties ($3.6 billion), 273 medical office properties ($3.4 billion), and 20 hospital properties ($0.7 billion).
HCP blends these five asset classes with five investment strategies: real estate, joint venture, development, debt investment and RIDEA-TRS for a unique business model that allows flexibility and diversified returns. The company prefers triple-net leases with its tenants, meaning that the tenant pays all or most of the operating costs. While this reduces gross rent, it also significantly reduces costs and operational risk.
The only REIT in the S&P 500 Dividend Aristocrats
HCP has increased its dividend for 29 consecutive years and shares have returned an annualized 15.5% since the 1985 IPO. The dividend increase of 3.8% this year was disappointing, but the shares still pay an attractive 5.3% yield.
Management expects funds available for distribution (FAD) in 2014 to stabilize around $2.50 per share against $2.52 per share last year. The amount available jumped 13.5% in 2013 and has grown at a compound rate of 7.2% over the past four years, even with the slight drop expected this year. The company has reduced its percentage paid out from 98% of FAD in 2010 to 87% this year, improving sustainability in the dividend and allowing room for growth.
HCP just recently completed a $350 million 10-year bond issue at 4.2% and increased its credit facility to $2 billion. This is positive over the near term, and the company should have more than enough liquidity without diluting shareholders with an equity issue.
Shares trade at a price-to-book of 1.8 times, just under the industry average of 2.0 times the book value of assets. Estimates are for modest sales growth of 0.2% this year to $2.1 billion, but a stronger 2.6% increase in 2015.
Despite recent setbacks to the Affordable Care Act, the regulation is set to introduce tens of millions of new insureds to the healthcare system. The increase in coverage, combined with the changes to demographics, could make healthcare one of the strongest sectors over the next five to ten years. While HCP has underperformed recently, the company's unique investment style and management's commitment to shareholder cash return makes it a great pick for positioning in the theme.
Disclosure: The author is long HCP. The author wrote this article themselves, and it expresses their own opinions. The author is not receiving compensation for it (other than from Seeking Alpha). The author has no business relationship with any company whose stock is mentioned in this article.