As of late there has been a lot of noise circulating Sirius XM (NASDAQ:SIRI) and how "competitors" are going to steal significant market share. Apple (NASDAQ:AAPL), Amazon (NASDAQ:AMZN), Pandora (NYSE:P), and Spotify are among the so called competitors that are replacing Sirius in cars. In reality these companies all deliver a very similar product that differs greatly from Sirius. In fact it goes so far to say that comparing them is like comparing apples to oranges.
In the middle of May I took a trip with my family where we rented a car. The car, rented from Hertz I believe, unfortunately did not have Sirius. We had several hours to drive to our destination and being so used to having Sirius we were sorely disappointed the car did not have it. I attempted to find local FM radio stations but to no avail, especially since they are lost so easily as you continue to move.
I did see that the car had an AUX plug in and decided to use my iPhone for music. I use iTunes radio frequently on my phone and would highly recommend it, but in moderation. I have a data plan on my phone where if I go over the limit I am charged. In the two day span that we had the car we probably spent about six hours listening to iTunes radio. Obviously I knew that using it was using my data, but I could not believe just how much. When I finally got around to checking, I had used over 75% of my plan within 2 days(The plan is for a 30 day cycle). Needless to say I was not pleased with this.
Another thing about the trip was the fact we drove through a lot of countryside in which I would estimate that 20% of the ride I had no cell service, ergo no iTunes radio or any other streaming service. On the other hand, since Sirius comes from a satellite it never loses signal(except under a bridge or in a tunnel). Sirius is extremely reliable and works flawlessly in rural areas.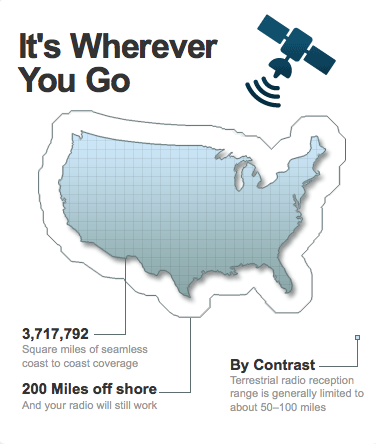 (Source:Sirius XM website)
On my laptop I use Spotify and it's great. Once again I highly recommend it. But, to use Spotify in car you also need internet access. On top of that if you don't want commercials and better access you have to pay for premium-which is fairly true for all of the streaming services. If you want better access to Pandora and iTunes Radio you have to pay a subscription. Pandora charges $36 a year, Spotify $120 a year and iTunes radio charges $25 a year.
One huge thing to point out is the fact that not everyone has a smartphone, accoring to PEW only about 61% Americans own smartphones which would make these the only Americans with access to streaming services through their phones in the car. On the other hand, around 70% of new cars roll off the line with Sirius already installed.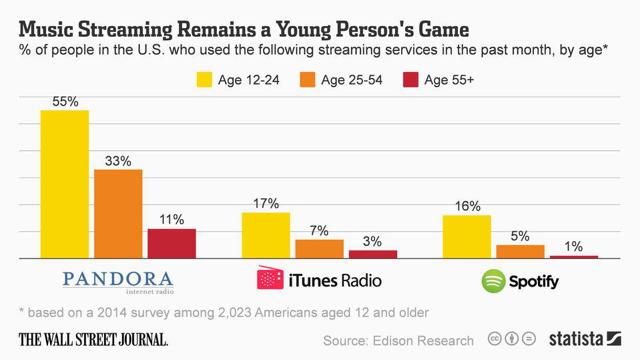 (click to enlarge) (Source:WSJ)
Lastly I strongly believe the target customer is extremely different between these services. The largest users of streaming music come from the age group between 12-24. A third of these people cannot even drive yet. According to an AP article people from the age of 18-34 accounted for only 12.3% of new car sales in 2012. Brian Katrek, an anchor on Sirius XMs PGA Tour Network, runs a website called BKGolfMedia where he highlights the demographics of Sirius XM users. The average subscriber age is 44 and the average salary for these subscribers is over $100,000.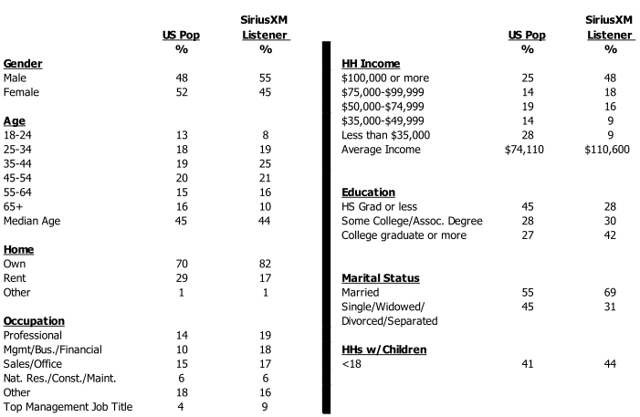 (Source: BKGolfMedia)
In conclusion, there is a huge difference between Sirius XM and streaming services. While I do believe Sirius XMs growth is slowing I do not see it as a result of streaming services stealing customers. Sirius XM is far more reliable, easy for people to access as more cars are made with it built in, and has a far different demographic target than streaming services.
Disclosure: The author is long SIRI. The author wrote this article themselves, and it expresses their own opinions. The author is not receiving compensation for it (other than from Seeking Alpha). The author has no business relationship with any company whose stock is mentioned in this article.