Earnings seasons is upon us, and Feria has Tesla Motors (NASDAQ:TSLA) in focus ahead of their earnings announcement after the market closes on Thursday. Since we last looked at Tesla, the stock has essentially traded flat: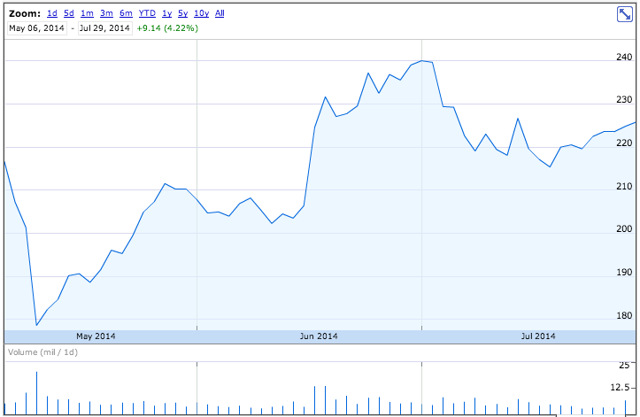 Click to enlarge
Estimize & Analyst Estimates
Is there any reason to believe this earnings report will help Tesla breakout? Unfortunately, analysts surveyed by Yahoo Finance aren't very convinced, as EPS estimates have trended downwards over the last 3 months, as seen below:

Notably, these numbers are a ways below the year-ago quarter. Estimize, an earnings forecast community, has Tesla making 0.13 cents a share on $795 million in revenue. We like to use the crowdsourcing website to make more robust analysis of earnings forecasts, and believe that Tesla should come in above the Wall Street consensus of 0.4 cents a share, but likely below the $800 million in revenue estimate.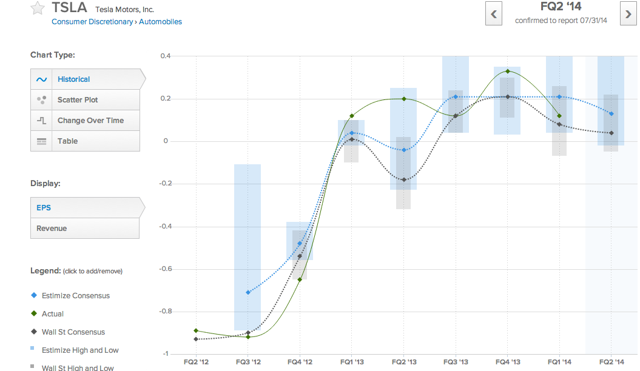 Click to enlarge
Despite analyst indifference, Feria would like to highlight some important drivers to keep in mind as we listen to management's earnings report and analyze the appeal of Tesla.
Inching Towards Greater Utilization and Meeting Demand
Tesla recently made news when it announced its Fremont, CA factory will be idling for a short period of time, to retool and prepare for production of Tesla's newest market entry, the Model X. Feria has written about the vast potential of the old factory that Tesla purchased from GM and has been using to try and keep up with strong demand for its vehicles.
In a news release, Alexis Georgeson of Tesla explained that "[t]he effort will increase production capacity from 800 to 1,000 vehicles per week by the end of 2014." Although this 25% weekly increase seems modest, it accounts for an extra 10,000 vehicles produced at the plant yearly, which reportedly has a capacity of 500,000 vehicles a year. And according to Daniel Sparks of Motley Fool, the waiting list for the Model X has exceeded 11,000 purchasers, or "about 4,000 more than Tesla has delivered in any single quarter." Although management conceding in the last earnings report that Model X production has been delayed, Tesla has undertaken efforts to identify efficiencies and help its production capacity problems.
Moving Averages
The 50- and 200- day moving averages point to continued momentum for the Tesla stock as well. Although the price is very close to its 50-day average at the time of this article, the stock sits well above its 200-day average. We look to these indicators for evidence of momentum in a stock, and Tesla seems to be moving higher.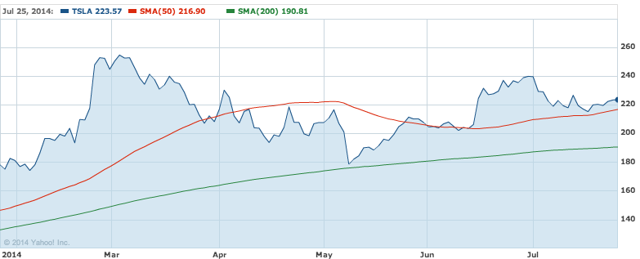 Click to enlarge
Let Feria reiterate that moving averages are "lagging indicators" and confirm rather than predict trends in a stock price. As of today, the 50-day MA, or the shorter trend, is in a positive position in relation to the 200-day MA, confirming a positive upward trend for the stock. Price action following the earnings report may indicate the next leg for the stock given the above moving averages.
Other Momentum Drivers: Gigafactory, China, & Model X
The much anticipated partnership announcement on Tesla's Gigafactory plans came recently, as Panasonic has reached a "basic agreement" with Tesla. The factory is expected to be underway this year, with locations still yet to be determined. The factory is expected to be able to provide batteries for 500,000 electric vehicles, serving Tesla as a potential revenue driver as it may seek to find homes for the batteries beyond Tesla's own vehicles. If and when other partners are announced, the Gigafactory may not be an especially burdensome expense for Tesla, though it is expected to cost upwards of a billion dollars.
Another area investors should watch out for on the Tesla earnings call is the growth in China. CEO Elon Musk commented on the last quarter's call that the reality is, demand is very high in China, the wait list is very long, and customers are complaining about the length of time to receive their cars. Above all, however, Musk made it clear that Supercharger and service capacity are the #1, 2 and 3 goals for China, with sales taking a backseat. Indeed, Tesla is "really doing few stores" in China. As the company grows in the country, a "few stores" is likely unsustainable, and the more exposure the Chinese consumer gets, the higher the demand is expected to rise. Musk has already noted that the Beijing store is already the most active retail store, and continued expansion should be well-received. Supply continues to be a challenge, however, as it is for the company in most of their international markets, and local production is becoming more and more necessary. Investors should continue to keep an eye on plans for a Tesla production facility in China, as Musk has hinted that local production in Europe and China is on the horizon.
Finally, the marketing and build out of the Model X should continue to captivate the public and be a focus for investors. As we mentioned above, production capacity at the Fremont factory is underway, and preparing for the Model X is a major focus for the company. Demand remains robust, and positive news coming out of Tesla about the Model X is likely to be well-received by the investing public. The wait time, production targets, and sales numbers will all be examined by investors as the news trickles out, and could serve to bolster the stock price.
Conclusion
In summary, news about the Gigafactory, Model X production, sales numbers in China, and utilization of the Fremont plant should all be closely examined by investors. The moving averages indicate positive momentum for the stock, and the stock seems it is poised to continue to rise. Given the lofty valuation, however, Feria recommends waiting for a pullback before buying, as several positive indicators have likely been priced into the stock.
Disclosure: The author has no positions in any stocks mentioned, and no plans to initiate any positions within the next 72 hours. The author wrote this article themselves, and it expresses their own opinions. The author is not receiving compensation for it (other than from Seeking Alpha). The author has no business relationship with any company whose stock is mentioned in this article.