The financial firms offer an investor an appealing mix of income and capital gains. The income derived from financial firms makes them an appealing choice for the dividend growth investor who is accumulating a portfolio for their retirement. In the article below, I will examine the investment case for Wells Fargo (NYSE:WFC), in my opinion one of the best run banks in the industry. I will focus on what I believe to be the two best metrics to measure the profitability and value of a bank.
I have dubbed WFC as one of the best in the business due to its prowess in delivering returns for shareholders. The best metric to gauge a bank holding company is their respective Return on Assets (ROA). If a bank is able to generate a 1% plus return on assets there are deemed to be extremely profitable. As we can see from the table below, WFC runs the most efficient operation. Their ROA far and away exceed its closest competitors by market cap. The graph below depicts WFC ROA over a ten year time span. Outside the great financial meltdown of 2008, WFC consistently produces a high ROA.
| | | | | |
| --- | --- | --- | --- | --- |
| Company | Return on Assets | Return on Equity | Book Value | % of book value |
| Wells Fargo | 1.37% | 12.3% | 28.65 | 1.80 |
| Bank of America (NYSE:BAC) | 0.54% | 4.9% | 20.71 | 0.748 |
| Citigroup (NYSE:C) | 0.74% | 6.8% | 65.23 | 0.76 |
| JPMorgan Chase (NYSE:JPM) | 0.74% | 8.7% | 53.25 | 1.11 |
| BB&T (NYSE:BBT) | 0.92% | 7.4% | 28.52 | 1.32 |
| Royal Bank (NYSE:RY) | 0.98% | 17.4% | 30.51 | 2.42 |
| Toronto-Dominion(NYSE:TD) | 0.77% | 13.2% | 25.65 | 2.05 |
Figures are year end 2013. % of book value is calculated using closing prices on 7/28/2014.
Now that we have established WFC prowess pertaining to ROA, I would like to focus on the second metric I use to evaluate financial firms. Book value (NASDAQ:BV) has significant value when evaluating financial firms due to the nature of the business. In the case of banks, their assets are the loans they service and originate. As we can see from the table above, WFC has a higher BV than its U.S. based peers, yet trails behind the two Canadian companies that I included. The Canadian banks escaped most of the carnage from the financial meltdown due to stricter loan controls. Both of the company's share prices dipped to almost 1x their respective BV in what became a worldwide recession. Once the recession began to abate, they quickly regained the ground lost and routinely trade for over 2x BV.
The return to the prior normal underpins my bullish thesis on the banking sector. As time goes on, I expect the Federal Government to allow the banks to return their excess capital back to shareholders in the form of dividends and share reductions. At this point, we will see the old percentage above BV norms return. In the case of WFC as we can see from the chart below, they have consistently traded for 2.5 times book value. A return to 2.5x BV would value the shares at roughly $72 per share. An investor would just need a modicum of patience to allow WFC to do what it does best, continue to generate a tidy profit. In the interim, a current investor receives a dividend above the current rate of a 10 year Treasury bond, making WFC an excellent choice for those who need immediate income.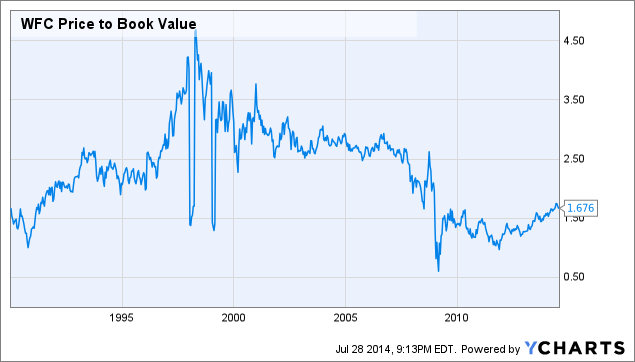 WFC Price to Book Value data by YCharts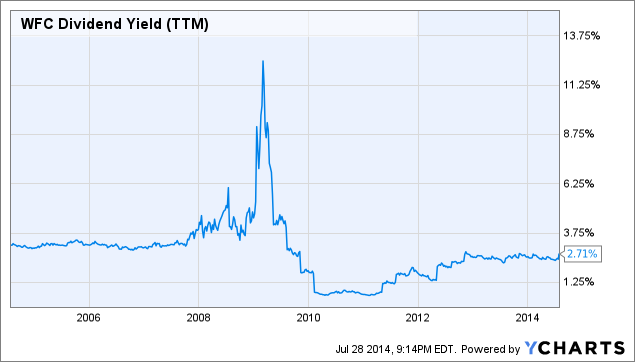 WFC Dividend Yield (NYSE:TTM) data by YCharts
In my personal portfolio, I hold both WFC and C for exposure to this powerful trend. WFC offers an attractive dividend with the potential for above average dividend hikes as the decade progresses. WFC consistent dividend makes it well suited for those who wish to have exposure to the financial field yet require immediate income. I view WFC as a potential forever holding, as the bank's dominance should continue for the foreseeable future. I will continue to reinvest the dividends received which will add to my quarterly revenue stream.
C continues to be absurdly undervalued allowing the patient long term investor an excellent opportunity to initiate a long term position. C is in a different situation than WFC, as they continue to work down the non-performing loans made during the height of the housing boom. C pays a token dividend which makes them unsuitable for those who need immediate income. The capital gains potential is more pronounced with C which appeals to the growth angle of my portfolio. I have recently detailed my bullish thesis on C which can be viewed here. I suspect the financials will revert back to the valuation levels seen before the financial crisis. I expect the trend to play out over many years allowing the patient long term investor a perfect combination of immediate income (WFC dividend) and above average capital gains. I would like to thank you for reading and I look forward to your comments.
Disclosure: The author is long WFC, C. The author wrote this article themselves, and it expresses their own opinions. The author is not receiving compensation for it (other than from Seeking Alpha). The author has no business relationship with any company whose stock is mentioned in this article.
Additional disclosure: Investors are always reminded that before making any investment, you should do your own proper due diligence on any name directly or indirectly mentioned in this article. Investors should also consider seeking advice from a broker or financial adviser before making any investment decisions. Any material in this article should be considered general information, and not relied on as a formal investment recommendation.