Electro Rent Corporation (NASDAQ:ELRC) is one of the largest global organizations focused on the rental, lease and sale of new and used electronic test and measurement (T&M) equipment
Electro Rent is one of the initial industry start ups, establishing the test and measurement equipment market. It is the largest rent-lease-sales provider serving the industry. Electro Rent primarily services customers in the aerospace, defense, telecommunications, electronics, industrial and semiconductor industries. Electro Rent is know for its very high quality service. In recent news, the company was recognized as one of Forbes' "100 Most Trustworthy Companies" for the second year in a row.
The company has established relationships with major industry manufacturers that go back decades. The new Authorized Technology Partnership (APT) agreement with Agilent (NYSE:A) was monumental, giving Electro the exclusive right to sell Agilent's more complex test and measurement equipment to small and medium size customers. In the past, this equipment was purchased directly from Agilent. Electro Rent has recently added 40 people to its sales and support team to service the new APT arrangement with Agilent. This agreement increases Electro Rent's ability to utilize its industry size and scope and gives it an economy of scale advantage over competitors.
On April 1, 2010, Electro Rent acquired Telogy, LLC, a leading provider of electronic test equipment that filed for bankruptcy protection earlier. The deal was worth a total of $24.7M. Telogy had over 40 employees and had amassed over $35 million dollars in debt. With the help of bankruptcies laws, Electro Rent was able to purchase Telogy for 28% less than its total outstanding debt. Mr. Greenberg, the CEO of Electro Rent, is quoted as saying,
This strategic purchase...will be immediately accreted to earnings, will add measurably to our strong market position by broadening our equipment base and enhancing our ability to effectively meet the needs of customers, both existing and new... as we generate increased demand to grow our business over the long term.
As a side note, the CEO of Telogy Gary Phillips, was a senior vice president of sales and marketing at Electro Rent and worked there for 32 years before leaving to take the helm of Telogy. It appears that with the top management already having a significant working history together, one would expect this integration to be done with minimal cultural changes and the game plan well known. With this inside advantage, it makes sense why this purchase could be accreted immediately to earnings.
With the last quarter results, it appears that both the Agilent agreement and the purchase of Telogy were material. These contributed significantly to the quarter with revenues up 58% and net income grew 152% to $5.2 million or $0.22 per share with an additional first time $12 million dollar backlog. The amount of equipment on rented items increased 32.6% to $205.4 million from $154.9 million. Rental equipment that Electro Rent purchased totaled $24.9 million last quarter, compared with $9.3 million for the first quarter of fiscal 2010.
On August 31, 2010, Electro Rent had $40.4 million in cash, cash equivalents and investments, compared with $47.2 million at May 31, 2010. Even though cash was reduced by $7 million this last quarter the company invested over $15 million in new rental equipment in the same time period.
Great Execution
With the triple play of the Agilent contract, Telogy purchase and the core business expansion, Electro Rent's earnings improved to $.22 per share for the quarter. The consensus forecast was $.17 per share. Its revenues grew a whopping 58% and net income grew 152% per diluted share. All of these metrics would be considered very nice execution in a robust growing economy. When you consider the tough economic times we're in now, this was superb execution.

As you can see in the chart below, The revenues in dark blue, and net income in light blue are at pre-market crisis levels. The net margin was also high considering the funding and start up cost for the Agilent AFT agreement and Telogy funding and integration.
The stock has a unique feature that is rare among smaller growth companies; that it has only 1.01 beta, indicating it should have the same volatility of the overall stock market.
Good Balance Sheet:
Electro Rent has $40.4 million of cash, meaning $1.69 per share and no debt. This gives the company great flexibility to purchase other companies, equipment and buy shares or increase its dividend. The high levels of cash and no debt are very rare in the rent/leasing industry. Last quarter, cash flow from operations was $14.5 million which annualized would be $58 million. This high level of cash flow is about an 18% return rate from the enterprise value. This is lower than many other companies we have reviewed but still very high - knowing the yield on the 10-year benchmark treasury is 2.5%.
Insiders:
Electro Rent has a stock option program that does not align shareholder's interests with that of insiders. This important benefit is being treated more like an employee cash machine instead of a long term, performance-based system that shareholders want and deserve.
Insider ownership at Electro Rent represents 31% of the outstanding shares. This is higher than most companies we review and is a great positive indicator. It appears the company is well run by Daniel Greenberg, Chairman and CEO of Electro Rent. He is providing strong leadership and making very shrewed moves such as the purchase of Telogy.
Dividend
Electro Rent started paying a quarterly dividend in June 18, 2007 of $.10 per share and has paid the same or increased it every quarter since then. In the last quarter, the dividend payout was only 40% of the operational income. For the February quarter the payout was a high and challenging 89% of operational Income, plus Electro Rent was also involved with the bidding of Telogy.
After the cash drains from purchasing and integrating the Telogy and Agilent ATF deals begin to stabilize, it appears Electro Rent will have the ability, balance sheet, flexibility, and cash flow to support a high paying dividend. My guess is 31% of the insider owners would like a pay raise, even if it's passive. With the current dividend yield of 4.1%, this profitable strong cash flow company is yielding a 64% premium to the 10-year benchmark Treasury yield of 2.51%. Historically, companies with growing profitability and abilities to raise future income streams usually have less yield than the benchmark bonds.
Largest negative
There are three items that investors should be award of. Electro Rent is in a very competitive industry where access is affordable to anyone. Even with its size and scope advantages, competitors will always be waiting in the wings. Electro Rent has two concentrated clients, meaning a loss of either Agilent and Techtronic could be significant to its business. The company's large cash balance of over half its current equity value is only earning minimal bank investment returns of about 1.2%. This is not in the best interests of shareholders.
Conclusion:
Electro Rent's core business appears to be accelerating. When you add in the purchase of Telolgy and the Agilent contract, the company had a robust quarter. It appears that based on cash flow, the enterprise value and the high level of the current divided, the value of the company should be higher. We believe Electro Rent has value, execution and a balance sheet like past companies that have fit our income model (e.g. TRST and AE). We are hopeful that Electro Rent will have a similar outcome knowing other companies that fit this model have performed well
With a current yield almost double the benchmark bonds and the possibly of a future increase, knowing that the core operations are growing nicely, the total investment, income, and cash flow appear so compelling we placed Elecro Rent as a core position in our Investment Growth & Income Portfolio.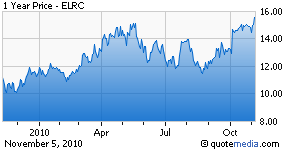 Electro Rent Corporation
Per share values on 10-22-2010:
Market value $14.89
Cash $ 1.69
Equity value $ 13.20
Dividend rate 4.10 %
Disclosure: Durig Capital and its clients currently do have positions in Electro Rent.