By Craig Bowles
Overview
LinkedIn, Corp. (NYSE:LNKD) is slated to report 2Q 2014 earnings after the bell on Thursday, July 31st. The earnings release is expected at approximately 4:00 p.m. EST followed at 5:00 p.m. with a webcast presentation available through LinkedIn Investor Relations. LinkedIn is the premier social network for professionals around the globe.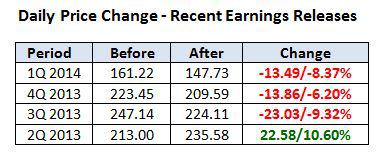 Outliers & Strategy
Key measures:
Non-GAAP Earnings Per Share: The current Street estimate is $0.39 (range $0.25 to $0.47) (Source: Yahoo! Finance). Results have beaten estimates every quarter since the IPO.
Revenues: Company guidance is a range of $500 mln to $505 mln. Analysts expect an increase of 40.6% y/y to $511.20 mln (range $502.67 mln to $529.35 mln).
Registered User Base: The Registered User Base for 2Q 2014 is projected to increase from 296.5 mln at the end of 1Q 2014 to 310.4 mln, with estimates running as high as 317.3 mln, according to Zack's Investment Research.
Revenue Guidance:
Revenue Guidance (3Q 2014): The Street is looking for an increase of 37.7% y/y to $541.18 mln (range $521.00 mln to $584.17 mln).
Revenue Guidance (FY 2014): Company guidance is currently a range of $2.060 bln to $2.080 bln. Analysts expect a 39.2% increase to $2.13 bln (range $2.08 bln to $2.24 bln).
Insiders have sold 46,433 shares in the past three months and 70,610 shares over the last year.
LinkedIn shares have a 1-day average price change on earnings of 10.00%. Options are pricing in an implied move of 9.23% off earnings.
Recent News
07/29 JPMorgan expects LinkedIn to report solid financials with the bad first half of the year to be followed by a better second half. Investors can take advantage of options showing a big fear premium, according to a post on Barron's Blogs.
07/28 Wunderlich Securities said the acquisition of Bizo will offer better ad targeting and segments should show growth with premium subscriptions increasing 40 percent YoY, according to a post on Benzinga.com.
07/19 LinkedIn is growing through acquisitions and expansion into China, and could pose a threat to Facebook as it gains more popularity and becomes a better publishing platform oriented toward businesses, according to a post on Fool.com.
LinkedIn analysts have 13 buy ratings, 10 hold, and 1 sell rating with a consensus price target of $228.50, according to a post on Analystratings.net.
Technical Review
LinkedIn shares peaked in September 2013 and are currently testing above the downtrend line. A negative reaction to earnings has recent support around $160. Upside has the 200-day moving average at $193. (Chart courtesy of StockCharts.com)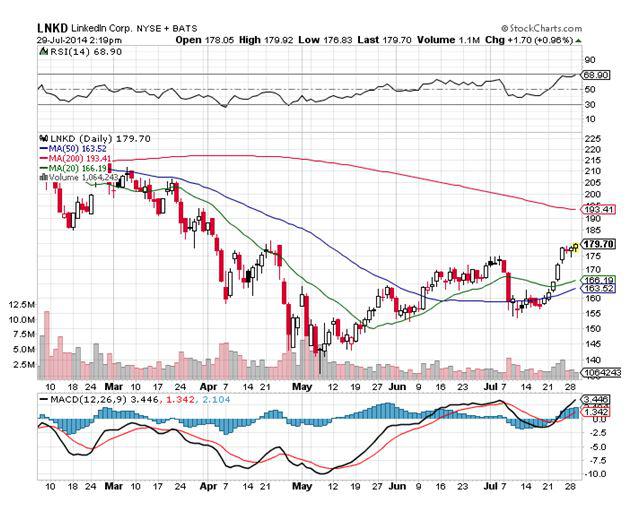 Summary
Analyst upgrades had been coming each month citing the declining price as a buying opportunity. While that's slowed, analysts still have only one sell rating. LinkedIn has optimism surrounding expansion into China but this is a slow and developing story. The more immediate worry is that slowing job postings and usage is expected to pick up in the second half of 2014, so more attention might be paid to revenues and revenue guidance assuming the company beats earnings estimates again. Analysts' expectations for earnings have increased from 0.36 three months ago, so reporting above 0.40 on revenue above $514 mln would allow market participants to focus on guidance.
DISCLAIMER: By using this report, you acknowledge that Selerity, Inc. is in no way liable for losses or gains arising out of commentary, analysis, and or data in this report. Your investment decisions and recommendations are made entirely at your discretion. Selerity does not own securities in companies that they write about, is not an investment adviser, and the content contained herein is not an endorsement to buy or sell any securities. No content published as part of this report constitutes a recommendation that any particular investment, security, portfolio of securities, transaction or investment strategy is suitable for any specific person.
Disclosure: The author has no positions in any stocks mentioned, and no plans to initiate any positions within the next 72 hours. The author wrote this article themselves, and it expresses their own opinions. The author is not receiving compensation for it (other than from Seeking Alpha). The author has no business relationship with any company whose stock is mentioned in this article.