The following is a list of undervalued stocks, as defined by the PEG ratio. All of the stocks in this list have PEG ratios below 1.0, which suggests a discounted valuation relative to projected growth.

That said, Wall Street analysts seem to think these stocks are value traps. All of the stocks mentioned have seen worsening analyst sentiment over the past three months.

Analyst ratings are presented on a linear scale, with 1 = "Strong Buy" and 5 = "Strong Sell". All of the stocks in this list have seen their ratings move closer to 5, i.e. worsening analyst sentiment.

Analyst ratings sourced from Reuters, PEG ratios sourced from Finviz.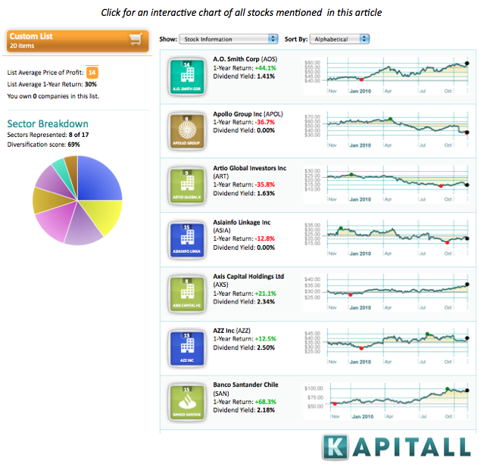 The list has been sorted by change in analyst opinion.

1. BorgWarner Inc. (NYSE:BWA): Auto Parts Industry. Market cap of $6.74B. PEG ratio at 0.89. Analyst rating has increased from 1.72 to 2.33 over the last three months. Short float at 9.88%, which implies a short ratio of 6.69 days. The stock has gained 89.57% over the last year.

2. Chiquita Brands International Inc. (NYSE:CQB): Farm Products Industry. Market cap of $559.M. PEG ratio at 0.85. Analyst rating has increased from 1.5 to 2.0 over the last three months. Short float at 14.71%, which implies a short ratio of 14.32 days. The stock has lost -29.82% over the last year.

3. Artio Global Investors Inc. (NYSE:ART): Asset Management Industry. Market cap of $886.48M. PEG ratio at 0.82. Analyst rating has increased from 2.33 to 3.0 over the last three months. Short float at 4.21%, which implies a short ratio of 5.51 days. The stock has lost -35.22% over the last year.

4. AsiaInfo-Linkage,Inc. (NASDAQ:ASIA): Security Software & Services Industry. Market cap of $1.52B. PEG ratio at 0.92. Analyst rating has increased from 1.45 to 1.86 over the last three months. Short float at 7.09%, which implies a short ratio of 3.12 days. The stock has lost -12.79% over the last year.

5. Apollo Group Inc. (NASDAQ:APOL): Education & Training Services Industry. Market cap of $5.28B. PEG ratio at 0.87. Analyst rating has increased from 2.0 to 2.43 over the last three months. Short float at 6.52%, which implies a short ratio of 1.75 days. The stock has lost -36.73% over the last year.

6. AO Smith Corp. (NYSE:AOS): Industrial Electrical Equipment Industry. Market cap of $1.82B. PEG ratio at 0.93. Analyst rating has increased from 1.75 to 2.12 over the last three months. Short float at 6.85%, which implies a short ratio of 8.03 days. The stock has gained 46.38% over the last year.

7. Jo-Ann Stores, Inc. (NYSE:JAS): Specialty Retail Industry. Market cap of $1.26B. PEG ratio at 0.96. Analyst rating has increased from 1.14 to 1.38 over the last three months. Short float at 11.52%, which implies a short ratio of 8.09 days. The stock has gained 47.65% over the last year.

8. Healthways Inc. (NASDAQ:HWAY): Specialized Health Services Industry. Market cap of $388.16M. PEG ratio at 0.94. Analyst rating has increased from 2.23 to 2.69 over the last three months. Short float at 4.54%, which implies a short ratio of 7.1 days. The stock has lost -29.78% over the last year.

9. AZZ Inc. (NYSE:AZZ): Industrial Electrical Equipment Industry. Market cap of $499.32M. PEG ratio at 0.88. Analyst rating has increased from 2 to 2.4 over the last three months. Short float at 5.21%, which implies a short ratio of 7.28 days. The stock has gained 15.64% over the last year.

10. China Automotive Systems Inc. (NASDAQ:CAAS): Auto Parts Industry. Market cap of $457.62M. PEG ratio at 0.9. Analyst rating has increased from 1.67 to 2 over the last three months. Short float at 15.48%, which implies a short ratio of 3.33 days. The stock has gained 34.61% over the last year.

11. Express Inc. (NYSE:EXPR): Apparel Stores Industry. Market cap of $1.28B. PEG ratio at 0.93. Analyst rating has increased from 1.57 to 1.86 over the last three months. Short float at 3.69%, which implies a short ratio of 11.29 days. The stock has gained 0% over the last year.

12. First Cash Financial Services Inc. (NASDAQ:FCFS): Credit Services Industry. Market cap of $907.18M. PEG ratio at 0.99. Analyst rating has increased from 1.5 to 1.75 over the last three months. Short float at 5.25%, which implies a short ratio of 7.47 days. The stock has gained 64.32% over the last year.

13. Banco Santander-Chile (NYSE:SAN): Money Center Banks Industry. Market cap of $17.26B. PEG ratio at 0.89. Analyst rating has increased from 3.17 to 3.67 over the last three months. Short float at 1.51%, which implies a short ratio of 3.69 days. The stock has gained 75.27% over the last year.

14. ViroPharma Inc. (VPHM): Biotechnology Industry. Market cap of $1.31B. PEG ratio at 0.9. Analyst rating has increased from 1.5 to 1.73 over the last three months. Short float at 8.1%, which implies a short ratio of 6.93 days. The stock has gained 115.4% over the last year.

15. DeVry, Inc. (NYSE:DV): Education & Training Services Industry. Market cap of $3.33B. PEG ratio at 0.84. Analyst rating has increased from 1.77 to 2.04 over the last three months. Short float at 5.43%, which implies a short ratio of 2.21 days. The stock has lost -14.01% over the last year.

16. Novellus Systems, Inc. (NASDAQ:NVLS-OLD): Semiconductor Equipment & Materials Industry. Market cap of $2.82B. PEG ratio at 1. Analyst rating has increased from 2.35 to 2.67 over the last three months. Short float at 6.95%, which implies a short ratio of 2.97 days. The stock has gained 51.11% over the last year.

17. Tenneco Inc. (NYSE:TEN): Auto Parts Industry. Market cap of $2.05B. PEG ratio at 0.96. Analyst rating has increased from 1.86 to 2.1 over the last three months. Short float at 8.85%, which implies a short ratio of 4.57 days. The stock has gained 138.04% over the last year.

18. Axis Capital Holdings Ltd. (NYSE:AXS): Property & Casualty Insurance Industry. Market cap of $4.31B. PEG ratio at 0.82. Analyst rating has increased from 2 to 2.25 over the last three months. Short float at 1.15%, which implies a short ratio of 1.57 days. The stock has gained 24.45% over the last year.

19. Volterra Semiconductor Corporation (NASDAQ:VLTR): Semiconductor Industry. Market cap of $567.23M. PEG ratio at 0.95. Analyst rating has increased from 1.67 to 1.87 over the last three months. Short float at 9.15%, which implies a short ratio of 3.44 days. The stock has gained 51.87% over the last year.

20. Microsoft Corporation (NASDAQ:MSFT): Application Software Industry. Market cap of $229.72B. PEG ratio at 0.98. Analyst rating has increased from 1.61 to 1.79 over the last three months. Short float at 1.03%, which implies a short ratio of 1.27 days. The stock has lost -3.9% over the last year.

Disclosure: No positions