Baidu (NASDAQ:BIDU) has been on a tear lately, as its share price rose more than 50% from its mid-April lows. The company's Q2 earnings and revenue blew past analyst estimates and management guided Q3 revenue above views. The market's reaction was impressive as the stock rose almost 11% after the report was released. Recent movements are in line with my expectations and I believe that there is more room for Baidu to rise in the next six months. High revenue growth should be sustainable in the next couple of quarters, and Baidu's P/S ratio has more room to expand or stay at current levels, and the base case scenario implies approximately 30% upside in the next six months, while the bullish scenario might bring Baidu's share price up 50% and north of $300.
Q2 highlights
Baidu's Q2 revenue growth of 58.5% was slightly below Q1's 59.1% as the company continues to invest aggressively to capture top line growth. Earnings growth suffered as a consequence of increased sales, marketing and R&D spending and has trailed revenue growth in the last seven quarters. However, earnings growth has picked up from 1% in Q4 2013 to 23.2% and 34.7% in Q1 2014 and Q2 2014 respectively. Revenue per customer increased 15.8% over Q1 and 50.3% year-over-year.
Mobile was a major source of strength, and this segment accounted for 30% of total revenue in Q2. Mobile search grew to over 500 million monthly active users in June. Baidu holds the leading positions in key mobile entry points of search, maps and app distribution. The company's flagship Mobile Map surpassed 200 million active users in Q2. Baidu's app distribution platform continues to gain traction with the combined Baidu and 91 Wireless platform distributing over 130 million apps on a daily basis.
Baidu also launched a Portuguese search in Brazil recently. This is part of the international expansion efforts. Management does not expect meaningful contribution from this effort in the next couple of years, but it might be an important area of expansion and the company might take advantage of its experience in developing markets. Brazil is another step in this direction, since the company already operates in Vietnam, Thailand, Malaysia, Indonesia, Egypt and Argentina.
Sustained momentum should bring Baidu's share price close to $300
In my previous article on Baidu, I argued that the near-term upside potential is between 45% and 85%, on the basis of a TTM P/S ratio in the 11 to 13 range. Since Baidu's share price at the time was around $160, this upside potential translated into a price range of $232 to $296. This price range was largely based on the account of somewhat slower revenue growth going forward. Since the company managed to grow Q2 revenue ahead of estimates, the expectations are bound to move up in the next couple of months. I believe that Baidu should continue to deliver revenue growth in the 50s in the next two quarters, bringing the full-year growth up to around 55% as opposed to current analyst estimates for 51.5% revenue growth in 2014. Based on these estimates and a forward 2014 P/S ratio of 13, I arrived at a $300 price target. The upside from the current price is approximately 30%.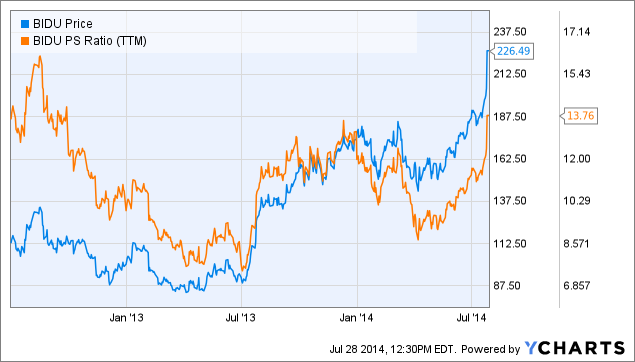 Source: YCharts.com
On the other hand, the stock could very well revisit the previous P/S ratio highs in the next six months, and the upside could be around 50% in that case. However, a cautionary note is in order here. Baidu's share price is currently extended after a strong run in the last three months and vulnerable to a pullback. A 10% to 15% correction from here would not be a surprise, but the overall situation is still favorable for the bulls. I am using the P/S ratio to arrive at a price target because the company is sacrificing short-term profitability to drive top line growth.
Another positive factor that might drive further gains for shareholders is the start of a positive earnings cycle. I wrote about Baidu's earnings cycle in March 2013, and the company was in the last stage of the cycle at the time and has transitioned to the second stage in the meantime. The second stage of the cycle is the most profitable for investors, as that is the time when analyst estimates start to go up, the company delivers positive earnings surprises and the overall growth picks up. And if we look at Baidu's numbers, these signs are evident.
Conclusion
Baidu is benefiting from strong growth across its business segments. Mobile growth is the primary growth engine for the company and should continue to drive strong top line growth going forward. The potential upside from the current price is between 30% and 50%. However, Baidu might be vulnerable to a pullback after the strong run in the last three months and a more favorable entry might present itself in the next couple of weeks or months.
Disclosure: The author is long BIDU. The author wrote this article themselves, and it expresses their own opinions. The author is not receiving compensation for it (other than from Seeking Alpha). The author has no business relationship with any company whose stock is mentioned in this article.