Having sold a number of stocks in order to acquire more of Silver Wheaton Corporation (NYSE:SLW) stock on the 9th of August, 2010 we are pleased to see that our new strategy is paying off handsomely. A quick look at the chart below shows that since making that particular purchase, SLW is in first place, followed by silver, gold, the miners and the much fancied juniors.. The progress has been remarkable up to the closing last week at $32.95 for gain of 65% in the price of this stock.
Click to enlarge: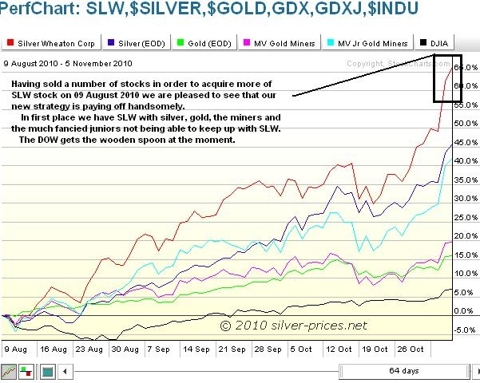 Click to enlarge
The question is just where do we go from here?
As we see it, silver prices have finally taken off and they too had an excellent week closing at $26.72/oz. The silver market is tiny when compared to the gold market and the gold market is tiny when compared to the stock market in general. As silver becomes more popular and gets a little of the limelight that gold is currently basking in, we will see an ever growing demand by investors who are savvy enough to spot this once in a life time opportunity.
As they re-allocate a tiny portion of their funds to silver investors will learn that there is very little silver to go around and that silver prices will be constantly moving away from them. The buying pressure will shortly push silver prices up and through the $30.00/oz level. This will cause industrial users to make purchases almost regardless of price, otherwise their business activity grinds to a halt. And so a duel between the investment community and the industrial sector will gather speed, taking silver prices from their short term high of $30/oz to around $60.00/oz. This is only our view and many will chuckle at such predictions. However, that's our stance.
Silver producers
For the producers of silver, this move north will generate enormous profits and their stock prices will also feel a tail wind that most investors have never witnessed before in this sector as they just are not old enough to have been around the last time it happened. The producers will have to wrestle with a number of variables such as rising energy, labor, transportation and environmental costs, not to mention the geo-political changes that lay in wait for them.
Silver Wheaton is more or less immune to such vagaries as the contracts are now in place that provide them with staggering amounts of silver at a fixed price of around $4.04/oz. As the miners ramp up production and further contracts are secured, the profits will be mind-boggling. The success of this business model has already been clearly demonstrated and as the company profile attracts more coverage the stage is set for the next phase, which we will call the turbo-charged phase.
For our prediction of $100.00 per share to materialize we need to see gains in the order of threefold from the current stock price and we are comfortable with it.
Earnings
Near term, look for the next set of results from the Silver Wheaton Corporation which is due to release its third-quarter figures after the market close today, Monday, 08 November, 2010. Our expectation is for earnings to be in the order of $0.20 per share on revenue of $110 million. A year ago the company reported earnings of $0.11 cents per share on revenue of $70 million.
Silver Wheaton Corporation, which trades on the New York Stock Exchange and the Toronto Stock Exchange under the symbol of SLW, has a market capitalization of $11.33 billion, with 344.00 million shares outstanding. Shares have a 52 week trading range of $13.04 to $33.66 with an average volume of 7-12 million shares traded, although spikes in trading have seen 14 million shares change hands.
Now, both gold and silver traded a lot lower just prior to the spike last week and looked a tad gloomy as investors were nervous about the possible outcome of the elections and QE2. However, our options team remained focused and issued a buy signal stating which options contract to buy, the series, the strike price and how much to pay for them. These contracts, which were barely a day old, traded 91% higher than when we fired out that buy signal, a nice start for our newly formulated strategy after banking recent profits and returning to a total cash position.
Stay on your toes and have a good one.
Got a comment? Please add it to this article, all opinions are welcome and very much appreciated.
Disclosure: Long Silver Wheaton Corp.
Disclaimer: Gold Prices makes no guarantee or warranty on the accuracy or completeness of the data provided on this site. Nothing contained herein is intended or shall be deemed to be investment advice, implied or otherwise. This website represents our views and nothing more than that. Always consult your registered advisor to assist you with your investments. We accept no liability for any loss arising from the use of the data contained on this website. We may or may not hold a position in these securities at any given time and reserve the right to buy and sell as we think fit.