Yelp Inc. (NYSE:YELP) is set to report FQ2 2014 earnings after the market closes on Wednesday, July 30th. Yelp is a restaurant and business reviews platform which offers outstanding search functionality and a great mobile experience. Formidable revenue growth from Google (NASDAQ:GOOG) and Facebook (NASDAQ:FB) has demonstrated there is vigorous demand in the market for mobile advertisements. The question this week is, can any other social media companies keep up with the breakneck pace that Facebook has set?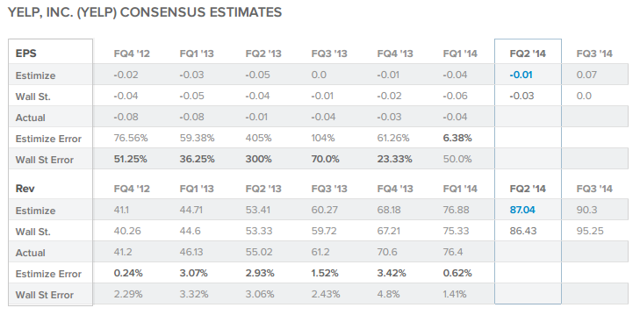 Check out Estimize.com to utilize the interactive charts
This quarter 37 contributing analysts on Estimize.com have come to a consensus earnings expectation of -1c EPS and $87.04M in revenue, compared to a consensus of -3c EPS and $86.43M from Wall Street. Over the previous 6 quarters the Estimize community has been more accurate than Wall Street in forecasting Yelp's revenue every quarter and has been more accurate on earnings per share once.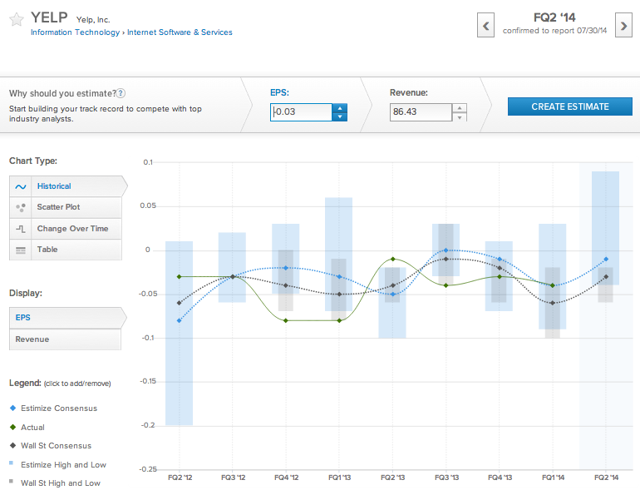 Yelp has struggled with profitability since first revealing its financial information when it became a publicly traded company. Although Yelp has became the de-facto leader in restaurant ratings, reviews, and search, the company has not posted a single break-even quarter since its IPO. Through its checkered and brief history, Yelp has missed the Estimize earnings consensus 4 times, and only topped it once. Consistent revenue growth and persistent takeover speculation have kept Yelp in focus as one of the most talked about stocks on the market.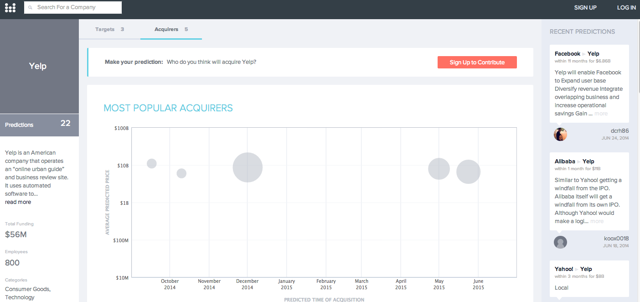 On crowdsourced mergers and acquisitions platform, Mergerize.com, Yelp is the single most predicted takeover target with 22 predictions made. We have already seen plenty of merger and acquisition activity this year, especially in the biopharmaceuticals.
It's believed that many of the food-tech platforms may be ripe for consolidation. There are tremendous economies of scale within the industry and the individual platforms tout millions of users each. As companies such as Yelp, GrubHub (NYSE:GRUB), and OpenTable (NASDAQ:OPEN) onboard a critical infrastructure of restaurants and users, they become valuable strategic assets to other online advertisers. OpenTable was the first domino to fall back in June when the company was acquired by Priceline.com (NASDAQ:PCLN) for a deal valued a $2.6 billion, a 46% premium to OpenTable's stock price at the time.
The most common prediction about Yelp on Mergerize is that Yahoo (NASDAQ:YHOO) may set its sights on the restaurant ratings and reviews website as soon as Alibaba has its IPO sometime after Labor Day. The average price predicted for Yahoo to acquire Yelp on Mergerize is $8.67 billion, a 57% premium on Yelp's current $4.93 billion market capitalization.
When Alibaba finally does go public, Yahoo will be forced to sell a significant portion of its stake in the Chinese e-commerce behemoth. Yahoo CEO Marissa Mayer has promised to return half the proceeds of the Alibaba stake to shareholders, the other half will remain as a bankroll for Yahoo to go shopping.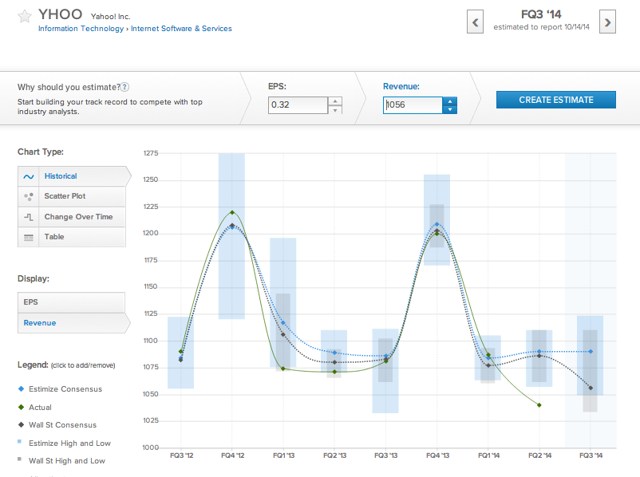 Since joining Yahoo 2 years ago, Marissa Mayer has been pounding the table about her strategy of capturing daily user engagement on mobile devices. The shocking and terrific results from Facebook's mobile advertising business suggest that she might have the right idea. Yelp would be a tailored fit to Yahoo's portfolio of mobile brands and services that also aligns nicely with Mayer's strategy of daily mobile engagement. Yahoo already has an established mobile advertising business, and Yelp could provide Yahoo with a much needed opportunity for revenue growth.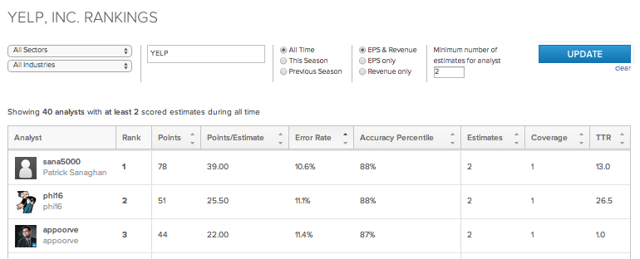 Estimize.com ranks and allows the sorting of analysts by accuracy. The analyst with the lowest error rate on Yelp is a consumer discretionary sector professional who goes by the username sana5000. Over 2 previously scored estimates on Yelp sana5000 has averaged an error rate of 10.6%. Estimize is completely open and free for anyone to contribute, and the base of contributing analysts on the platform includes hedge fund analysts, asset managers, independent research shops, non professional investors, and students.
The Estimize consensus was more accurate than the Wall Street consensus 65% of the time last quarter on the coverage of nearly 1000 stocks. A combination of algorithms ensures that the data is not only clean and free from people attempting to game the system, but also weighs past performance and many other factors to gauge future accuracy.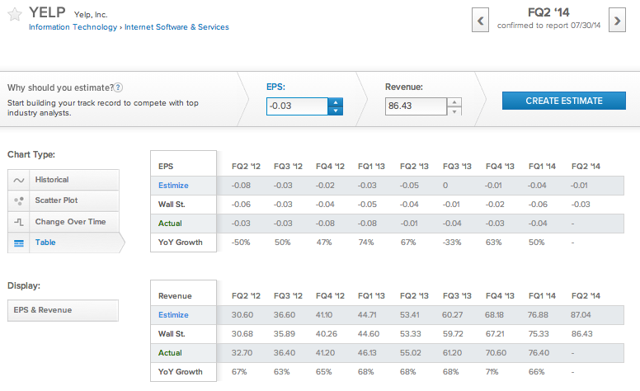 Contributing analysts on the Estimize.com platform are forecasting that on Wednesday Yelp will lose 2c per share fewer than Wall Street is predicting and beat the Street's revenue consensus by a gap of less than $1 million. The Estimize community is expecting Yelp to post year over year revenue growth of 58% while the 1c loss per share remains unchanged compared to the same period of last year.
If Yelp's earnings remain in a perpetual holding pattern and the stock price fails to push higher, the company may be looked at as a strategic acquisition sometime later this year.
Disclosure: NONE