LNG demand will grow worldwide, and the U.S. is preparing for export.
Liquefied Natural Gas (or LNG) demand will grow, particularly since the emerging countries will need more and more energy. The forecast shows us the demand is about to double, even if it will not grow a lot in JKT (Japan, Korea, Taiwan).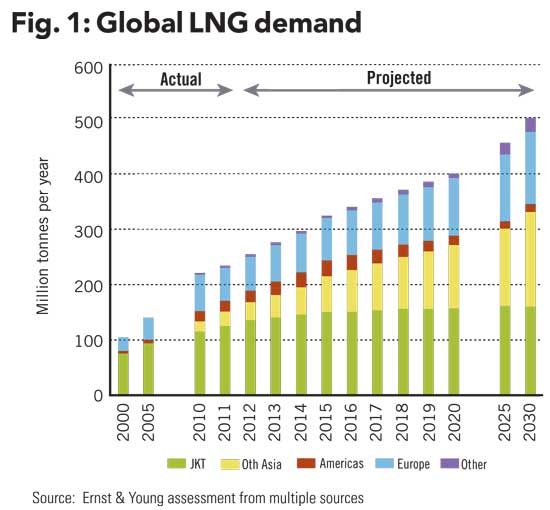 To meet this demand, the U.S. is preparing and implementing infrastructure that will allow exporting part of their production of LNG. The FERC (Federal Energy Regulatory Commission) is the body that issues construction licenses.
Today, a single license issued is under construction, Sabine Pass LNG, owned by Cheniere Energy, Inc. (NYSEMKT:LNG). The second authorized project is not yet under construction, Cameron LNG, owned by Sempra (NYSE:SRE).
Many other projects are under approval and are expected to be created in the coming years. This is the case of the second Cheniere terminal Corpus Christi LNG.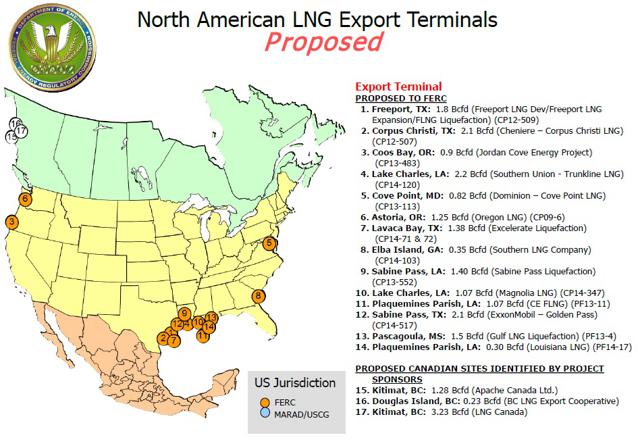 (Source: FERC.gov)
Focus on the two terminals of Cheniere
An LNG train is a LNG liquefaction and purification plant, where the gas is liquefied by cooling to -260°F.
The Sabine Pass LNG is expected to operate up to 6 LNG trains with a capacity of 4.5 mtpa each, which corresponds to a total capacity of 27 mtpa.
Corpus Christi LNG has been designed to have 3 LNG trains with a total capacity of 13.5 mtpa (4.5 mtpa each too). Its entry into service is planned for 2018.
Cheniere signs contracts, with the most recent being with EDF.
On 17/07/2014, Cheniere announced the signing of a contract with EDF. This deal covers 0.77 mtpa (million tonne per annum). EDF (EDF) is a French company, which provides energy to about 28 million customers in France.
This contract is not the first for the Corpus Christi LNG; other contracts for a period of 20 years each have been signed this year:
April 2, 2014, a contract for 1.5 mtpa was signed with Endesa (ELE), a Spanish energy company.
April 7, 2014, an additional 0.75 mtpa contract was signed with Endesa.
May 30, 2014 Cheniere and Iberdrola (OTCPK:IBDRY), another Spanish company reached an agreement for 0.8 mtpa.
June 2, 2014, a contract of approximately 1.5 mtpa was signed with Gas Natural Fenosa (NYSE:GAS), a Spanish company that operates in 25 different countries.
June 30, 2014, a contract for 0.85 mtpa was signed with Woodside (OTCPK:WOPEY), one of the largest companies in the field of LNG.
July 1, 2014, Pertamina (an energy company from Indonesia) signed a contract of 0.76 mtpa.
July 17, 2014, EDF (Electricité de France) signed a contract of 0.77 mtpa
Let's compare the size of these contracts with the total capacity of Corpus Christi terminal.
(Source: Cheniere news releases)
| | |
| --- | --- |
| Partners | Contract (mtpa) |
| Endesa | 2,25 (1,5+0,75) |
| Iberdrola | 0,8 |
| Fenosa | 1,5 |
| Woodside | 0,85 |
| Pertamina | 1,52 |
| EDF | 0,77 |
| Total | 7,69 |
We must remember the total capacity of the Corpus Christi terminal is 13.5 mtpa, which means for the moment that only half of the capacity of the plant (56%) is used. This clearly indicates more contracts are still possible and should be signed between Cheniere and partners.
If you look at the Sabine Pass Liquefaction Terminal, 19.75 mtpa have already been signed for a total capacity of 27 mtpa, or 73% of plant utilization.
The stock performance is fantastic, but the company suffers losses
Over the last five years, the stock price has been multiplied by 25, which is exceptional for a company of this size.
(Source: Google finance)

In 2009, the share was worth about $3, and today it reaches $75. The market capitalization is around 17 billion. But, quarter after quarter, the company suffered losses and lost some cash, as shown in the following table:
(Source : Cheniere quarterly reports)
| | |
| --- | --- |
| Quarter | Net loss ($M) |
| Q1-2012 | (56,41) |
| Q2-2012 | (73,04) |
| Q3-2012 | (109) |
| Q4-2012 | (94,3) |
| Q1-2013 | (117,10) |
| Q2-2013 | (154,8) |
| Q3-2013 | (100,8) |
| Q4-2013 | (135,2) |
| Q1-2014 | (97,81) |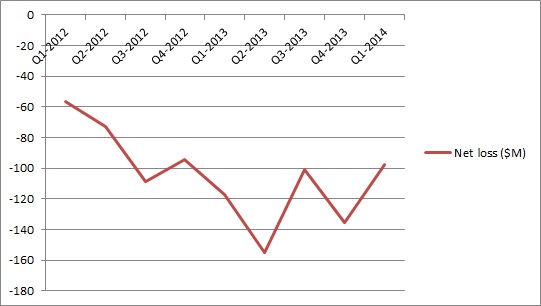 A loss of about a billion dollars in just over two years is obviously a poor performance. In contrast, during this time, the action never stopped climbing with investors clearly focusing on the future of the company. We can estimate, once the large investments have been made, the field will be free for the first exports in late 2015, early 2016, provided that Cheniere receives FERC approval to begin the construction; the authorization is to be issued in 2014 or 2015. The time required to get permissions is indeed a major risk for the company. If these permissions are postponed or simply canceled, the future will be darker for the company's business.
In the meantime, the stock price and its evolution will probably not be rational before 2015. The price now seems overvalued and without safety margin. However, in case of sharp correction, a good entry point seems to be around $50.
Disclosure: The author has no positions in any stocks mentioned, and no plans to initiate any positions within the next 72 hours. The author wrote this article themselves, and it expresses their own opinions. The author is not receiving compensation for it (other than from Seeking Alpha). The author has no business relationship with any company whose stock is mentioned in this article.