The elephant in the room
We've covered Immersion Corporation (NASDAQ:IMMR) for quite a long time here at Seeking Alpha.
So far, we've always avoided discussing how much the company could have been worth as an acquisition target, as we saw the possibility both as unlikely, and as the result of the company not executing properly on its business plan, i.e. a poor result for investors, even if the move may have come at a premium.
In other words, we mostly ignored the "elephant in the room."
We haven't really changed our mind in terms of "how likely" the event may be (probably not very likely), but nevertheless it may be worth speculating on its possibility as the company has reached a more mature stage.
Why now?
As anticipated in our executive summary, Immersion has developed over 1,650 issued or pending patents in the U.S. and other countries about haptics, the technology that interfaces with end users emulating the sense of touch.
Some of these patents are essential to implement, for example, rumble effects in gaming console peripherals, or cover the output of haptic effects based on sensing a user's input on a touchscreen or the association of an event with a haptic effect in a multi-tasking environment. After the Google (NASDAQ:GOOG) and Motorola settlement, Immersion's IP has become a "must have" for all Android OEMs, and a license from the company is required to cover the basic haptic effects which are an integral part of the Android OS.
Some investors could object that Immersion was a much more interesting acquisition target back in 2012, when the stock price was in the $5 range (much cheaper than last Friday's $13.14 close) and the company owned the same IP arsenal - while we might agree to a certain degree, we would probably use a comparison with the Pharma sector to explain why the company could represent a more compelling takeover target right now, in spite of being much more expensive.
Prior to the Google settlement, Immersion was similar to a Pharma company showing very good clinical trials but missing the most important thing: the official approval by the FDA.
After settling with Google and Motorola, Immersion's management has also executed quite well in its effort to convert a large portion of Android producers into Basic Haptics licensees (including several Chinese OEMs, operating in an environment where most players tend to be IPR violators). Key licensees like Samsung have also renewed their agreement and upgraded to more sophisticated haptic effects.
Other verticals, like the automotive one, have also shown very good progress in terms of new licensees signed (although it will take time before these deals turn into revenues because of the long cycle associated with implementing new technologies in the automotive sector).
To continue in our Pharma comparison, having shown that its product has all the needed, official approval seals (as admitted by Android's developer, Google) and that it is also selling well to its main target market (Android OEMs), Immersion has turned into a more expensive but safer bet for a potential acquirer.
Likely candidates - for different reasons
If we had to list a number of companies that could potentially be interested in taking over Immersion, we would probably restrict our research to the smartphone sector that also represents most of the company's revenues: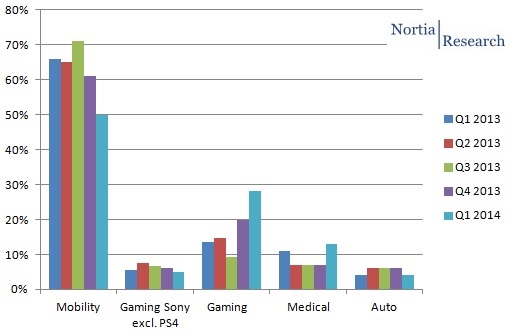 Here's our list, in no special order:
Apple
Apple (NASDAQ:AAPL) has been aware of haptics for quite a long time, and it has referenced this technology in several of its patent applications. iOS 7 includes a few haptic effects that may be optimistically seen as the Cupertino company's first attempts to incorporate this technology into its operating system.
We do not know if Apple thinks of haptics as not really necessary to improve the user experience, or "not good enough" at this stage to be part of its operating system. We do notice, however, that haptic effects are improving, becoming more detailed and localized, and that the move toward wearables connected to smartphones might be a game changer for the importance of haptics to all OEMs, including Apple.
Here is a recently granted Apple patent that references haptics in a smartwatch environment:
In what amounts to one of the more telling signs that Apple could be working on the so-called "iWatch" smartwatch, the U.S. Patent and Trademark Office on Tuesday granted Apple with an exhaustive patent for an electronic wristwatch and various possible implementations of the device.

The wristband system would provide electronic circuity to the paired device, with Apple referencing an "accelerometer, GPS modules, wireless communication packages and haptic feedback mechanisms" as potential components for the advanced strap structure.
What could be the real advantage for Apple if it decided to pursue a takeover of Immersion? In a short summary:
access to the best haptic IP available in the market that could be used as an exclusive differentiator
avoid becoming an Immersion licensee for key, basic haptic effects, or
avoid wasting time and efforts looking for work-arounds to IMMR's IP, assuming it may be successful - we should not forget that Immersion has never lost a court case protecting its IP
become a toll bridge for ALL Android producers (and/or use Immersion's powerful IP as a negotiating tool for patent disputes)
become the owner of Immersion's haptic patents in the automotive sector, at a time when both iOS and Android are trying to dominate future cars' dashboard system (haptics, as a tool reducing drivers' distraction are a no brainer for the industry in the long term).
As you may notice, there could be both defensive and offensive reasons that might lead Apple to consider investing a relatively small portion of its large cash reserves to strengthen its IP position in a field that is expected to grow exponentially in the next few years.
Google
A short summary of reasons why Google could be interested in owning Immersion's IP would somehow look very similar to Apple's, just seen from an opposite angle.
Immersion's basic haptics are already part of Android's OS, although OEMs are now required to pay a small per unit license to Immersion.
At a time when Google is trying to convey a more unified and satisfactory user experience for its mobile OS, upgrading to more sophisticated haptic effects and offering them free of charge could represent a nice differentiator for Android and help strengthen Google's offering with some OEMs which are now going for heavily personalized or forked Android versions (which usually don't carry Google's services).
On the other end, owning the key to haptics may put Google in a unique position to reverse Apple's criticism that Android is just a blatant copy of its iOS, especially in case Apple is planning to incorporate some haptics into its new products or wearables.
Samsung
Samsung represents today almost one third of Immersion's revenues, as shown in its latest 10-Q (i.e. about $5 million in Q1 2014).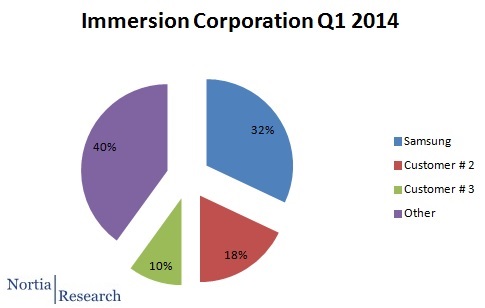 To a smaller scale than Google, the Korean company could also consider a buyout of Immersion as a way to strengthen its IP arsenal, and use Immersion's high-end technology exclusively to make its product offering more appealing against other Android OEMs or Apple. As Samsung is already spending tens of millions per year to license Immersion IP, why not owning it all?
Once again, a key reason for the buyout could be using the technology also for cross-licensing opportunities, to charge a fee to its Android competitors for basic haptics, etc., etc.
Xiaomi or any other Chinese OEM
Most developing countries tend to be IPR violators, before they reach a more advanced stage of their economic development. China is no exception, although they are probably entering a "transitional period," as far as the smartphone industry, during which they start understanding that meeting international standards may be essential for their future growth:
The lessons of the ongoing patent wars between tech giants like Apple, Samsung, and Google haven't been lost on China-based makers of smartphones and tablets.

Chinese mobile device makers like Huawei, ZTE, TCL, Coolpad, Lenovo, and Xiaomi Technology have recently been redoubling their efforts to get their intellectual property assets in order to "fend off increasing threats of patent complaints from international handset players or patent licensees," according to DigiTimes.

Those and other China-based companies have been gaining market share in the ultra-competitive global mobile device market. But with success has come more notoriety and more focus from rivals on products that might be determined to violate others' IP rights, the Taiwan-based tech site noted.

DigiTimes referred to a "number of lawsuits" over patent disputes involving Huawei and ZTE, while citing industry sources who said Xiaomi, Coolpad, and Lenovo may be even more "vulnerable to patent complaints due to an insufficiency in patent protection" secured by those companies.
We've already discussed in our previous articles how Immersion has been able to secure direct and indirect relationships with several Chinese OEMs.
Xiaomi was the first direct Chinese licensee for Immersion. While very successful in its domestic market, the company is almost unknown in Europe or the USA.
Here is how Ben Thompson describes Xiaomi's expansion strategy at Stratechery:
Note carefully the countries that Xiaomi is expanding to: the unifying feature of them is weak intellectual property regimes, at least relative to the United States or Europe. That is not an accident. IP costs for smartphones are significant even if you have your own patent portfolio to use in cross-licensing; if you don't have any relevant IP, like Xiaomi doesn't, then you can't cross-license and your IP costs can quickly ruin your cost structure. Unless Xiaomi makes a significant acquisition for IP purposes, they won't be entering the US or European markets any time soon.
Xiaomi also has a reputational problem, at least to the eyes of the International commentators:
Barra gets pretty worked up when he speaks about how media have been raining down on Xiaomi for copying other smartphone makers' products - it has recently been called a supercloner among other things.
If Xiaomi - or any other Chinese OEM - gets serious about expanding into Europe or the US, they will certainly have to start building their IP arsenal somewhere.
Why not starting with a known partner?
Huawei, Immersion's most recent Chinese win, is also taking an interesting approach toward patent protection.
Here is how OFweek, a comprehensive web portal in China's high-tech industry with 1,000,000 members across various industries, described Huawei's most recent approach to IP:
Facing the heating IP protection, Tao Zhang [director of Intellectual Property Strategy of Huawei USA] thinks 3 IP strategies can be handy for Huawei. Firstly, invest more than 10% of company's profit into R&D to guarantee its competitive power. Secondly, make more technology contribution for International Organization for Standardization; share the new technology with the whole industry. Thirdly, obey international IP rules, respect each other and solve conflict with international standard.

"Huawei will put more and more effort to get targeted patents. Not only enhance interior research, Huawei will also buy exterior patents." Indicated by Tao Zhang.
Conclusion
Immersion's market cap is roughly $370 million, and includes $81 million in cash (as of March 31st, 2014). The company has no debt. Let's say it is now worth about $290 million.
Parts of Immersion (think of the gaming vertical) may be of no interest to any of the potential acquirers mentioned in this article, but could still be sold at a very decent price (for example, we believe Sony would love to gain perpetual access to Immersion's IP - it is very likely the company's 18% customer in Q1 2014, and its 2007 settlement with IMMR for patent infringement cost the Japanese company in the range of $150 million).
A 30% premium on Friday's close would mean an investment in the proximity of $400 million to buy out the whole company (say at $17 per share).
While $400 million may sound quite a high price to own a "buzz" technology, we should consider that the haptic touchscreen market is expected to grow at a CAGR of 41% from 2013 to 2018, with nearly 3 billion touch screen panels expected to be shipped per year as soon as 2016, and that the overall haptic market is expected to reach $13.8 billion by 2025. Big numbers that may ring a bell to companies like Google or Apple.
While it may be easier to explain why Apple could easily digest such an investment in its rich budget targeted at improving iOS, we should not forget that Google has also heavily invested in Android, as that it is benefiting both from the additional revenue opportunities created by its Apps (think Search and Maps), and from the cut it is making for every app sold on Google Play.
Seeking Alpha contributor Mark Hibben has just published an article estimating how much Google generated from Google Play in revenues ($13.73 billion) and gross profit ($8.29 billion) in 2013.
Offering a more uniform, higher quality haptic experience to Android gaming apps could represent an additional incentive for Google to consider owning the technology - anything potentially improving Google Play sales has also a very high return on Google's gross profits.
Risks
The highest risk for our buyout thesis is that none of these players will see the value we believe they could gain by owning Immersion's technology.
Luckily, this is not our plan A for the company - with proper execution, we believe that the high margin business model will deliver results that will push the stock price to the $17 range nevertheless, over the long term: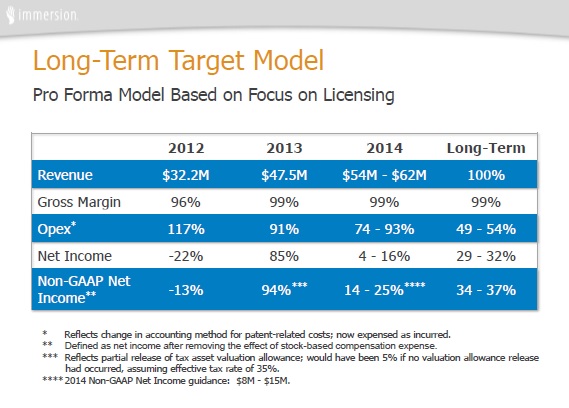 It is, anyway, worth mentioning at least the fact that both Apple and Google may decide not to pull the trigger on an IMMR acquisition (assuming they may consider it) to avoid the risk that the opposite party might simply remove/never implement haptics in its OS, in a similar fashion to what Sony did with PS3 in the middle of its fight with Immersion:
The company announced in a press release that the PS3 controller would lack vibration due to the possibility of it interfering with the controller's new tilt sensors
Shooting yourself in the foot isn't usually a great long-term business strategy, but we've seen stranger things happening (and then reversed, like in Sony's case) - having said this, while it is true that such a possibility could decrease the appeal of Immersion's IP, on the other hand having haptics "exclusively" on one platform could create an advantage still worth the price tag.
Disclosure: The author is long IMMR. The author wrote this article themselves, and it expresses their own opinions. The author is not receiving compensation for it (other than from Seeking Alpha). The author has no business relationship with any company whose stock is mentioned in this article.
Editor's Note: This article discusses one or more securities that do not trade on a major U.S. exchange. Please be aware of the risks associated with these stocks.